2021 Ford F-150 Scores With Digital Owner's Manual
03/23/2021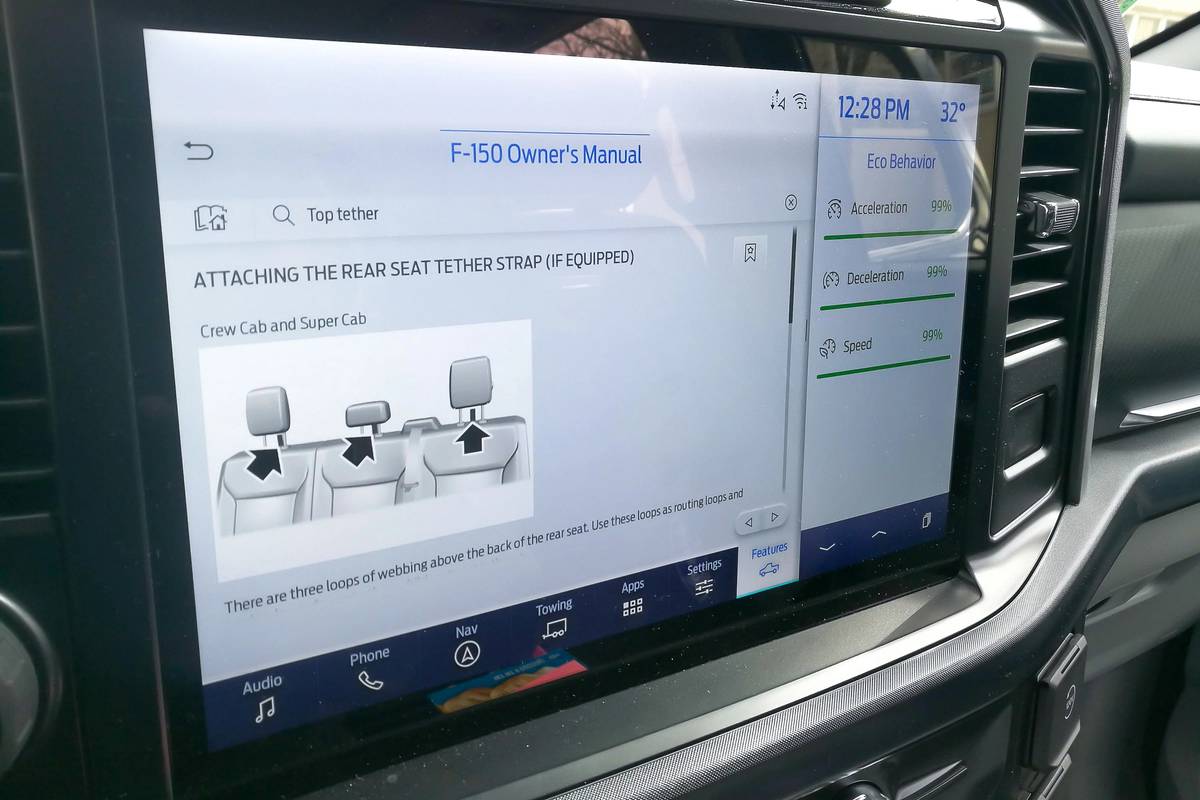 Installing car seats can be tough — and installing them in a pickup truck is extra daunting because of different and often difficult-to-access lower Latch and top tether anchors. You either need to be an expert or get really familiar with the owner's manual. Luckily, I happen to be the former, and the 2021 Ford F-150 takes care of the latter. Its electronic owner's manual, accessed via the central touchscreen, makes figuring out the truck's features quick and easy.  
Related: Owning the 2021 Ford F-150
Ford reimaged its full-size pickup truck for 2021 with loads of new safety and convenience features as well as an available hybrid powertrain. Standard across the F-150's lineup is the new Sync 4 multimedia system, which features a bunch of new functionality, including the digital owner's manual. 
An 8-inch center touchscreen is standard on lower trim levels; a larger 12-inch unit is available for some lower-trim configurations and standard on higher trims. Our  SuperCrew Limited trim came standard with the 12-inch screen; it can be split to control multiple functions simultaneously, such as navigation, music or truck features. Both size screens also feature access to the new digital owner's manual, which can help owners find the information they need more easily, including photos and how-to videos — helpful when installing car seats. 
In our SuperCrew truck, connecting to the lower Latch anchors was easy — they're clearly marked and connection was no problem. The top tether anchors — essential for safely installing a forward-facing car seat — were tricker to use.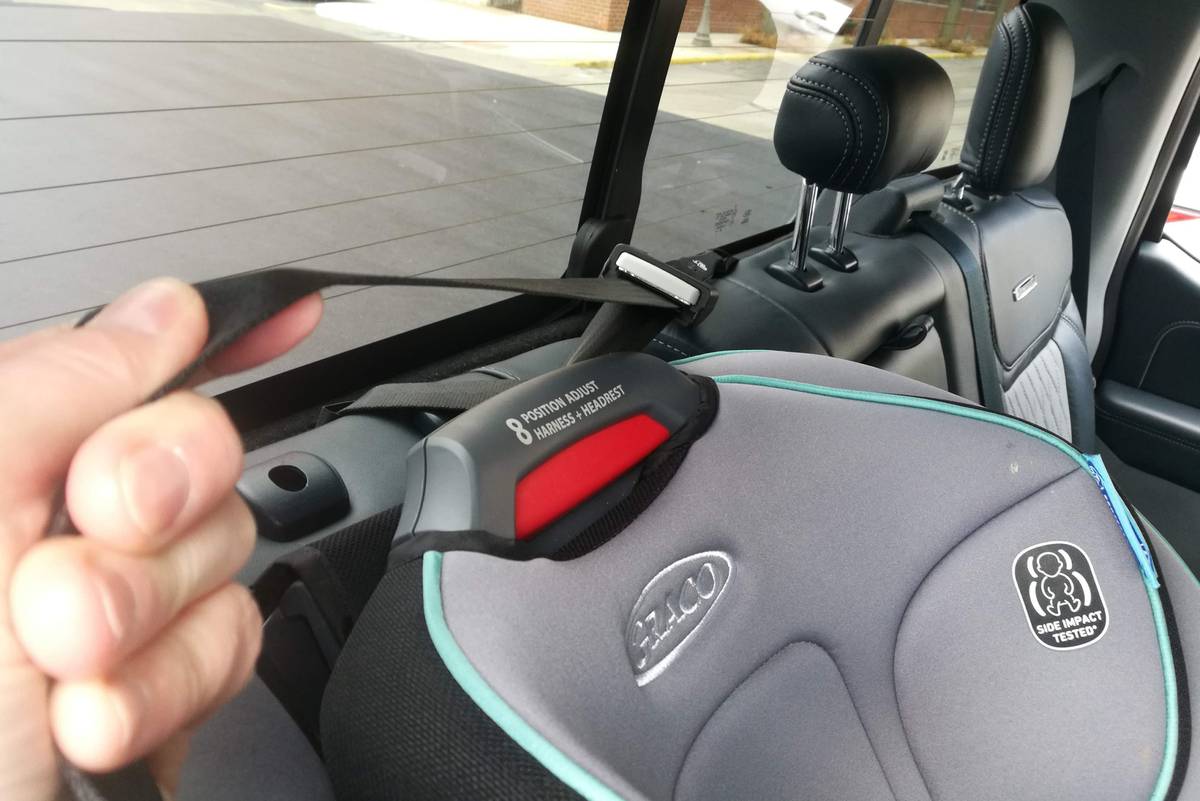 After turning on the truck and navigating to the owner's manual function on the touchscreen, I was able to find car seat installation information two ways: using the manual's search tool or "paging" through the content starting at the table of contents. 
SuperCrew models have three tether straps, one behind each head restraint. To connect a child safety seat, the seat's tether strap must be routed through the tether anchor loop closest to the car seat and then connected to the tether anchor loop for the seating position next to it. This wasn't complicated to do once we read about it in the digital owner's manual, but caregivers installing car seats are unlikely to figure this out on their own, as the loops hidden behind the head restraints are unlabeled. Check out our full Car Seat Check of the F-150.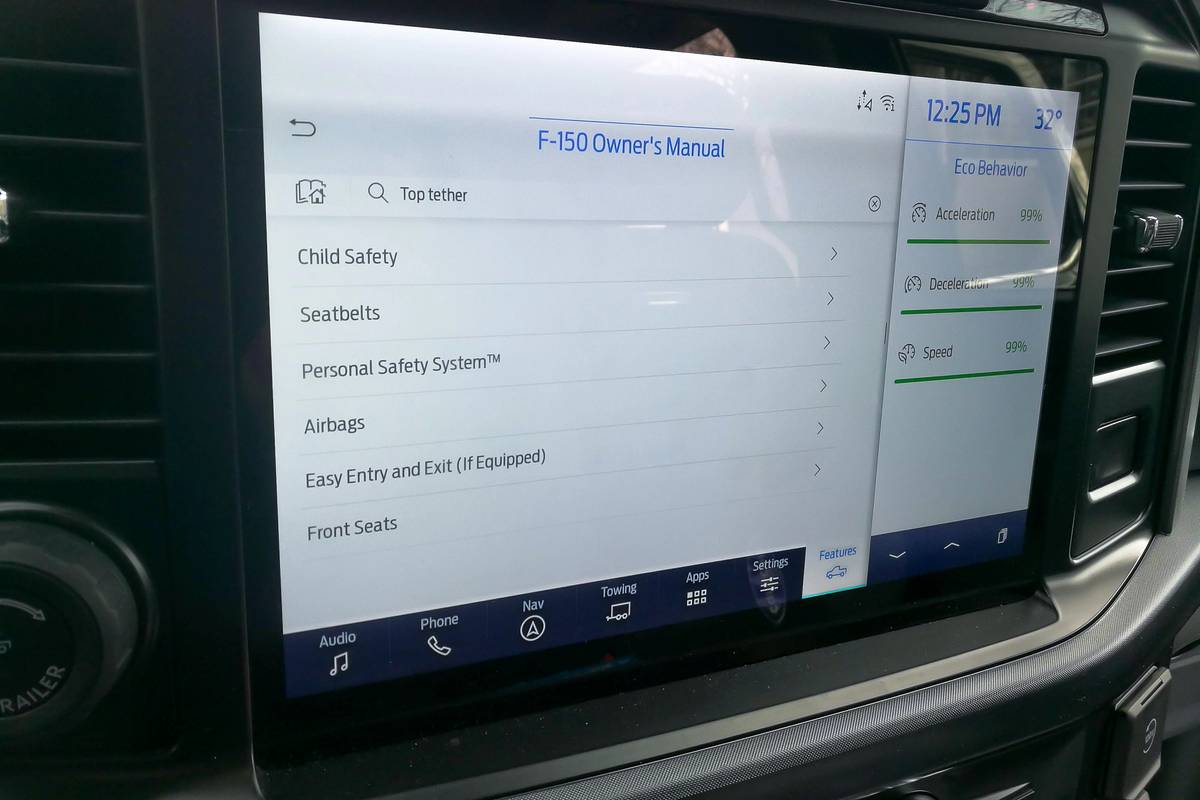 The digital owner's manual provided written instructions on how to connect to the tether strap as well as a couple of different photos. Using the digital owner's manual was much quicker than paging through a physical manual, but it wasn't perfect. The system also includes videos, which sounds helpful, but trucks, SUVs and sedans have different Latch and tether setups; the video in the F-150 showed me how to connect to a top tether anchor that looked like it was in a sedan. If you use the video feature, make sure it applies to your specific vehicle. 
Overall, our time with the F-150 — which we purchased after the pickup won Cars.com's Best of 2021 award — has so far been full of hits and misses, but the truck's  electronic owner's manual definitely deserves a spot in the hits column.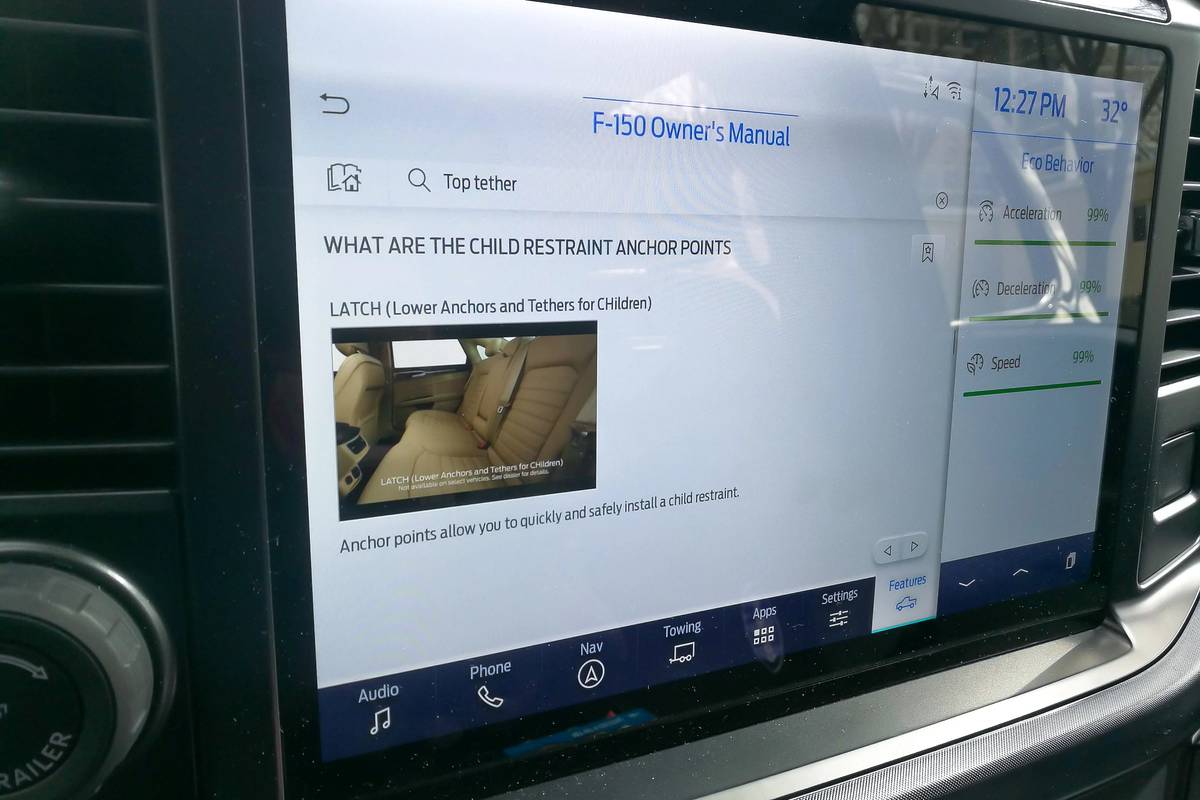 More From Cars.com:
We Bought a 2021 Ford F-150: See How Much We Paid

We Bought a $189 Tonneau Cover for Our $78K Ford F-150

Breaking Down the 2021 Ford F-150's Towing Capacities

Redesigned 2021 Ford F-150 Raptor Bulks Up, Techs Up

Find Your Next Car
Related Video: 2021 Ford F-150: Review
Cars.com's Editorial department is your source for automotive news and reviews. In line with Cars.com's long-standing ethics policy, editors and reviewers don't accept gifts or free trips from automakers. The Editorial department is independent of Cars.com's advertising, sales and sponsored content departments.
Source: Read Full Article