2021 Mercedes-AMG G63 Vs. 2021 Mercedes-Maybach GLS600: To Drive or to Arrive?
03/27/2021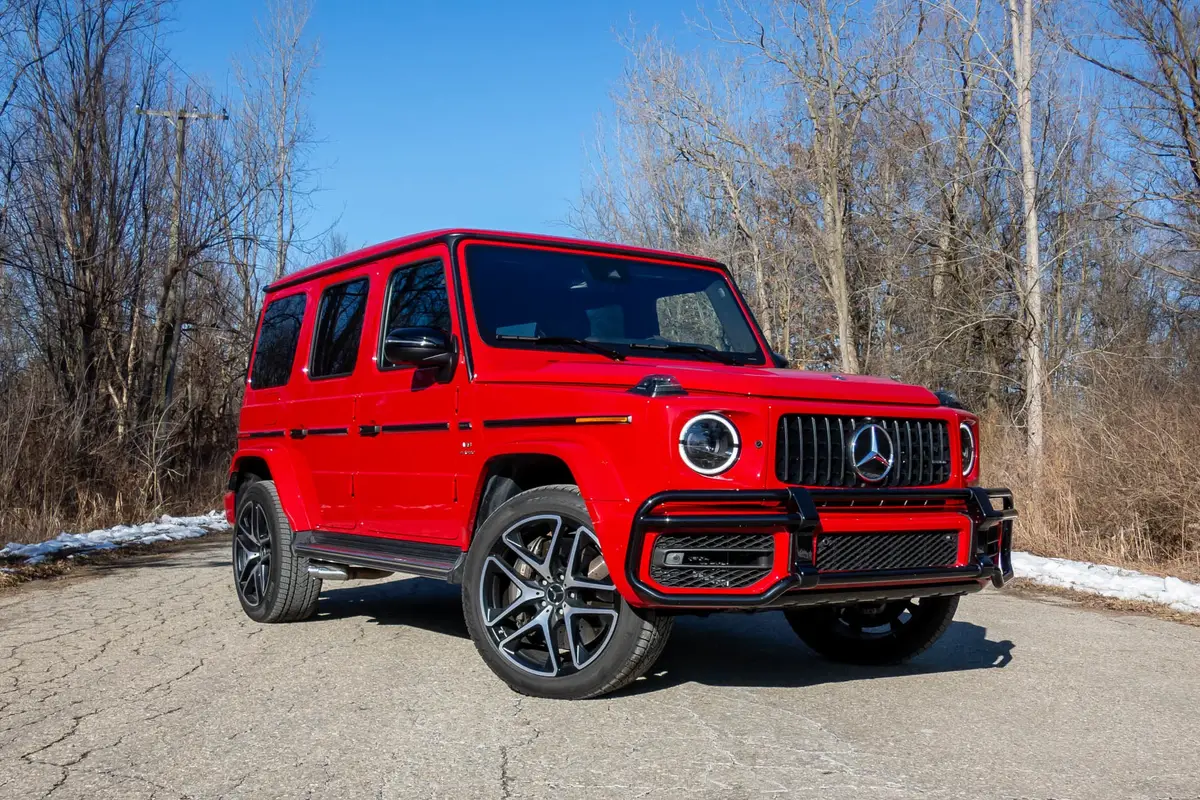 If you have the means to acquire a six-figure Mercedes-Benz SUV, hats off to you — you're doing all right, aren't ya? For the rest of us, well, we'll just have to look on in envy as you decide which of Mercedes' truly outrageous super-luxe SUV offerings is the right one for you.
Related: 2020 Mercedes-Benz GLS-Class Is Formidable Foe to BMW X7
The German luxury automaker has several big, luxurious, ostensibly off-road-capable people movers that cost north of $100,000, but when two of them rolled through our Detroit bureau earlier this year, priced similarly yet vastly different in their demeanor and appeal, we wondered: If you have the means to afford either a 2021 Mercedes-AMG G63 or 2021 Mercedes-Maybach GLS600, which would you choose? Here's our take on how these two titans of mall and trail stack up against each other — and our recommendation for which one might be right for you.
The Contestants 
In one corner is the 2021 Mercedes-AMG G63, the top prestige model for the G-Wagen lineup (the G65 has not reappeared … yet). Massaged by the performance engineers at AMG, the big box has been given a twin-turbocharged 4.0-liter V-8 hand-assembled and signed by a single technician; it pumps out 577 horsepower and 627 pounds-feet of torque and is mated to an AMG-massaged nine-speed automatic transmission. Power is routed to all four wheels via a two-speed transfer case and axles with two lockable differentials.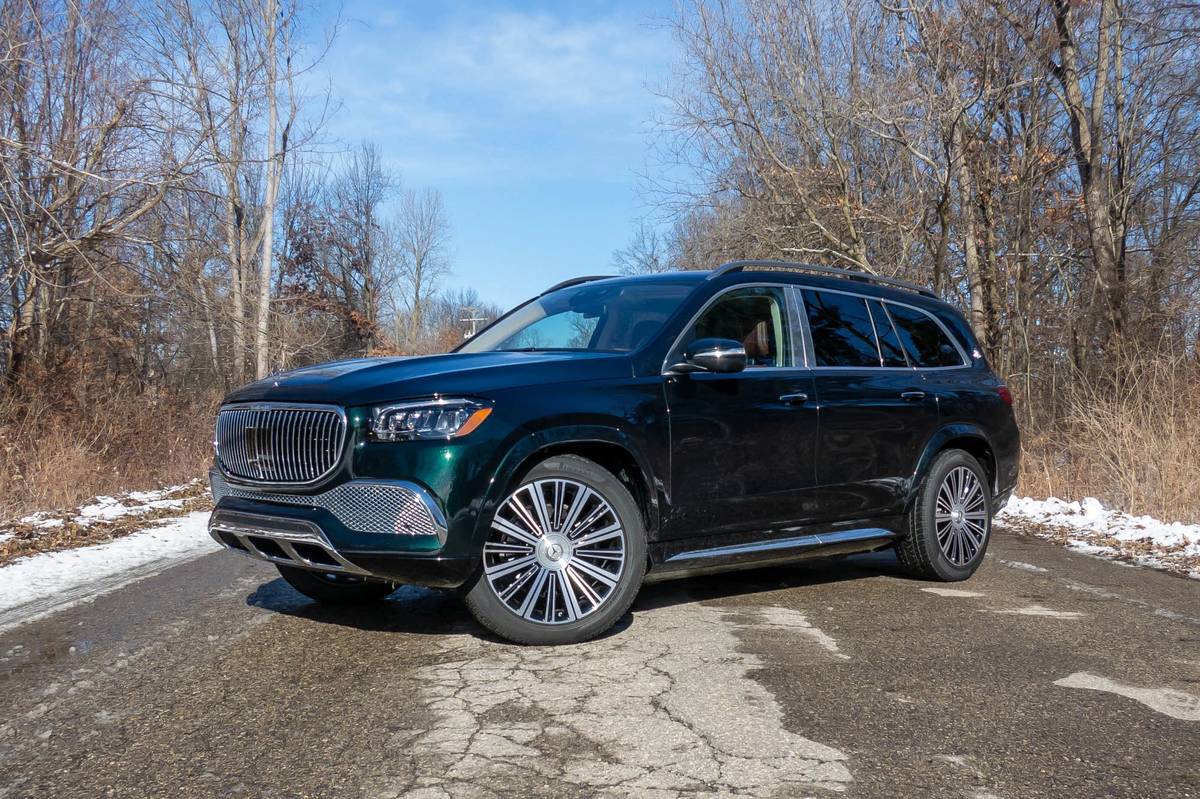 The G-Wagen got a major update for the 2019 model year with significant changes to its suspension, wheelbase and interior, but Mercedes engineers were very careful to keep the iconic retro touches that a surprising number of buyers globally absolutely adore: the look, the parts, the off-road ability and even the way the doors close like a bank vault and the electronic locks clack like a rifle bolt slamming home. Price as tested: $182,545 (all prices include destination).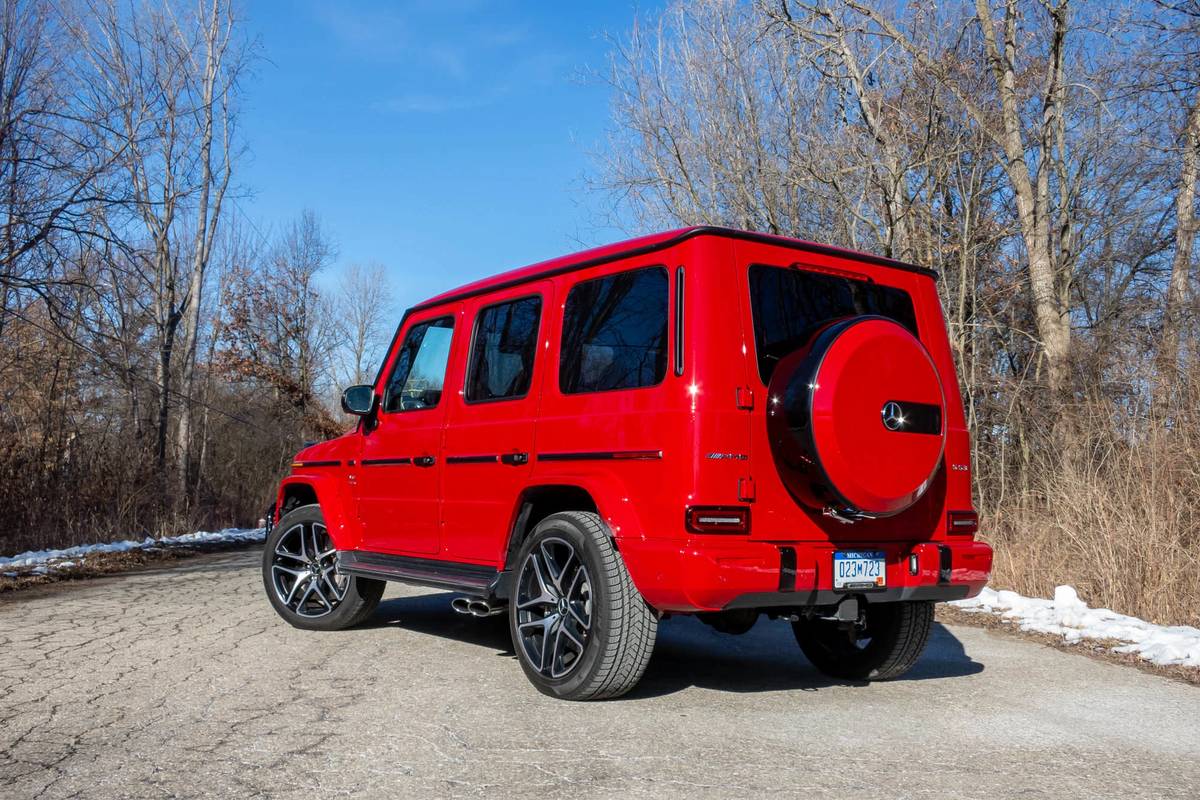 In the other corner is the 2021 Mercedes-Maybach GLS600, the new-for-2021 flagship luxury SUV that is meant to be the SUV equivalent to the company's S-Class sedan. The Maybach trim is meant to denote something special, and special it is, from its looks to its ultra-opulent cabin. Like the G63, it's also powered by a twin-turbo 4.0-liter V-8, but it puts out slightly less grunt at 550 hp and 538 pounds-feet of torque. You get a nine-speed automatic and 4Matic all-wheel drive here, too; you also get an air suspension and the remarkable E-Active Body Control. Other luxury touches abound, such as reclining rear seats with footrests, a fridge, champagne flutes for the backseat occupants and Nappa leather upholstery throughout. Price as tested: $165,850, but it can go a lot higher if you opt for things like the $18,500 two-tone paint or $5,500 23-inch wheels.
Style: AMG G63
Style is subjective, of course, but judging by comments from friends, family and internet folks, the G63 is the far more appealing choice based on style — and I don't disagree. That iconic, quasi-military look has served the Gelaendewagen since its introduction as an actual military vehicle in the 1970s, and the latest update only makes it more appealing. The AMG versions look menacing, with blacked-out trim, big wheels and even that performance exhaust poking out the sides adding to the predatory aura. 
The Maybach, on the other hand, just comes off as gaudy. Its massive chrome mesh bumper grille is the main culprit, which looks completely out of place on what is otherwise a clean, fairly anonymously shaped SUV. Yes, there are Maybach logos on the D-pillars to let passersby know this isn't an ordinary GLS, but I think they got that message already if they happened to see it coming at them. 
Style points go to the AMG in this match-up, for while a lot of other automakers have big, questionably tacky luxury SUVs, few have anything as dramatic and distinctive as the G63.
Comfort: Maybach GLS600
As much as the G63 wins out over the Maybach for outward styling, those positions swap completely when it comes to interior comfort. There's no contest here: The Maybach GLS600 wins hands down. It's far more spacious inside, with legroom in the first and second rows that dwarfs the G63's narrower, shorter interior. Despite the bump in length that the G63 received for 2019, which turned its second-row bench into less of a penalty box, nothing tops the optional powered, heated and cooled twin recliners in the Maybach's second row.
If that's not posh enough for you, there's a console between the seats that contains a set of champagne flutes, and behind that is an optional wine chiller fridge. Excessive? Totally. But in terms of interior coddling, the limousine-like executive accommodations of the Maybach GLS put it ahead here.
Utility: Tie … Sort Of
Here's the problem with both of these SUVs: Neither one of them is very good at being an SUV. Each of them has issues with utility. The GLS600 can't fit anything big in back because it has a sizable fridge smack in the middle of the cargo area, meaning it can fit two, maybe three suitcases to either side of it. And those big captain's chairs don't fold down, either; they're fixed in position because they have a power recline. You can opt for a five-occupant setup and forgo the fridge and champagne flutes — but then, why splurge for a Maybach at all? 
On the other hand, the AMG G63 isn't very good at being an SUV, either. While it does have a pretty decently sized cargo area, it also has a super-heavy, manually operated, side-opening swing-gate instead of a power liftgate like the GLS. And if you want to fold down the backseats to accommodate something big, the front seats have to be moved forward a considerable distance, reducing the already tight front-seat room and keeping it reduced as long as the rear seats are down. 
So yeah, this is a tie for the worst attributes. The best option would be a GLS450, which can swallow a lot of people or gear, but isn't the prestige limousine that the Maybach is.
Dynamics: Maybach GLS600
The G63 has a completely different personality than the GLS600, and it shows up best in how it drives. The optional performance exhaust turns the G63 into a roaring, growling beast, and the side exhaust amplifies that by blasting that intoxicating snarl back into the cabin through the side windows. Subtle, it's not, but it's also tall, tippy, a bit bouncy and still demonstrates its off-road-capable roots through ride and handling that are secondary considerations to its style and presence. 
The GLS600 is exactly the opposite, with its air suspension delivering a serene, coddling and glass-smooth ride. It goes beyond just Comfort mode on the drive mode selector with an actual Maybach mode, slowing all of the SUV's responses down in favor of cosseting. It also has Mercedes' magical E-Active Body Control, an electronic suspension system that uses predictive road scanning and driver input to bank the SUV into corners like an airplane, minimizing sideways centrifugal stress on occupants. It's not as engaging to drive as the AMG G63, but it is far, far more pleasant.
More From Cars.com:
3 Things We Like — and 3 Not So Much — About the 2019 Mercedes-Benz G-Class

2019 Mercedes-Benz G550 Review: A Better Baller Box

Mercedes-Benz Touts All-New GLS as Its Largest, Most Luxurious SUV

Research the 2021 Mercedes-Maybach GLS600

Research the 2021 Mercedes-AMG G63
Wow Factor: AMG G63
Mercedes may rank the Maybach sub-brand as its prestige model, but there's no denying the practical prestige appeal of the G-Wagen. These SUVs are thick as flies in Southern California and had a cult following among the glitterati even before the update. This new one only compounds that desirability, with the same appeal the Jeep Wrangler has for a lot of its buyers. They want the image and are willing to live with compromises in drivability, comfort and utility that owning one brings. 
The Maybach GLS600 really can't compete with that. Its more anonymous shape, the still-obscure Maybach branding and oddly blingy, tacked-on chrome don't give it the exclusivity cachet the G63 already features as standard.
So in the end, it's really a question of what you want your SUV to be: a limousine or a personal statement. The Maybach GLS600 is the definitive choice if you want to be chauffeured to an event in maximum comfort, but the AMG G63 is the one to choose if your arrival is the event.
Related Video: 2022 Mercedes-Benz C-Class: First Look
Cars.com's Editorial department is your source for automotive news and reviews. In line with Cars.com's long-standing ethics policy, editors and reviewers don't accept gifts or free trips from automakers. The Editorial department is independent of Cars.com's advertising, sales and sponsored content departments.
Source: Read Full Article