Best car headlight bulbs 2021
01/19/2021
We shine a light on the best halogen headlight bulbs to fit to your car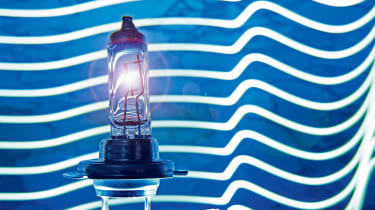 While the technology dates back to the sixties, and LEDs are now the lighting of choice for car makers, development of halogen headlamp bulbs hasn't stopped.
Producers have long been pushing build tolerances to create brighter bulbs, with the best promising 150 per cent more light somewhere in the beam and Philips has just upped that increase to 200 per cent. To see how this new bulb compares with existing rivals, we put 10 brands to the test in the light tunnel.
How we tested them
With travel restrictions in mind, we sent our samples (which were bought to prevent filtering) to Philips' light tunnel in Aachen, Germany. The bulbs were fitted to a BMW 3 Series headlamp unit, and we observed the results via video conference and multiple cameras.
The test was for single-filament H7 bulbs, and we recorded our Figure of Merit (FOM) that combines light at 50 metres and 75 metres in front of the car. We also measured beam length, the brightest spot and the amount of light over 20 lux. These are not alignment dependent, unlike the FOM. We also checked maximum output to ensure compliance with regulations.
The ranking is an average of two bulbs' performances, which we converted to percentages to accurately reflect the differences in beams. Prices are for a pair of bulbs and are what we paid including any discounts.
LEDs vs halogen bulbs
Alongside its two new halogen bulbs, Philips has also launched a pair of LED products that are designed to replace conventional bulbs. We tested the flagship UltinonPro9000 HL alongside our halogen bulbs, and it would've romped our test. It recorded a percentage score of 140, with a much brighter and wider 119-metre beam that had a sharp cut-off and no glare.
However, these replacement LED bulbs aren't legal for road use in the UK – they can't meet the legal requirements of a filament bulb because they don't have a filament. This is a prime case of legislation not keeping up with technology.
One reason for the slow pace of change is the presence of poor-quality imports. We also tested a popular online LED bulb, but while the beam length was similar, there were significant amounts of illegal glare for oncoming drivers. Its 92 per cent beam rating was bettered by most of our halogen lamps, too.
Verdict
This was a closer test than we have seen before, and it delivered a surprise winner, with Twenty20's plus 150 per cent bulb outperforming some much bigger names. Philips' new 200 per cent bulb takes the runner-up spot, while our H4 champion from Osram completes the podium.
Twenty20 Daylight 150
Philips RacingVision GT200
Osram Night Breaker Laser
Reviews
Twenty20 Daylight 150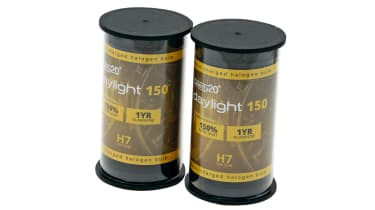 Price: Around £22
Score: 100%
Rating: 5 stars
Contact: www.autobulbsdirect.co.uk
Previous performances from Twenty20, which is a range stocked by online retailer Auto Bulbs Direct, gave no indication that the Daylight 150 would be a potential test winner. With Megalight branding on the base plate, we suspect that this is another bulb to come out of the former GE factory in Budapest. Consistency was good, with two top-performing bulbs helping it to take the FOM test by a big margin, while it won the beam length test with a narrower lead. A shock win, but well deserved.
Buy now from Auto Bulbs Direct
Philips RacingVision GT200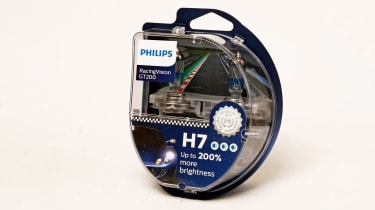 Price: Around £42
Score: 97%
Rating: 4.5 stars
Contact: www.philips.com/automotive
As we've seen before, Philips leads halogen bulb development, and now offers this plus-200 per cent lamp. It takes the runner-up spot but by a narrower margin over rivals than the promised performance increase might suggest. It topped the bright spot test, had the second-best FOM and a beam length of 106 metres, but overall brightness saw it rank sixth in a close-run test, which denied it a debut win.
Buy now from Amazon
Osram Night Breaker Laser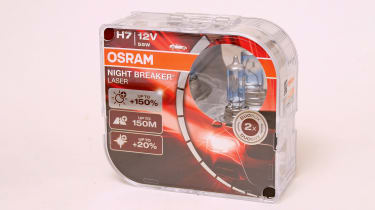 Price: Around £30
Score: 95%
Rating: 4 stars
Contact: www.osram.com
There's no repeat of its H4 test victory for Osram, but the Night Breaker Laser is still a top performer in H7 guise. As with most rivals here, it promises 150 per cent more brightness and this time with a 150-metre beam length. Our test, which measures the beam down to 30 lumens, saw an average length just shy of 94 metres, which put Osram sixth. It topped the beam brightness test, though, which helped it to secure a podium.
Ring Pro +150%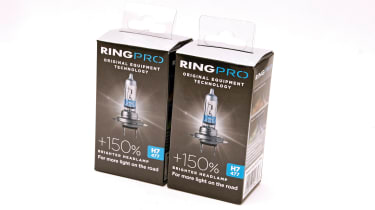 Price: Around £42
Score: 94%
Rating: 4 stars
Contact: www.halfords.com
A new addition to Halfords' range, the Ring bulbs promise 'original equipment technology', which is supported by the GE branding on the base plate and its Hungarian manufacture. We doubt there's much difference between this and the Halfords-branded bulbs, because the packaging is similar. In the tunnel it had a bright hotspot close to the 75-metre mark which helped it to fifth in the FOM test, plus its beam length was just over 94m.
Halfords Advanced 150% Brighter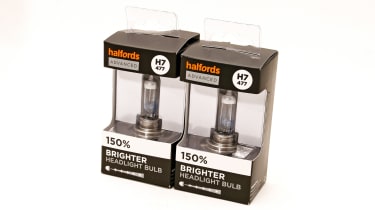 Price: Around £38
Score: 93%
Rating: 4 stars
Contact: www.halfords.com
This year's test was one of the closest we've seen, the prime reason being that many of our bulbs are likely to have come from the same Budapest producer. Halfords' own brand has Alite on the base plate, but the performance was very similar to the Ring Pro. To the naked eye in the tunnel they were difficult to separate, with both having good hotspots and sharp cut-off lines. They had similar brightness results and a beam length of just over 94 metres, too. The Pro's slight advantage in the FOM test gave it the edge.
Ring Xenon150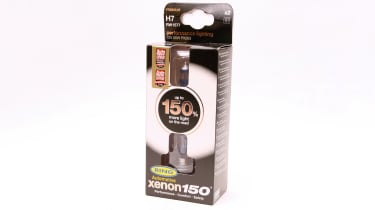 Price: Around £20
Score: 92%
Rating: 4 stars
Contact: www.ringautomotive.com
Another Alite-produced bulb and another very similar performance to the Halfords duo. The hotspot was a little low on one of the bulbs, and that's reflected in a slightly lower FOM rating and a beam that reached an average of 91 metres. The Xenon 150 excelled in its overall beam brightness, where it came a very close second to Osram's Night Breaker Laser. In the tunnel it had the same sharp cut off and kept glare to a minimum.
Philips X-tremeVision Pro150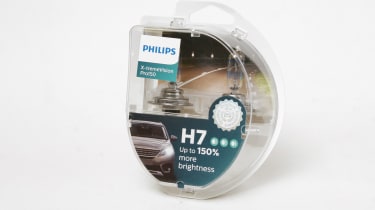 Price: Around £32
Score: 91%
Rating: 4 stars
Contact: www.philips.com/automotive
As performance is increased, lifetime is reduced, and this second new bulb from Philips aims to provide a different brightness and durability balance. Philips claims close to double the life of the GT200 for the Pro150, at 450 hours. The beam length for the Pro150 topped its stablemate at 106 metres, but it was some way off in the FOM rating and could only manage ninth place in the overall brightness ranking.
Tungsram Megalight Ultra +150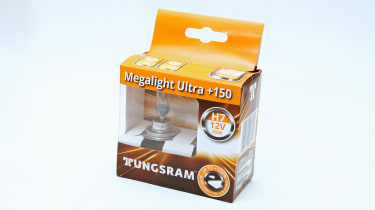 Price: Around £16
Score: 91%
Rating: 4 stars
Contact: www.tungsram.com
Tungsram, formerly known as GE, completes the batch of bulbs produced at its Hungarian factory. On the light tunnel wall it had a wide hotspot and clear cut off, but consistency between the two bulbs wasn't quite as close as the Ring or Halfords pair. The hotspot was a little lower on one bulb, which hurt its FOM rating and saw its beam length dip below 90 metres.
GT Ultra 120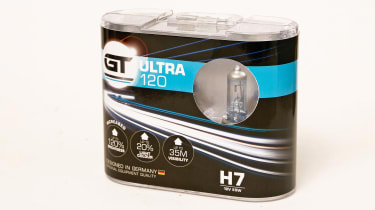 Price: Around £20
Score: 92%
Rating: 3 stars
Contact: www.powerbulbs.com
Promising 'just' 120 per cent, it was no surprise to see the GT Ultra, which is part of online retailer Powerbulbs' offering, at the lower end of the results. The difference could be seen in the tunnel, with the beam lacking the brightness of the best, while the cut off wasn't as well defined. Beam length was under 89 metres and the FOM rating of 87 was more than 10 points behind the next bulb and almost 40 off our winner.
PIAA Hyper Arros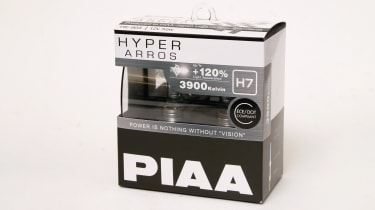 Price: Around £28
Score: 86%
Rating: 2.5 stars
Contact: www.powerbulbs.com
As with the GT Ultra, this Korean-built bulb from Japanese lighting specialist PIAA promises plus 120 per cent 'light appearance' and a 3,900- Kelvin beam colour. Whatever 'light appearance' is, it doesn't translate into beam performance, because the PIAA finished last in all the tests, and by quite a margin in most. Beam length was just over 87 metres compared with the 94 of the best. A high price to pay for a whiter beam.
Source: Read Full Article