Best car leasing deals 2022 / 2023
12/12/2022
If you're looking for a cheap way to drive around in a brand new motor then car leasing could be ideal – here are some great new car leasing deals available right now
Best car leasing deals

Alfa Romeo leasing deals

Audi leasing deals

BMW leasing deals

Dacia leasing deals

Hyundai leasing deals

Jaguar leasing deals

Jeep leasing deals

Land Rover leasing deals

Mazda leasing deals

Mercedes leasing deals

MINI leasing deals

SEAT leasing deals

Subaru leasing deals

Tesla leasing deals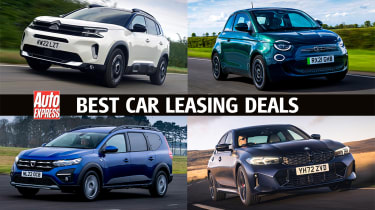 Looking to lease a new car? You've come to the right place. We've scoured the market to find the best car leasing deals available right now from leading brokers, and you'll find all our top picks below.
Car leasing, or Personal Contract Hire (PCH), is a popular finance option for those wanting a brand new car at an affordable monthly price. Car leasing deals are ideal if you don't have the finances to buy a car outright, or if you simply aren't interested in owning the car at the end of the finance agreement.
Guide to car leasing and personal contract hire
Leasing deals work like a car rental and because there's no lump sum to pay at the end of the agreement and you never actually own the car, the monthly payments will usually be lower than with Personal Contract Purchase (PCP) or Hire Purchase (HP) car finance deals.
There are many suppliers to choose from when leasing a car, many of whom offer competitive leasing deals on their latest models, so we've rounded up some of the best car leasing deals available right now.
Audi Q3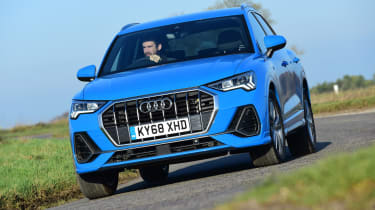 Model: Q3 35 TFSI Sport
Monthly hire charge: £376.00
Initial rental: £3,384
No. of payments: 47
Annual mileage: 5,000
Excess mileage: charges apply
Although it's one of the lower-priced models in Audi's range, the Q3 benefits from many of the luxurious touches and the general build quality of its larger and pricier siblings. Step inside this stylish compact SUV and you'll be greeted by an equally attractive interior that boasts an impressive level of attention to detail. The centrepiece of the Q3's on-board tech is Audi's Virtual Cockpit, this system replaces traditional instruments with a feature-packed TFT screen. The latest Q3 is also comfortable to drive, and every engine is capable of achieving over 40mpg. 
Lease the Audi Q3 from Lease4Less
BMW 3 Series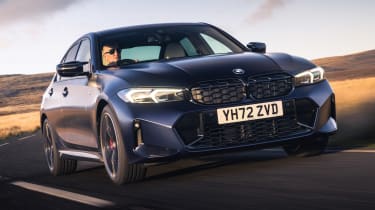 Model: 320i M Sport saloon
Monthly hire charge: £416.39
Initial rental: £3,747.51
No. of payments: 47
Annual mileage: 8,000
Excess mileage: Charges apply
The BMW 3 Series has been the benchmark small executive saloon for decades, and the latest model is no exception. The 320i on offer here is fitted with the reasonably powerful 181bhp 2.0-litre petrol engine, which enables quick acceleration with claimed fuel economy of over 40mpg.
With the M Sport trim you will also get model-specific styling tweaks and a sports interior, along with added premium touches such as cruise control, automatic headlight beam-throw control, and a large touchscreen infotainment system.
Lease the BMW 3 Series from Leasing.com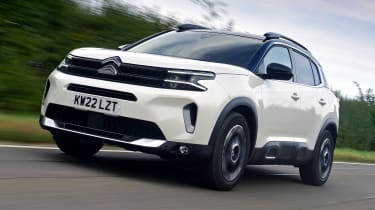 Model: C5 Aircross 1.2 PureTech C-Series Edition
Monthly hire charge: £287.36
Initial rental: £2,586.24
No. of payments: 23
Annual mileage: 10,000
Excess mileage: Charges apply
Unlike many of its rivals, Citroen's largest SUV, the C5 Aircross, doesn't really make any attempt to be sporty. Instead, it focuses on what many large SUV buyers actually want, comfort and practicality. The C5 Aircross' comfortable ride is achieved thanks to Citroen's Progressive Hydraulic Cushion suspension – this works by replacing the usual bump stops in a car's suspension with a pair of hydraulic dampers. Inside, there's plenty of room for five passengers, along with a 580-litre boot.
Lease the Citroen C5 Aircross from Leasing.com
Dacia Jogger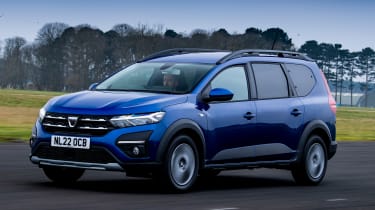 Model: Jogger 1.0 TCe Extreme SE
Monthly hire charge: £193.85
Initial rental: £1,744.65
No. of payments: 23
Annual mileage: 10,000
Excess mileage: Charges apply
There is no denying that car prices are high at the moment, but Dacia continues to put many other manufacturers to shame when it comes to bargains. The Jogger is the latest addition to the Romanian brand's lineup, and it offers seven seats and a huge amount of practicality for an incredibly modest price. In fact, we're so impressed with the Jogger that we've named it our Family Car of the Year. The Jogger in this particular deal is in the Extreme SE trim, which is the range-topper, so you'll get all the creature comforts for less than £200 a month.
Lease the Dacia Jogger from Leasing.com
Fiat 500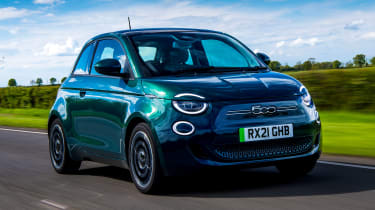 Model: 500 70kW Action 24kWh
Monthly hire charge: £274.76
Initial rental: £2,470.14
No. of payments: 47
Annual mileage: 5,000
Excess mileage: Charges apply
When Fiat introduced the first modern 500 in 2008, it quickly became one of the brand's best-selling cars. The small Fiat's funky retro styling and compact dimensions made it very appealing to city car buyers, and the latest 500 has been designed to retain these highly-appealing features. One key difference with the new 500, though, is that it is fully-electric. The 500 on offer here features the smaller 24kWh battery, with a claimed range of up to 115 miles, but this should prove plenty for zipping in and around the city. What's more, running costs are low and you won't get stung by any emissions-based charges.
Lease a Fiat 500 from Leasing.com
Hyundai Tucson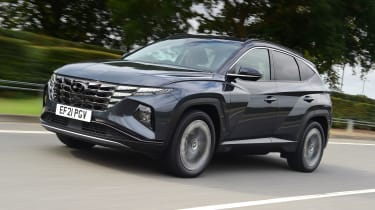 Model: Tucson 1.6 TGDi SE Connect
Monthly hire charge: £262.72
Initial rental: £2,364.48
No. of payments: 47
Annual mileage: 8,000
Excess mileage: Charges apply
The Hyundai Tucson has bagged the title of our Mid-size SUV of the Year twice in a row, which is a hugely impressive feat when you consider just how fierce the competition is. Not only does the latest Tucson look great, but it's a brilliant family car too. There's plenty of space inside for five adults along with a 680-litre boot for their luggage. The Tucson's on-board tech is also some of the most advanced on offer in any mid size SUV at the moment, and range-topping models even boast a remote-parking feature that lets you move the car out of a tight space using just the key.
Lease a Hyundai Tucson from Leasing.com
Kia Niro EV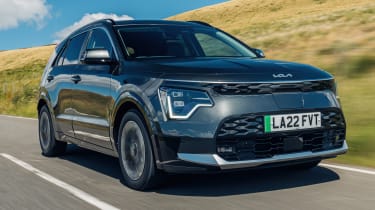 Model: Niro EV 150kW 2 64kWh
Monthly hire charge: £353.33
Initial rental: £3,179.97
No. of payments: 35
Annual mileage: 8,000
Excess mileage: Charges apply
If you're keen on the idea of a family-friendly electric car, the Kia Niro EV could be the ideal choice. This SUV may be compact in size, but some clever design and engineering has resulted in a generous amount of cabin space for both passengers and luggage. When on the move, the Niro EV is quiet, comfortable, and even reasonably quick thanks to its 201bhp motor. Alternatively, if you aren't quite ready to make the switch to electric power, the Niro is also available in hybrid and plug-in hybrid forms.
Lease a Kia Niro EV from Lease4Less
MG4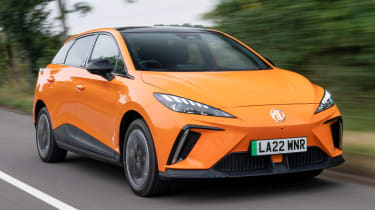 Model: MG4 125kW SE EV 51kWh
Monthly hire charge: £294.61
Initial rental: £2,651.49
No. of payments: 47
Annual mileage: 8,000
Excess mileage: Charges apply
The MG4 is the latest addition to MG's range and it has already cemented a solid reputation for its incredible value for money. This family hatchback is significantly cheaper to lease or buy than many of its rivals, yet it offers pretty much the same amount of features and on-board tech. There's no real sacrifice when it comes to battery range, either, as all variants of the MG4 offer over 200 miles of range from a full charge, along with 150kW rapid-charging capability.
Lease an MG4 from Leasing.com
Nissan Juke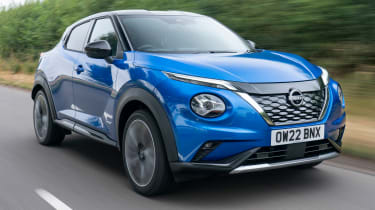 Model: Juke 1.0 DiG-T 114 Visia
Monthly hire charge: £224.39
Initial rental: £2,019.51
No. of payments: 47
Annual mileage: 8,000
Excess mileage: Charges apply
The original Nissan Juke took the market by storm when it originally launched in 2010, and it paved the way for an influx of crossover competitors from several brands. Today, the second-generation Juke is now on sale, and it's still just as quirky yet easy to live with as ever. The Juke is based on the same platform as the Renault Clio and Captur, but while these cars prioritise comfort, the Juke is oriented more towards handling, making it rather fun to drive. Running costs are pretty good, too. The model on offer in this particular deal is fitted with the 1.0-litre petrol engine, which should easily achieve over 45mpg.
Lease a Nissan Juke from Select Car Leasing
Renault Clio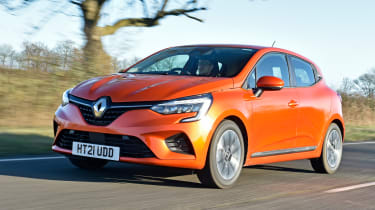 Model: Clio 1.0 TCe 90 Evolution
Monthly hire charge: £196.65
Initial rental: £1,769.85
No. of payments: 47
Annual mileage: 8,000
Excess mileage: Charges apply
Not many cars can boast back-to-back wins in our New Car Awards, but the Renault Clio has held onto the title of our Supermini of the Year since 2020. A combination of space, style and refinement are just some of the factors that make this French hatchback such a winner in our eyes. The Clio is even surprisingly family-friendly for a supermini, with a 391-litre boot and the ability to accommodate five passengers. Inside, the cabin is among the best in its class. The best news, though, is that all of this can easily be found for under £200 a month.
Lease a Renault Clio from Lease4Less
SEAT Ibiza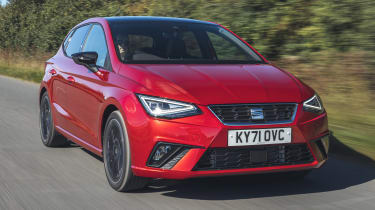 Model: Ibiza 1.0 MPI FR
Monthly hire charge: £210.77
Initial rental: £1,896.93
No. of payments: 47
Annual mileage: 10,000
Excess mileage: Charges apply
The Ibiza is the smallest model in the SEAT lineup, but it's a well-built car that's comfortable and good to drive. There's a surprising amount of space for passengers and luggage, too.
Step inside the sportier FR version of the Ibiza, as on offer here, and you will find a 9.2-inch touchscreen infotainment system with Apple CarPlay and Android Auto, 17-inch alloy wheels, sports seats and suspension, upgraded LED headlights and a driving mode selector.
Lease a SEAT Ibiza from Leasing.com
Vauxhall Astra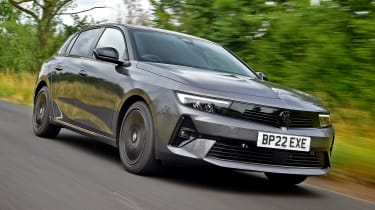 Model: Astra 1.2 Turbo 130 Design
Monthly hire charge: £246.76
Initial rental: £2,220.24
No. of payments: 47
Annual mileage: 10,000
Excess mileage: charges apply
For many years, the Vauxhall Astra was the car of choice for the British commuter. Today, it's not quite as common on the roads as it used to be, but Vauxhall's family hatchback is still a very good car. Now in its eighth generation, the latest Astra stands out far more than its predecessors, thanks to its sharp exterior styling. Plenty of tech is offered as standard, too, with all Astras featuring Vauxhall's Pure Panel infotainment setup. This system consists of two 10-inch screens which cover the media functions and instrument display. Wireless Android Auto and Apple CarPlay and a natural voice recognition system are also included.
Lease a Vauxhall Astra from Leasing.com
How does car leasing work?
Car leasing deals work in the same way as the many Business Contract Hire (BCH) offers available, except VAT is included. You pay an advance rental payment or deposit, select your annual mileage and contract length, and then pay a flat monthly fee for the duration of your agreement. When your contract ends, you hand the car back.
Should you buy or lease your new car?
Traditionally, leasing a new car is simpler and easier than a Personal Contract Purchase (PCP) and more importantly, it generally has lower monthly payments. For these reasons, lease deals are growing in popularity, with a large number of motorists simply handing back their cars at the end of the lease and signing for a new one straight away. As popularity is growing, so is the competition between manufacturers, meaning as a buyer you have the freedom to choose from the cream of the crop. 
In addition to the cheaper monthly payments, car leasing can offer many other useful benefits that could help you avoid the faff of dealing with independent dealerships. Car tax, breakdown cover, car maintenance and tyre repair and replacement can all be included within your agreed payment plan. So if you're thinking of heading down the car leasing route, we're here to help.
Independent lease broker deals
If the car of your dreams isn't offered by a manufacturer-promoted lease scheme, don't worry. Instead you can acquire your car from a leasing broker. These are independent firms that use their expertise to negotiate supply and funding deals with car makers and lending companies, and stitch together leasing deals for all manner of vehicles. In some cases the brokers offer extended contract terms too.
Lease brokers have traditionally been focused on the fleet market, but nowadays there are plenty who offer lease deals to private customers, too. The main difference between private and fleet or business lease deals is cost, because prices for business leases are quoted without VAT being added.
To illustrate the wide range of leasing deals available, we've rounded up a number of quotes from leasing brokers for a selection of models not currently available through a manufacturer's in-house PCH plan. While the figures below are a good starting point, take care when assessing quotes since some lease deals may involve additional admin or set-up fees. It's also vital to scrutinise the cost of exiting a lease contract early, because 'penalty' charges for termination can be significant.
Business car leasing
If you're a VAT-registered business user there could be more financial benefits from leasing your car or cars. Many leasing companies quote two prices: a personal lease and a business lease. Our prices are all for the former aimed at private customers, but business prices are without the 20 per cent VAT, which makes these deals even more affordable. Just remember, the contract has to be taken out by a business or sole trader, though, and the VAT rebate is limited to 50 per cent if the car is used for private mileage. 
Need a fast, accurate, free valuation on a car? Try our new valuation tool…
Continue Reading
1

Best car leasing deals

– currently reading

If you're looking for a cheap way to drive around in a brand new motor then car leasing could be ideal – here are some great new car leasing deals available right now

2

Alfa Romeo leasing deals

The best Alfa Romeo leasing deals available right now

3

Audi leasing deals

The best Audi leasing deals available right now

4

BMW leasing deals

The best BMW leasing deals available right now

5

Dacia leasing deals

The best Dacia leasing deals available right now

6

Hyundai leasing deals

The best Hyundai leasing deals available right now

7

Jaguar leasing deals

The best Jaguar leasing deals available right now

8

Jeep leasing deals

The best Jeep leasing deals available right now

9

Land Rover leasing deals

The best Land Rover leasing deals available right now

10

Mazda leasing deals

The best Mazda leasing deals available right now

11

Mercedes leasing deals

The best Mercedes leasing deals available right now

12

MINI leasing deals

The best MINI leasing deals available right now

13

SEAT leasing deals

The best SEAT leasing deals available right now

14

Subaru leasing deals

The best Subaru leasing deals available right now

15

Tesla leasing deals

The best Tesla leasing deals available right now
Source: Read Full Article