Best cars for £1,000 or less
12/04/2020
A low budget doesn't have to mean a low-quality. We've picked out ten terrific cars for under £1k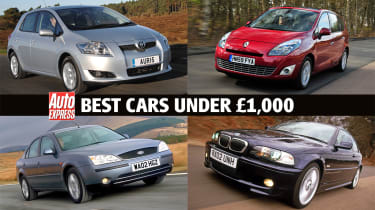 On the lookout for a car, on a small budget? Manufacturers around the world may make billions by selling new cars that have unprecedented levels of performance and cutting-edge tech, but not all of us can afford the prices that come with them. That's why we've rounded up some of the best bargains out there and come up with a list of the best cars for under £1,000.
We've compiled a shortlist of cars costing £1k or less, and it covers everything from hatchbacks to crossovers and even big, practical MPVs for families on a budget.
We've also found an example of a great driver's car in the shape of the BMW 3 Series. If you're looking for the best bang for your buck, then this could be the ultimate bargain purchase – the 3 Series' straight-six engine sounds marvellous, while there's 231bhp to keep you entertained.
Buying a used car: your complete guide
There are pitfalls of course. Rust, mileage and maintenance are all things to be wary of, but with a thorough inspection and a bit of patience there's no reason you won't come across a genuine, cheap-as-chips star.
Whether you're after a fun car to drive or simple practicality, this list has it all. And at less than £1,000, every single one is very much a half-price hero.
Scroll down to read about our the cars that can be bought for less than £1,000 – or check out these other price brackets…
Half-price heroes for all budgets:
The best cars for under £2,000
The best cars for under £3,000
The best cars for under £5,000
The best cars for under £10,00
The best cars for under £15,000
The best cars for under £20,000
Subaru Forester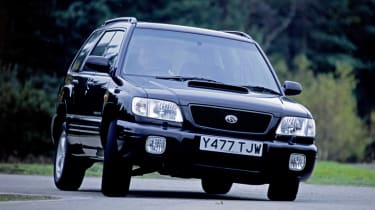 Model: Turbo S auto
Year/reg: 2001/51
Mileage: 144,000
Price: £1,000
If you want a proper four-wheel-drive SUV for less than a grand there are a handful of choices, but our pick is the Subaru Forester. It has genuine off-road ability for a start, but it's also great value given how much room there is inside.
There's some enthusiast appeal here as well, thanks to Subaru's unusual 'boxer' petrol engine, which has a distinctive exhaust note and delivers strong performance in turbo form.
Foresters can suffer from head gasket problems, so find a model that has had regular servicing – with receipts to prove it. But, the rest of this rugged-looking car's mechanicals are pretty robust.
Check the latest prices for used Subaru Forester models on our sister site BuyaCar…
BMW 3 Series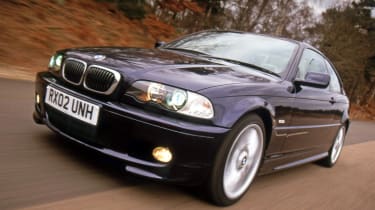 Model: 330Ci Sport
Year/reg: 2002/02
Mileage: 103,000
Price: £999
We may be reaching the final days of being able to buy a six-cylinder coupé for less than £1,000, so this elegant BMW 330Ci looks rather tempting with a price tag a pound under our budget cap.
You'd have to go in to any purchase with the knowledge that at this price it's likely to be rather tatty, but if you're happy to put in some work to fix a few bits and bobs, then it could be worth a punt.
After all, a 231bhp straight-six petrol engine awaits you in the 330Ci – and that is certainly one of the best engines around at this kind of price. Plus, this model comes with an engaging rear-wheel-drive driving experience to match.
Check the latest prices for used BMW 3 Series models on our sister site BuyaCar…
Renault Grand Scenic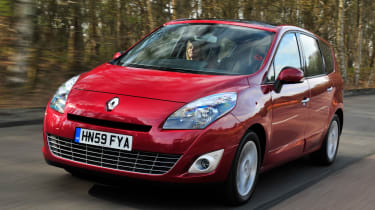 Model: 1.5 dCi Privilege
Year/reg: 2010/10
Mileage: 112,000
Price: £999
As SUVs take over the car landscape, MPVs have been left trailing in their wake, but this means a clever buyer will be able to snap up a hugely practical family car for very little money.
After all, a car like the Renault Scenic is every bit as practical as a similarly sized SUV. The only question you'll need to ask yourself is if you can put up with the slightly stuffier image that goes hand in hand with its boxy looks.
The example we found not only would give you change from £1,000, but it also comes fitted with leather seats, sat-nav, climate control and cruise control. What more could you want from a family car?
Check the latest prices for used Renault Grand Scenic models on our sister site BuyaCar…
Hyundai Santa Fe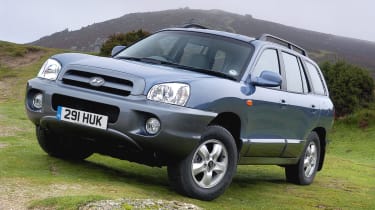 Model: 2.0 CRTD CDX
Year/reg: 2004/54
Mileage: 130,000
Price: £995
Diesel's current unpopularity, as well as the introduction of a new charge affecting older models in London, means that there are now many examples at the lower end of the market that could be great buys.
The best of the bunch is the original Hyundai Santa Fe that we've picked out here. It's quite a big, heavy car, so petrol versions are costly to run, making diesels the favoured option. The Santa Fe's dependability is another big reason to buy one, but there's also comfort – it's a great cruiser, with lots of space. Plus the standard five-year new-car warranty it came with should have ensured money-no-object maintenance early in its life.
Check the latest prices for used Hyundai Santa Fe models on our sister site BuyaCar…
Honda HR-V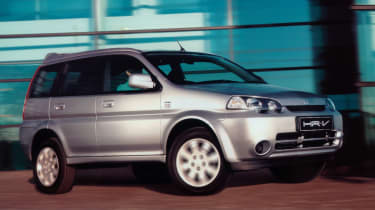 Model: 1.6 i-VTEC
Year/reg: 2003/53
Mileage: 101,000
Price: £995
There's not much choice when it comes to small SUVs under a grand, because of the usual age of cars in this price bracket.
But while small SUVs are a relatively recent invention, the original Honda HR-V – launched back in 1996 – was something of a pioneer. Perhaps surprisingly, this innovative little car didn't really catch the public's attention at the time, but it's an interesting used buy now.
SUV fans will like its distinctive looks, but that's not why it's an appealing used car. That's because it's practical, easy to drive and should prove reliable, while the extra ground clearance will help on gravel tracks and in countryside car parks.
Check the latest prices for used Honda HR-V models on our sister site BuyaCar…
Toyota Auris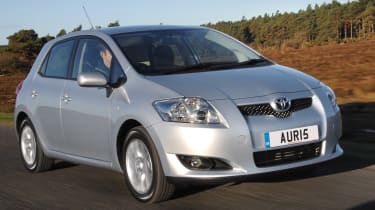 Model: 1.6 VVT-i TR
Year/reg: 2007/07
Mileage: 117,000
Price: £895
The Toyota Auris is the kind of car that everyone would be driving if we all made completely rational decisions with our money. It's got everything you need: a decent boot, comfortable seats, a fairly efficient engine and a low price.
It's not the car we all own, though, because it's just not very exciting. Yet for this exact reason, because it's so easily overlooked – when you might also consider a classy VW Golf or engaging Ford Focus – it makes a great used buy.
The best part is that the Auris is bound to be reliable despite the low cost. So if you want a dependable hatch for as little as possible, the Auris clearly appeals.
Check the latest prices for used Toyota Auris models on our sister site BuyaCar…
Ford Mondeo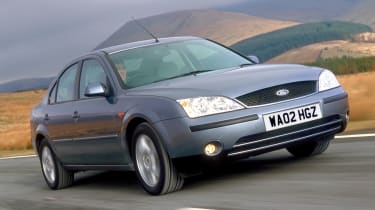 Model: 2.0 TDCi Ghia X
Year/reg: 2004/53
Mileage: 102,000
Price: £795
The Ford Mondeo is no longer near the top of the new car sales charts, because modern buyers are choosing SUVs, smaller hatchbacks and more premium models instead. Yet if you're buying used, the Mondeo is definitely worth a look.
It makes the most sense if you only have a tiny budget, because there are so many on the market that you'll be able to reject a sub-par one without having to worry about missing out.
The Mondeo is good to drive, spacious and has plenty of equipment, especially because top models such as the Ghia X generally don't cost much more than lesser models at this end of the market.
Check the latest prices for used Ford Mondeo models on our sister site BuyaCar…
Honda Jazz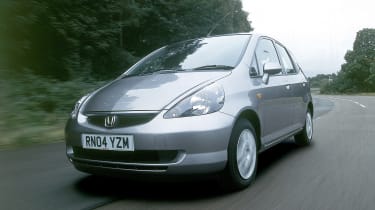 Model: 1.4i-DSI SE
Year/reg: 2003/53
Mileage: 127,000
Price: £500
This Japanese supermini has a niche in the new car market because it's one of the most versatile and practical small cars around. That's true of used models too.
The 'magic seats' that fold upwards as well as down flat provide a lot of different storage options, and the boot is really big for a small car as well. But the little Honda makes a great used buy for a couple of other reasons, too.
First, it's a reliable car, especially in simple manual petrol form. Second, and best of all, its reputation as a car favoured by older drivers means many examples will have been serviced meticulously, and they're unlikely to have been thrashed.
Check the latest prices for used Honda Jazz models on our sister site BuyaCar…
Source: Read Full Article