Best fabric protectors for your car 2021
08/16/2021
Which fabric protector spray best holds back stains from car seats and carpets best?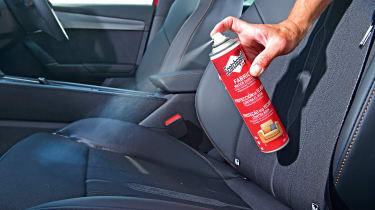 We've all had the sickening feeling when that cup of on-the-go latte slips from your fingers, or your child drops their juice and you just know you have a long cleaning job in front of you.
But it doesn't need to be that way, because fabric protectors aim to leave an invisible coating on the material that beads away liquids, rather than letting them soak into the seat, trim or carpet. 
That long mopping-up job becomes a simple wipe with a cloth, but which fabric protector is the one to give you peace of mind? We tested eight to find which is the best for your car.
How we tested them
A car seat was divided into sections with each fabric protector applied to the manufacturer's directions. Some required more than one application, others an overnight cure, or needed to be brushed into the material. 
We then tested how well their coatings worked with hot coffee, cold cola and greasy butter, leaving them on the surface for a few moments before attempting to mop up the mess with a microfibre cloth. 
Alongside how well each product protected, we took into account ease of application, including the type of spray and the method. We also assessed if the fabric protectors left a smell, or if they affected the feel of the material. Finally, we checked value for money.
Verdict
Dodo Juice's new Fabricadabra works just as well as our previous winner from the company. It provided flawless results and takes another well deserved win for Dodo Juice. Second place goes to newcomer Sam's Detailing, while long-time favourite Gyeon Q2 FabricCoat is pushed down to third position, thanks to a price increase since our last test.
Dodo Juice Fabricadabra
Sam's Detailing Fabric Protectant
Gyeon Q2 FabricCoat
Reviews
Dodo Juice Fabricadabra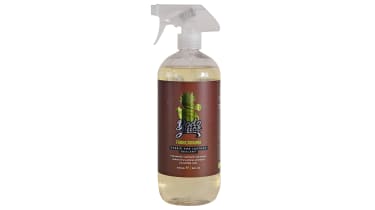 Price: £14  
Quantity: 1,000ml
Rating: 5 stars
Contact: www.dodojuice.net
The last time we did this test, Dodo Juice sent us Supernatural Fabric Sealant. Fabricadabra seems to be slightly different, but performed just as well. However, it's twice as much product – a litre instead of 500ml with Supernatural – for almost the same price, making it cracking value. A minimum of two coats is recommended, and it should be brushed or rollered into the fabric after saturation – not too arduous a task. It shrugged off all of our stains, once applied, refusing to succumb even to hot coffee. The fabric looked untouched once we'd mopped up. Buy now from Ultimate Finish
Sam's Detailing Fabric Protectant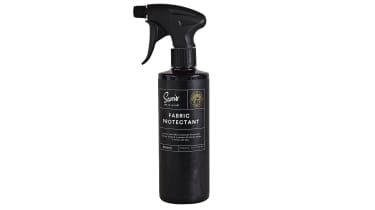 Price: £12
Quantity: 500ml
Rating: 4.5 stars`
Contact: www.samsdetailing.co.uk
An excellent performance from this good-value protector. Its coating didn't hold up quite as long as our winner's, especially where boiling coffee was involved, but there was still lots of time to soak up the spill. It doesn't smell too strongly, either, and application requires just a single coat and time for it to soak in, which is as easy as it gets. The fabric didn't feel any different after application and looked just fine once we'd cleaned up our testing liquids. Buy now from Sam's Detailing
Gyeon Q2 FabricCoat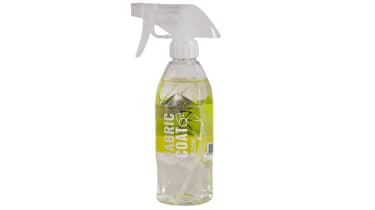 Price: £43
Quantity: 400ml
Rating: 4 stars
Contact: www.cleanyourcar.co.uk
It's very difficult to argue with the results Gyeon's FabricCoat offers. It requires two coats an hour apart, and leaves a strong chemical smell for several hours, but once applied, it's nearly untouchable, with liquids beading off instantly and reliably. Yet its price is a sticking point, having gone up by £8 since we last tested these products in 2019. This means that you could buy three litres of our winning product for less money, but FabricCoat is still a very strong premium option. Buy now from Amazon
Scotchgard Heavy Duty Water Shield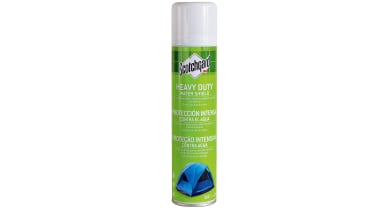 Price: £9.99 
Quantity: 400ml
Rating: 3.5 stars
Contact: www.3m.co.uk
We've never been impressed with Scotchgard's auto-specific fabric spray, so we opted to sample the Heavy Duty version. Application is straightforward, thanks to the aerosol dispense, and one can will treat a large car easily, because saturating the fabric isn't recommended. This protector struggled with hot coffee, which it made a vain attempt to bead but soon soaked in. Yet cold spills were shrugged off with impunity. Worth the small price premium over its sister product. Buy now from Amazon
Scotchgard Fabric Water Shield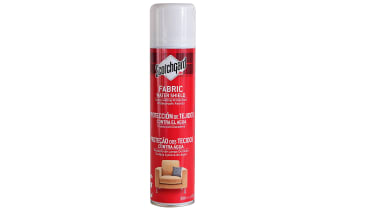 Price: £8.99  
Quantity: 400ml
Rating: 3 stars
Contact: www.3m.co.uk
THIS spray recorded a similar result to the Scotchgard Heavy Duty (left), which is perhaps to be expected. Its instructions ask for two light coats rather than the Heavy Duty's one. That means despite the cheaper price, the can won't go as far. As with its brother, cola beaded off instantly and butter could be removed without leaving a greasy mark, but hot coffee proved too much for the coating to handle, and it soaked in. There's enough protector to coat a whole car, and it doesn't smell awful either, plus the light coating dries quickly. Buy now from Amazon
Nilco Fabric Protector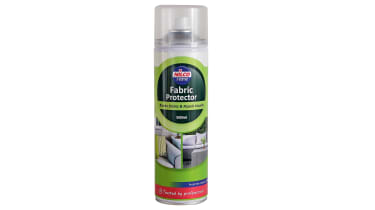 Price: £7.99  
Quantity: 500ml
Rating: 3 stars
Contact: www.nilcouk.com
NILCO'S protector comes in a chunky aerosol can that made application a breeze. The firm recommends two coats for improved performance. It smells rather strong at first, but the chemical odour soon fades and Nilco's Fabric Protector didn't change the feel of the fabric. It performed reasonably well with cola, which beaded off, and the butter didn't leave a greasy stain. But hot coffee seemed to be its limit: it beaded for a moment, then soaked in. Buy now from Amazon
Renapur Protector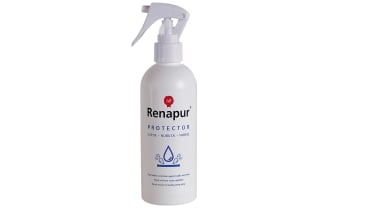 Price: £15  
Quantity: 200ml
Rating: 2.5 stars
Contact: www.renapur.com
This dinky 200ml bottle works out quite expensive. It seems to be more intended for suede or nubuck shoes, but does claim it can protect all kinds of fabric. Results were mixed: we found cola beaded off perfectly time and time again, but the Renapur put up no resistance to hot coffee and there was a greasy stain left after we cleaned off the butter. It's almost totally odourless, so if you're really sensitive to chemical smells you might want to give this a try. Buy now from Amazon
Furniture Clinic Carpet and Upholstery Protector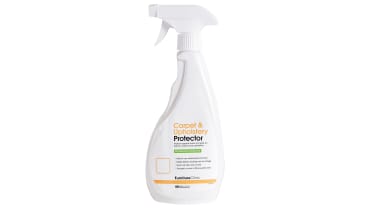 Price: £14.95  
Quantity: 500ml
Rating: 1.5 stars   
Contact: www.furnitureclinic.co.uk
THIS product targets household furniture rather than automotive fabrics, claiming one bottle is enough to cover a three-seat sofa. But from our results on the car seat material we wonder how useful it would be. Cola, the least challenging of our stains, beaded for a minute, but soaked in before we had a chance to mop it up. There was no resistance to hot coffee, and a greasy stain was left by the butter. It's not great value, so perhaps worth keeping for household items. Buy now from Amazon
Source: Read Full Article