Best folding bikes 2020
04/07/2020
Make your commute easier by storing a great fold-out bike in your boot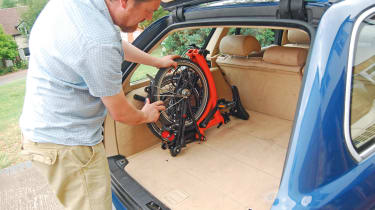 With parking costs at train stations and in city centres climbing ever higher, many drivers are swapping to two wheels for the last part of their journey – a cost-effective DIY park and ride scheme.
A folding bike will fit in your boot and can take you the last mile or so to your destination, allowing you to park where it's cheaper, or even free. There's also no racks needed, or fiddly straps, clips or locks to bother with. But which should you choose to ease your commuting? We swung a leg over six to find the best.
How we tested them
Each bike was judged on what it was like to ride, its collapsed size and how easy it was to fold and open. The bike will have to be lifted out of a boot, so the weight and ease of carrying were also judged.
Features such as mudguards, stands and suspension added points, while the current price was also taken into account.
Verdict
The Brompton M6L costs more than four times as much as the second-placed bike, but for the daily commuter who is constantly using it, it's worth the extra – and it'll hold its value if you sell it on. The Carrera Transit is a great-value alternative for occasional users who don't fold as often. And the same is true of the B-Twin, which just missed a podium place.
Brompton M6L Black Edition
Carrera Transit
Brompton M3L
Reviews
Brompton M6L Black Edition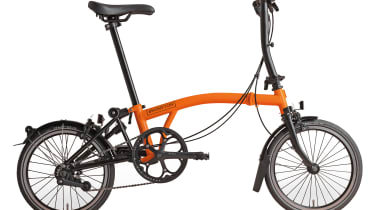 Price: Around £1,150
Weight: 11.8kg
Gears: Six
Rating: 5 stars
Contact: www.brompton.com
Just like car makers, Brompton produces special models such as this Black Edition, although confusingly the test bike in our pictures is orange. Underneath it's an M6L model, which means six speeds from slick-shifting hub gears plus the ability to fold the bike small enough so that it fits in tiny boots and train luggage racks. At 11.8kg, it's light enough to lift upstairs and over high car bumpers, too.
It's not perfect and, at more than £1,000, is very expensive compared to most other bikes here, but if you need to use and fold your bike on a daily basis, this Brompton really will make life easier. The brand's cult following means it'll hold its value, too.
Buy now from Cycle Surgery
Carrera Transit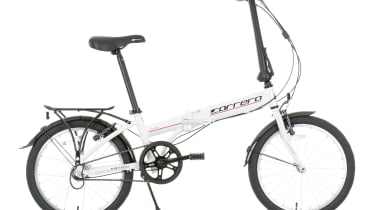 Price: Around £256
Weight: 14kg
Gears: Three
Rating: 4 stars
Contact: www.halfords.com
Despite its name, the Carrera Transit is neither a Porsche nor a Ford van, but it's a pretty good folding bike at a keen price from Halfords. It looks similar to the Carrera Intercity (opposite) but is designed for in-town riding with a three-speed hub transmission.
It's heavier and bulkier than the Bromptons when folded, and the process of collapsing it down isn't nearly as slick, but it feels more like a proper bike to ride, and the three gear ratios are well chosen for city riding. It also comes with mudguards, a stand and a luggage rack. Its size means the Carrera isn't perfect for daily commuting on rush-hour trains, but it's great for more occasional users.
Buy now from Halfords
Brompton M3L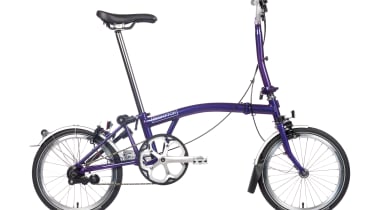 Price: Around £950
Weight: 11.7kg
Gears: Three
Rating: 4 stars
Contact: www.brompton.com
The second Brompton in our test shares all of the same basic components as our winner, which means it too is a great folding bike. The company's website allows you to specify a bewildering array of options to match your tastes and preferences – different handlebar shapes, gears, frame materials, colours and accessories.
This bike's conventional colours are a matter of personal taste, but we suspect that the chrome components will need more maintenance than the Black Edition's paint. The three-speed hub gears are well chosen and will be fine for most town riding, but the winning Brompton's six speeds make it a more versatile all-rounder.
Buy now from Evans Cycles
B-Twin Tilt 120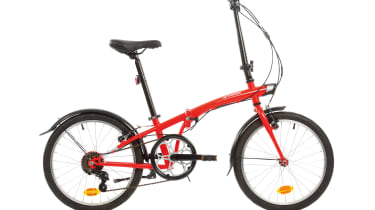 Price: Around £180
Weight: 14.5kg
Gears: Six
Rating: 3.5 stars
Contact: www.decathlon.co.uk
B-Twin is the own brand of French sports store Decathlon. It has a reputation for building great bikes at keen prices – and the Tilt 120 is our best budget buy. It feels solid and well equipped, with mudguards and a stand – although a luggage rack is extra.
The six gears are well-chosen and mean you'll be able to venture further out of town, but this is the shortest bike here, which makes it feel a little too upright for tall riders. However, it folds quickly and can be easily wheeled along when folded by pushing it with the saddle.
Buy now from Decathlon
Carrera Intercity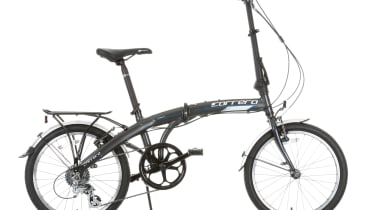 Price: Around £350
Weight: 13.6kg
Gears: Eight
Rating: 3 stars
Contact: www.halfords.com
While the Carrera Transit is designed for town riding, the Intercity is meant to be more comfortable over longer rides. It's fractionally larger and has a conventional Derailleur and cassette rather than the Transit's hub gears.
It can do a pretty good impression of a touring bike as a result and doesn't feel out of its depth over double-digit mileages. Mudguards and a rack are standard, but folding the Intercity is tricky, and the clips which hold it together when folded aren't as neat as the Transit's magnets. We can't see why it costs £96 more, either. 
Buy now from Halfords
Ecosmo Lightweight Alloy Folding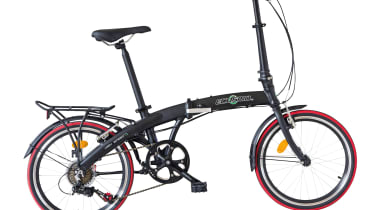 Price: Around £220
Weight: 13.5kg
Gears: Seven
Rating: 3 stars
Contact: www.ecosmobike.com
Ecosmo's Lightweight Alloy is one of the web-based company's pricier models, but at £220 looks good value when compared to its rivals here, especially considering the alloy frame, mudguards and rack.
It rides well, with strong brakes and seven Shimano-branded gears. The gearing is a little low though, leaving your legs spinning downhills. Our other complaints are that it doesn't feel as solid as its rivals, isn't the easiest to fold and doesn't lock together once collapsed.
Buy now from eBay
Source: Read Full Article