Best large SUVs on sale 2021
02/05/2021
Need a practical family car? Look no further than the best large SUVs on sale today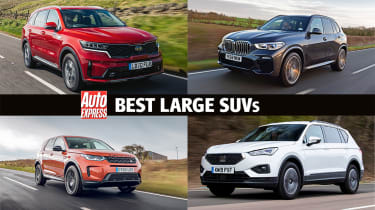 There was a time not so long ago when large SUVs (Sport Utility Vehicles) were clunky, woolly-handling behemoths that sucked fuel at a frightening rate, wallowing through corners, and bouncing occupants uncomfortably over pot-holes while assailing them with engine noise, wind and tyre roar. Then some bright spark invented the road-biased or crossover SUV concept, which kept all the attributes that large SUV owners loved – the high-riding driving position with commanding views over the bonnet, imposing road presence, and cavernous estate-car style bodies – while removing the compromises inflicted by the need to traverse sand dunes or rocky trails.
Why? Because it didn't take car companies long to realise that most of their large 4×4 buyers weren't at all interested in the off-road capabilities of their chosen transport, and never strayed further off tarmac than an occasional muddy car park.
Best 4x4s to buy 2021
With this realisation came a trend for the current class of large SUVs, which sometimes nowadays don't even bother with the added complication of four-wheel drive. Instead, modern trends mean the best large SUVs – or at least the most popular ones – focus very much on the ease of driving, good road handling, comfort and practicality, with less regard for the requirement to go off-road.
That means it's rare to find a big SUV these days with a rugged separate chassis – a feature that was once the hallmark of a serious 4×4 is now largely limited to commercial off-roaders and double-cab pick-ups. Even those large SUVs that do retain significant off-road ability have benefited from the need to appeal to parents on the school run. So you'll no longer find clunky low-ratio gear selector levers or manual locking differentials, as advances in electronic chassis control systems mean everything is taken care of by the on-board computers.
As a result, imposing 4x4s from the Audi Q7 to the Volvo XC90 have had tremendous sales success among owners who appreciate the car-like driving characteristics, luxurious appointments and advanced technology that's lavished on these expensive range flagships. Yet in spite of their chunky looks, neither would get you very far when the tarmac runs out, and the same can be said for many of the other large SUVs on sale today too.
Best used large SUVs and 4x4s 2021
It's not exclusively the case though, as one of the most successful brands in the large SUV sector is the Jaguar Land Rover group, which has very commendably managed to combine its legendary off-road credentials with the modern trend for excellent on-road manners and luxurious comfort – in fact the Range Rover and Land Rover models have never had such a broad appeal.
While the large SUV concept originated in the wide-open spaces of the US in the days before we cared about the planet, the fact that the high-riding luxury SUV experience has taken-off worldwide has proved challenging from an environmental perspective. It means there's been a big focus on smaller, more efficient engines, and lighter build technology among mainstream manufacturers, while hybrid and electric tech is increasingly on buyers' wish lists too.
With all this in mind, read on for our guide to the 10 best large SUVs on sale in 2021, and if you want to find out more you can click through to the full review for each of the models we've included in our list of favourites.
Top 10 best large SUVs
SEAT Tarraco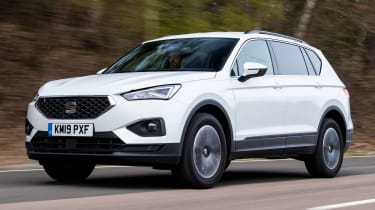 The SEAT Tarraco is a close relative of the Skoda Kodiaq, which means it's a large seven-seat SUV engineered primarily for road use. That makes it a more fashionable alternative to the SEAT Alhambra people carrier, although the Tarraco's somewhat confined rear row of seats means it's not ultimately as practical.
While it shares much of its hardware with its Skoda stablemate (that's the VW Group 'stable' to which SEAT and Skoda both belong), the Tarraco rides a couple of centimetres closer to the ground than the Kodiaq, part of an engineering package that makes its handling responses just that little bit sharper. It's arguably more sharply styled too, and generally a bit nicer to drive, although the 1.5-litre petrol engine can feel a bit strained and the 2.0-litre petrol and diesels are more pleasingly punchy.
You won't be looking to the Tarraco for serious off-roading, so the two-wheel drive version will satisfy most owners. Those who want to tow trailers or live in areas where extreme weather is commonplace can choose 4D four-wheel drive.
Click here for our in-depth SEAT Tarraco review
Kia Sorento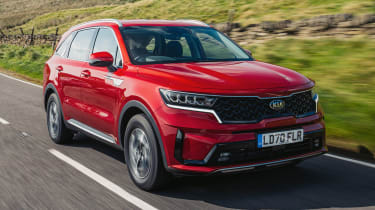 The latest Kia Sorento is one of the best large SUVs you can buy right now. Like the old model, the new Sorento is practical, comfortable and – importantly for a family car – exceedingly safe thanks to a raft of active safety systems. But it's added more strings to its bow, with lots of high-end technology and styling that earns it the right to push on into the premium end of the sector.
Engine options include a 1.6-litre petrol-hybrid developing 226bhp, or a 2.2-litre diesel that generates 199bhp. A plug-in hybrid version is expected at a later stage too. The diesel is smooth and quiet, and nowhere near as coarse as you'll find in other large diesel SUVs. 0-60mph takes 9.1 seconds, which isn't bad for a car that weighs over two tonnes. There is some body roll in corners, but you can expect that in a car that's set up for comfort.
Inside the interior has been finished to a high standard, and Kia has bucked an annoying trend by retaining physical controls for the climate control. The infotainment system works very well, and the Sorento is the first car ever to project rear traffic onto the screen so you can monitor your blind spots. It can even park itself too.
Click here for our Kia Sorento review
Skoda Kodiaq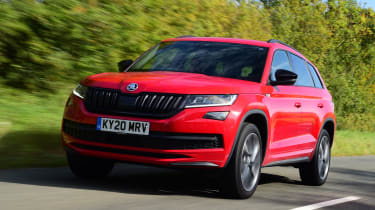 Choosing between the Skoda Kodiaq or SEAT Tarraco is a matter of horses for courses. While the SEAT offers a more focused driving experience that reflects the Spanish company's brand values, the Czech version is still great to drive while offering even more practicality and affordability.
The Skoda's pragmatic brand values mean the smallest 1.5-litre engine suits the Kodiaq a little better than the SEAT Tarraco, although the entry-level 2.0-litre diesel is predictably stronger.
In spite of its competitive pricing the Kodiaq still retains a classy feel, with styling cues taken from the Superb saloon and features like LED scrolling indicators and daytime running lights giving the car a premium feel.
It's practical touches that really give the Skoda it's unique appeal though, and the brand's 'simply clever' marketing line is backed by useful touches like umbrellas in the doors, an ice-scraper behind the fuel filler cap, and underfloor storage in the boot. It all adds up to a superb choice for families.
Click here for our in-depth Skoda Kodiaq review
BMW X5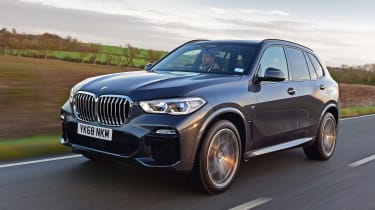 The BMW X5 majors in luxury, with passenger comfort first and foremost on the SUV's list of priorities. The optional third row of seats is geared more towards children than adults, but inside there's a large amount of space with plenty of leg, head and shoulder room to go around. So if you've got kids that are old enough not to want to be squished up against their brothers and sisters, the X5 will work well.
Something else you'll never be short of is power: engine options include 3.0-litre, turbocharged diesel and petrol engines making 282bhp and 328bhp respectively, with the range topped off by the 4.4-litre V8 in the M50i. This delivers 523bhp and 0-62mph takes just 4.3 seconds. Don't forget there's a standalone X5 M Competition as well: that ups power to a bonkers 617mph, while 0-62mph takes 3.8 seconds. Yikes.
Technology is another strong point in the X5. There's a 12.3-inch infotainment screen, and BMW's iDrive system is the best in the business. There's another 12.3-inch screen for the instrument cluster too, and the finish of the interior is really quite special.
Click here for our in-depth BMW X5 review
Land Rover Discovery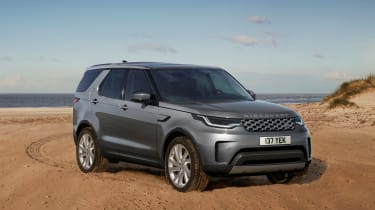 The latest Land Rover Discovery marked a shift of emphasis for the model, away from the uncompromisingly rugged appeal of its boxy predecessors, and closer to the more softly-styled mainstream of luxury SUVs.
That's not to say the Disco is any less proficient off-road than its forebears, because it's still all but unbeatable when the going gets tough. But it does mean the Discovery is more car-like, more refined and more luxurious than ever before, making it an alluring choice for those buyers who value looks, image and seven-seat practicality above go-anywhere credentials.
In other words, the school-run mums and dads who were put off by the last Discovery's macho style, should find the current model less challenging. It's also more efficient thanks to an entry-level 2.0-litre diesel option offered next to the 300bhp+ top models.
All Discovery variants come with electronic air suspension, eight-speed automatic gearbox and Land Rover's Terrain Response system that optimises the car for any surface it encounters. On tarmac the Discovery is tuned for comfort rather than speed, but easy, relaxed manners and a cavernously practical, well-equipped cabin make it the ultimate family hauler.
Click here for our in-depth Land Rover Discovery review
Audi Q7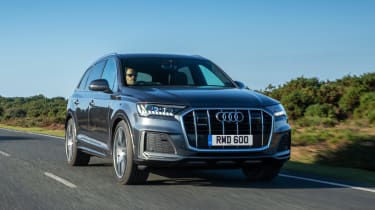 The latest Audi SUV flagship shares its engineering platform with the Porsche Cayenne, Bentley Bentayga and VW Touareg, taking advantage of the very best of the VW Group's technical know-how, yet retaining its own distinctive brand 'DNA' – from behind the wheel it feels very much an Audi.
In spite of its bulk, the Q7's advanced chassis engineering – with optional four-wheel steering and adaptive air suspension – means it's a rewarding and fun car to drive. It's manoeuvrable around town yet has bags of grip and stability when you're out on the open road and handles with surprising agility thanks in part to its relatively low weight. It's comfortable too, but the relatively sporty feel means it's not quite as luxuriant over bumps as a Range Rover.
A pair of smooth, powerful and efficient diesel engines and a standard eight-speed Tiptronic automatic gearbox all help to make the Q7 a compelling choice for luxury SUV buyers.
Click here for our in-depth Audi Q7 review
Peugeot 5008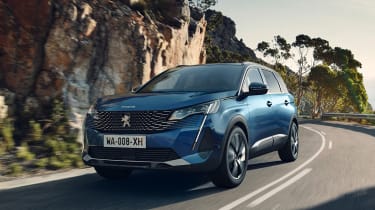 The 5008 is a stylish, more luxurious alternative to rivals like the Skoda Kodiaq and SEAT Tarraco. It's a sharp, handsome SUV with a dramatic interior that feels special. It's well equipped, too, with Allure trim adding a 12.3-inch digital dash, 3D sat-nav, climate control, a reversing camera and a safety pack that adds blind-spot detection and lane-keep assist to make motorway journeys a painless experience.
The Peugeot rides smoothly and is just as comfortable as its closest rivals. It doesn't offer the last word in driving dynamics, but few SUVs of this size can; instead, the 5008 concentrates on comfort and practicality. There's a range of diesel and petrol models to choose from, with the majority feeling a little underpowered; the 1.5 BlueHDi is cheaper to buy and run, but isn't the most satisfying to use. Plump for the 2.0-litre version if you like a little extra oomph. 
With the seats in the third row folded there's a 702-litre boot, while the middle row slides back and forth as required to give passengers more space if needed. Getting into those rearmost seats isn't the easiest job, but they're still perfectly usable by adults. Elsewhere, the 5008 has 38 litres of cubby space dotted around the cabin, which is a nice family-friendly touch.
Click here for our Peugeot 5008 in-depth review
Volvo XC90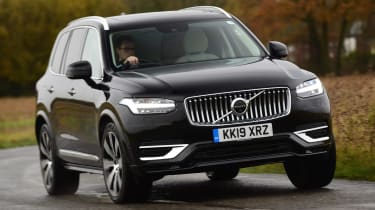 Classy styling, a luxurious interior and varied engine range all make the Volvo XC90 a great alternative to the Land Rover Discovery, especially if you want a plug-in hybrid SUV.
While the XC90 falls a little short of the Discovery in terms of interior space, it's a very practical car. There's loads of room for five people plus luggage, but the rearmost seats are only really suitable for occasional use. Elsewhere, the XC90 gets a great infotainment system, lots of safety equipment and some of the best seats available in a production car.
Key to the XC90's appeal is its engines. The best choice for most is likely to be the new mild-hybrid B5 diesel with its good combination of performance and economy; at the other end of the price range, the T8 Twin Engine plug-in hybrid is a fast yet frugal choice if you keep its batteries topped up. 
Click here for our Volvo XC90 in-depth review
Land Rover Discovery Sport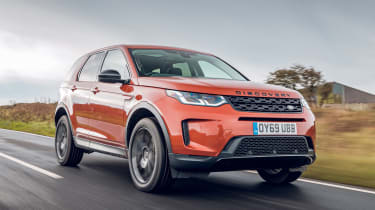 The Land Rover Discovery Sport is pitched as a more practical alternative to the Range Rover Evoque, combining style with excellent refinement, off-road ability and crucially, seven seats. This is a rarity in the compact SUV market, although the rear seats are more suited to kids than adults. With the rear seats folded down you get 981 litres of space in the boot, although be warned that this is measured to the roofline rather than the load cover, so don't let the figure mislead you.
An update in 2019 made the chassis stronger, and changes to the suspension made the Discovery Sport one of the quietest cars on the road in terms of tyre roar. Overall the ride is very composed, although it's a little firmer than we'd like at low speeds. Most potholes will pass unnoticed.
Land Rover's 2.0 TD4 Ingenium diesel engine can be had with either 148bhp, 178bhp or 237bhp, all of which are available with four-wheel drive and an eight-speed automatic transmission which suits the car more so than the six-speed manual. There are a couple of 2.0-litre petrol engines to choose from too, and while 0-62mph in 7.1 seconds in the most powerful guise is good fun, you'll be less impressed with fuel economy well below 30mpg.
Click here for our in-depth Land Rover Discovery Sport review
Tesla Model X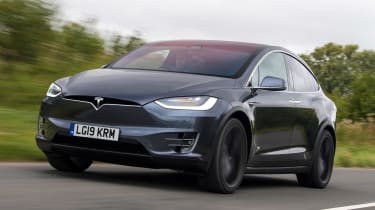 Regardless of whether you consider it an SUV or a crossover, the Tesla Model X is a fine way to transport seven in comfort. Access to every seat is superb thanks to the upwards-opening 'Falcon Wing' doors, which use sensors to ensure they can open sufficiently to allow access in the tightest parking spaces.
The interior is wonderfully spacious, because the EV drive system means there's no need for any compromise in the Tesla's packaging. It's a feeling emphasised by a minimalist interior that shuns buttons and dials for a huge portrait-style touchscreen.
Despite measuring more than five metres in length and 2.2 metres wide, the Model X isn't intimidating to drive. It also features Tesla's AutoPilot driving assistance and superb performance, with 0-62mph times as low as 2.9 seconds. The mid-spec Long Range is our top pick, with an official range of 348 miles and the ability to charge the battery to 80 per cent capacity in half an hour using one of the firm's Superchargers.
Click here for our Tesla Model X in-depth review
Source: Read Full Article