Best track day cars 2020/2021
12/01/2020
Whether you're looking to shave tenths off your lap time, or simply want to have some fun, these are the UK's best track cars
Introduction

1. Porsche 911 GT3 RS

2. Caterham Seven

3. Ferrari 488 Pista

4. McLaren Senna

5. Lamborghini Huracan Performante

6. McLaren 570S Track Pack

7. Porsche Cayman GTS

8. Honda Civic Type R

9. Hyundai i30 N

10. Ariel Atom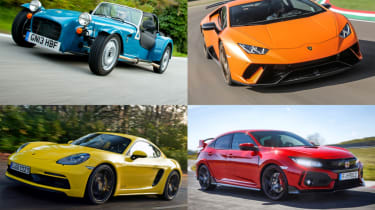 What with the endless traffic jams, potholed roads and cameras hidden, the UK might not be the place you'd think of to go if you want to drive fast. It may seem like it's impossible to get any enjoyment from driving a car in the UK at all. However, there is a solution at hand though, and if you're flush enough, you could take advantage of some of the finest race circuits in the UK to get your driving thrills in a track car. And these are 10 motors that will easily put a smile on your face.
Track days are a great way to spend time getting to know your car, and if the model in question delivers feedback and responses that encourage you to push the limits further on every lap, then it's a car worth keeping hold of. These track days charge a fee for you to take part, but once you're paid up, have a helmet and a car that meets the rules for the track day, then you're free to drive your car to the limits of its performance.
Best sports cars 2020/2021
Manufacturers know that track days are a big draw for drivers, and there are a number of track-focused models available to buy, although you don't necessarily need to go down the route of a dedicated race car to get your thrills. There are standard production cars that will be just as capable of being fun while still proving comfortable enough to drive to the track and back, although if you end up becoming addicted to track days, then you might be better off with a dedicated track tool.
In an ideal world, you'll be able to afford a daily driver to use for everyday jobs, and a razor sharp track day car to garage through the week and unleash at weekends. If that isn't an option, choosing a track weapon with some semblance of practicality should be top of your agenda.
Best performance cars 2020/2021
Whatever your requirements in a track day car, this round-up should have the perfect vehicle for you. We've got high-end supercars tweaked for eye watering performance and lightweight circuit cars more than capable of embarrassing them in the right hands. Beyond that, hot hatches and performance coupes deliver the kind of track and road compromise that will keep most keen drivers happy.
Click the links below or at the top left of this page for our top 10 track day cars to buy now…
Best track day cars 2020
Porsche 911 GT3 RS
Caterham Seven 160
Ferrari 488 Pista
McLaren Senna
Lamborghini Huracan Performante
McLaren 570S Track Pack
Porsche Cayman GTS
Honda Civic Type R
Hyundai i30 N
Ariel Atom
Continue Reading
1

Introduction

– currently reading

Whether you're looking to shave tenths off your lap time, or simply want to have some fun, these are the UK's best track cars

2

1. Porsche 911 GT3 RS

There is no denying that our favourite track day car is one for the more wealthy track day drivers, but the stunningly engineered Porsche 911 GT3 RS is worth every penny.

3

2. Caterham Seven

The Caterham Seven allows you to enjoy the simple pleasures of driving.

4

3. Ferrari 488 Pista

Ferrari makes the 488 more exciting by removing weight and adding power

5

4. McLaren Senna

If you name a car after one of the greatest racing drivers that ever lived, it had better be good. And the Senna is

6

5. Lamborghini Huracan Performante

At nearly twice the price of the Porsche 911 GT3 you would expect the Huracan Performante to offer an incredible driving experience, and on many levels it does.

7

6. McLaren 570S Track Pack

The McLaren 570S Track Pack gets a range of add-ons designed to deliver the ultimate performance on track.

8

7. Porsche Cayman GTS

Sublime handling balance, communicative controls and a stunning engine, the Cayman GTS is a car you'll want to lap around a track all day.

9

8. Honda Civic Type R

As many petrolheads are aware, Honda has a history of making VTEC performance engines that deliver their best hit of power at the top end of the rev range.

10

9. Hyundai i30 N

It was not that long ago that Hyundai was knocking out dreary model after dreary model reserved for people who's idea of excitement is a homemade Weetabix smoothie

11

10. Ariel Atom

Powered by a mid-mounted Honda Civic engine, the Atom feels like a big go-kart due to its exposed skeletal chassis.
Source: Read Full Article