Best used family cars 2021
01/06/2021
Our guide to the best used family cars on sale in the UK today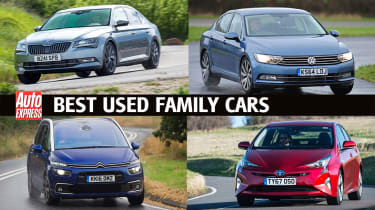 If you're looking for new wheels for the family but are loathe to pay through the nose for the privilege of being your next car's first owner, then this is the guide for you.
Our list of the best used family cars focuses on maximising value and space. That means you won't find any fashionable SUVs or crossovers included, and you can look elsewhere for the best estate cars too.
Best family cars to buy 2021
Instead, our best used family car guide focuses on the large saloons, hatchbacks and MPVs that used to be the bread and butter of everyday motoring, but have since been eclipsed in the fashion stakes by those new and exciting new 'niche' models or increasingly commonplace 'executive' saloons and SUVs.
But have no fear, because practical models being unfashionable is great news when you're shopping for a family car on a budget. In fact, it has concentrated the minds of car makers who have spent the last few years cramming more and more luxury, quality and technology into cars competing in an increasingly tough arena.
As a result, the family cars you can pick up for a song today in many cases offer all the quality and ambience of more prestigious rivals, even if they may not get the neighbours' curtains twitching when you park one on the drive.
But savvy buyers won't care – they'll be too busy enjoying the space, practicality and upmarket ambience these fantastic family cars provide. That said, we couldn't resist including our favourite people carrier as it's such a bargain on the used market, and we've even got a couple of hybrid options too.
So read on for our take on the best used family cars available today and check out the best used cars to buy in all market sector here…
Vauxhall Insignia Grand Sport
Skoda Superb
Toyota Prius
Volkswagen Passat
Mazda 6
Citroen Grand C4 Picasso/Grand Space Tourer
Hyundai Ioniq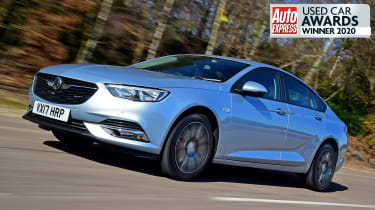 1. Vauxhall Insignia Grand Sport – Best Used Family Car 2020
Our pick: Vauxhall Insignia Grand Sport 2.0 Turbo D SRi VX-Line Nav (2018/67, 43k miles, £10,900)
Badge snobs really are missing a trick. The previous-generation Vauxhall Insignia took top honours in this category in our 2018 Used Car Awards, but with prices as low as £7,000, its replacement, the newer Insignia Grand Sport, has taken over the reins.
It's not hard to see why, either. The Grand Sport is, in the right spec, a very good-looking car, with low-slung, sleek looks. Not that this impacts interior space, which is best described as 'vast'; it's so big, in fact, that Vauxhall has recently dropped its estate sibling.
Best family cars to buy 2021
There's a huge amount of space in the back, which makes it easy to install kids into child seats, and the hatchback bodystyle ignored by premium rivals makes it a cinch to chuck bikes, buggies and beach towels into the 490-litre boot.
Interior quality is good on the whole, and buyers aren't short-changed when it comes to equipment. There's a bewildering array of trims to choose from, which is a blessing and a curse. But as a guide, mid-spec models such as SRi, SRi Nav or Tech Line strike the best balance between cost and kit.
We'd ignore the entry-level Design trim, because with prices like this, you can afford to, but all models get Apple CarPlay and Android Auto, alloy wheels, LED tail-lights and cruise control.
The 1.6 and 2.0-litre diesel engines are strong in any output, and the pair of 1.5 turbo petrols hustle the big hatchback along far more easily than you might expect. There's also a 257bhp GSi version, but even though prices are tumbling, that particular model is still too expensive to recommend. Whichever Insignia you choose, it'll ride smoothly and should be refined, making it an excellent choice for family motoring.
Check out the latest used Vauxhall Insignia Grand Sport prices on our sister site BuyaCar…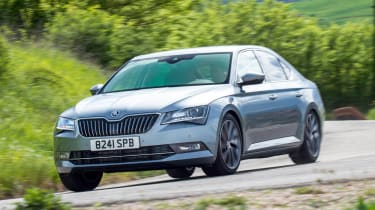 2. Skoda Superb Mk3
The hatchback version of the Superb excels in all the same areas as the Estate, but it can't quite keep pace with the Vauxhall's value, even if it does trump it for space and quality. The Superb is also comfortable and is offered with a good range of petrol and diesel engines.
While it's been around since 2015, the Superb range was facelifted in 2019 when some welcome technology updates included the availability of matrix LED headlamps and adaptive cruise control. The latest Superb has an array of high tech infotainment systems too, with all cars having at least an 8-inch touchscreen, and higher spec models getting a 9.2-inch version. It's also worth keeping an eye out for cars fitted with the fab Virtual Cockpit digital dash display – it's standard on top-spec Superbs, but a cost-option on several higher grades.
That said, even if your budget only runs to a slightly older Superb, you'll still be enjoying the benefits of driving one of the best-looking, best-built and most practical large family cars around. Within the VW Group, only the long-wheelbase Audi A8 provides more rear seat space and legroom.
Check out the latest used Skoda Superb prices on our sister site BuyaCar…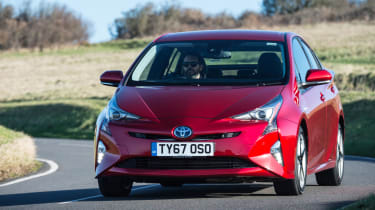 3. Toyota Prius
The car that introduced the concept of 'alternative' hybrid powertrains in the late 1990s is now so far into the mainstream that it's a shoe-in as one of our favourite used car options for families.
The model continues its pioneering mission to make everyone a hybrid driver, but there's nothing about the current Toyota Prius to justify outmoded 'hair shirt and sandals' eco-warrior slurs. The Prius is simply a great family car that's cheap to run, fully lives up to Toyota's fantastic reliability rep, and looks good too – at least if you're on the admiring side of its 'Marmite' styling.
If you're a fan, the Prius is certainly a viable alternative to other compact family hatchbacks like the VW Golf, Ford Focus or Vauxhall Astra.
The combination of an efficient 1.8-petrol engine with hybrid self-charging battery assistance means a carefully driven Prius can deliver similar economy to a diesel rival but with much lower emissions. The latest Mk4 version is pleasant to drive too, with an updated CVT auto gearbox offering much improved refinement under acceleration, and a chassis that's sprightly and composed.
Practicality is good too, with decent boot space and a comfortable cabin. However, a battery under the rear seat does reduce headroom in the back. That's a problem for taller adults, but one of the very few flies in the ointment.
Check out the latest used Toyota Prius prices on our sister site BuyaCar…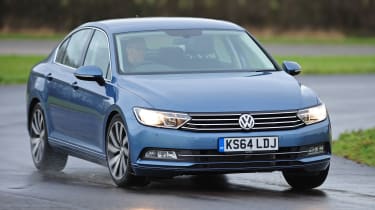 4. VW Passat
The rise and rise of prestige executive models like the BMW 3 Series and Mercedes C-Class has knocked the stuffing out of the large family car class, but it's had a profound effect on survivors like the Volkswagen Passat.
Staid and conservative it may be, but the big VW reeks of refined quality, and it's packed with enough technology to rival the best of ostensibly more prestigious rivals. It's also extremely roomy and the interior provides a genuinely feel-good ambience thanks to its well-conceived design and high quality build.
The latest model arrived in 2015 and was facelifted in 2019, and the latest 1.6 and 2.0 TDI diesels are smooth and efficient while the newest (post-facelift) 1.5-litre and 2.0-litre petrols are torquey and efficient.
All Passats are extremely comfortable to drive, and make excellent long distance cars with supportive seats and a fine driving position with plenty of adjustment. There's an impressive amount of passenger space front and rear, while the Passat also features plenty of in-cabin storage and a massive 585-litre boot.
All the new versions above SE grade get an 8.0-inch touchscreen with Apple CarPlay and Android Auto, while the VW Virtual Cockpit digital dash is a worthwhile option too.
Check out the latest used VW Passat prices on our sister site BuyaCar…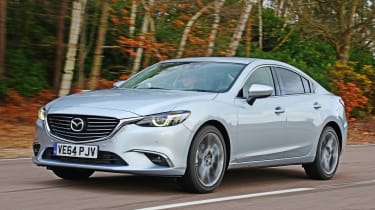 5. Mazda 6
The Mazda 6 won the Auto Express Best Family Car category in 2014, and while it's been around for a few years a facelift in 2018 has kept the model relevant. In fact it's still one of the best in its class in 2020, which shows how good it was back in 2014.
One of the key characteristics that has survived undimmed is the Mazda's fun-to-drive factor. It's one of the few family cars that's positively fun to drive, combining sporty handling with efficient and punchy powertrains.
Most people reckon the Mazda 6 is a looker too, with its sleek and sporty lines offering a refreshing alternative to the often conservative style of rivals. Fortunately the svelte lines don't translate to a cramped interior, and the Mazda 6 offers plenty of space inside for five adults, as well as their luggage.
On the road, the Mazda 6 is supple and refined, with only the more tautly sprung Sport Nav version feeling a bit firm for some tastes. The cabin is a great place to be too, with a top quality feel and high spec including a tablet-style 7-inch touchscreen in the centre of the dash. The SE L spec is one of the best value new versions, and they look a great used bet too with climate control, parking sensors and power mirrors amongst the goodies.
Check out the latest used Mazda 6 prices on our sister site BuyaCar…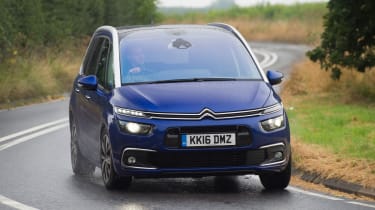 6. Citroen Grand C4 Picasso/Space Tourer
Formerly known as the Grand C4 Picasso but called the Grand C4 Space Tourer since 2018, our favourite new MPV is also a winner as a used car purchase.
Families looking for practical interior space will be bowled over by the cabin of this French people carrier, and especially the folding seat arrangement which is one of the easiest around to use. It's exceptionally roomy inside too, and has a light and airy feel wherever you sit – including the third row of seats which separates this Grand version from the regular C4 Space Tourer.
The Citroen is also quite a stylish machine, which is something of a rarity in its class, while the interior is even more eye-catching than the exterior, especially in versions with the big 12-inch display screen fixed in the middle of the dashboard. Spec levels are pretty comprehensive too, with top of the range versions adding luxuries like electrically-adjusted massaging seats.
The engine line-up consists of efficient diesel and petrol engines, the latter including a 1.2-litre three-cylinder turbo option that fits the bill surprisingly well thanks to 129bhp. A chassis that's built for comfort completes the winning hand.
Check out the latest used Citroen Space Tourer prices on our sister site BuyaCar…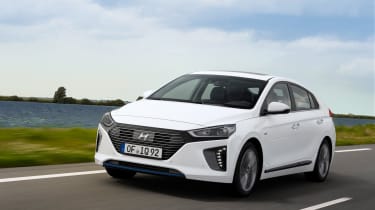 7. Hyundai Ioniq
Hyundai's rival to the Toyota Prius comes in three varieties, with the basic option being a self-charging hybrid. There's also a plug-in hybrid (PHEV) and a fully electric version, and while all acquit themselves well in day-to-day use we're particularly fond of the PHEV version.
All three Ioniqs provide strong competition for equivalent Prius models, but the relatively big 8.9kWh battery in the Ioniq PHEV gives it a head start in the economy stakes. Fully charged, it will take you almost 40 miles on electric power alone, offering the potential for seriously cheap commuting.
Otherwise the self-charging hybrid and PHEV models are very similar from a mechanical perspective, sharing the same 1.6-litre petrol engine and electric motor combo giving a total of 139bhp.
Visually, the Ioniq has a similar profile to the Prius, which is perhaps unsurprising as both are wind-tunnel optimised to reduce drag and improve efficiency. As a result, the Ioniq also suffers the same problem as the Prius which is reduced headroom for rear seat passengers – six-footers will find their hair brushing the headlining. The Ioniq's boot space is decent though, and with second-hand prices for the Hyundai considerably lower than the Prius, it looks a great used buy.
Check out the latest used Hyundai Ioniq prices on our sister site BuyaCar…
Left-field choice
Saab 9-3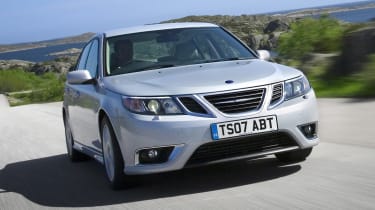 Do interesting, stylish and left-field family cars come any cheaper than the Saab 9-3? Low-mileage, last-of-the-line cars cost around £5,000, but there are hundreds for less than half that. Diesels are pretty economical, but Saab is synonymous with turbos, so a 2.0T in Aero trim is a desirable choice.
You can find our guide to the 10 best new family cars here…
Source: Read Full Article