Ford Mustang Mach-E gets new tech and equipment for 2022
09/12/2022
Ford's all-electric Mach-E features more driver assistance technology and cosmetic details as standard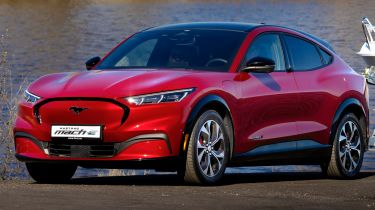 The Mustang Mach-E has been given some new upgrades for 2022. The improvements consist of enhanced driver assistance tech, comfort features and styling upgrades, and customers can specify their Mustang Mach-E with them from today.
Ford is readying an all-new version of the Mustang sports car, but for the time being the all-electric Mach-E is proving the most popular 'pony car' in the Ford stable. Ford has sold eight Mustang Mach-Es for every Mustang in Europe, but despite the success of its all-electric family SUV, the American giant has still chosen to refresh the range.
All-new Ford Mustang to debut on 14 September
Ford's Intelligent Automated Cruise Control 2.0 is now included as standard. This enables the car to use the forward-facing camera and navigation system to automatically adjust vehicle speed according not only to speed limit signs but also to corners and roundabouts as well.
The Mach-E's powertrain remains unchanged following the range boost introduced earlier this year, which saw the 68kWh unit increase to 70kWh and the 88kWh version go to 91kWh. However, Ford has unlocked more towing capacity, the Mach-E going from 1,000kg to 1,500kg for models with the larger 91kWh battery.
Speaking on the new updates, Martin Sander, General Manager of Ford Model e, Europe said: "Now we've made the first SUV member of the Mustang family even more tempting for the ever-growing number of customers ready to embrace the electric revolution."
Equipment levels have also been changed for the Mach-E. The 'Premium' trim level is now available on rear-wheel drive models with the 91kWh battery (previously it was only on all-wheel drive models). This adds 19-inch alloy wheels, adaptive LED headlights, eight-way powered driver and passenger seats, red brake calipers and black exterior detailing as standard.
Check out the latest on the new Ford Ranger pick-up truck here…
Source: Read Full Article