Ford Reveals All-Electric Mustang Mach-E, Arrives 2020
11/21/2019
Ford has revealed its new, all-electric SUV in an event in Los Angeles. It bears the name Mustang Mach-E, in a rather opinion-splitting decision from the Blue Oval.
The Mach-E represents Ford's attempt to reinvent the Mustang name for a new era of driving. It will still produce the Mustang as the regular coupe and convertible, but it now includes more practical motoring too.
Although it's an SUV, the new Mustang certainly carries the performance credentials. Ford has penciled in the base model Mach E at 332hp and 417lbft, running to 60mph in around five seconds with the standard all-wheel drive configuration. There's two hotter variants, both using a 459hp/612lbft variant of the motor set up, and capable of hitting the same mark in under four seconds.
Ford hasn't revealed the exact motor layout of the Mustang Mach-E, however both rear and all-wheel drive are available, suggesting at least two motors — one on each axle. There's a standard range variant with a 75.7kWh battery and an extended range option packing a 98.8kWh battery. The latter gives a range of 370 miles in rear-drive mode under the new standard WLTP test cycle.
Performance and range depend on which drive mode you choose. Ford calls them Whisper, Engage, and Unbridled (roughly equivalent to eco mode, normal, and sports), and they change vehicle response, driving dynamics, steering weight and ambient lighting. The all-wheel drive system can apply torque to the two axles independently.
Mach-E's platform is entirely new, and it accommodates the battery pack in the vehicle floor between the axles. The standard battery includes 288 lithium-ion cells, rising to 376 in the extended range, with liquid heating and cooling to control battery temperature and optimize charging times.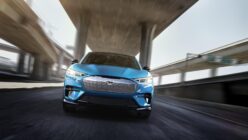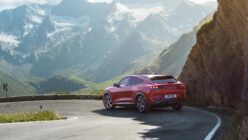 On the inside, Mustang Mach-E gets a five-seat configuration and 402 liters of load space in the rear. There's another 100 liters of storage in the nose, and that comes with a rather unusual feature: it's drainable. Ford cites tailgating — the pre-game parking lot party meaning — as a purpose, so customers can pack it with ice to keep their drinks cool…
Although there's nods to the car's name heritage in the cabin, it's an entirely modern design, dominated by an enormous, 15.5-inch infotainment screen. It's the next generation of Ford's SYNC system, which features touch, swipe, and pinch controls that should be familiar to smartphone users. The system includes machine learning to pick up on driver preferences.
There's more smartphone inspiration, with the Phone As A Key system also making a debut in the Mach-E. That detects registered smartphones, allowing the driver to unlock and start the car without needing a key. The system has a backup passcode in case your phone runs out of charge while you're out and about.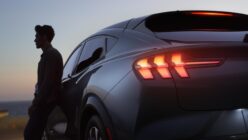 Bill Ford, executive chairman at Ford Motor Company said:
"At the first-ever Detroit auto show, Henry Ford said he was working on something that would strike like forked lightning. That was the Model T. Today, the Ford Motor Company is proud to unveil a car that strikes like forked lightning all over again. The all-new, all-electric Mustang Mach-E. It's fast. It's fun. It's freedom, for a new generation of Mustang owners."
Ford is taking orders now, but you won't be able to get hold of a Mach-E until late 2020 at best. The base 'Select' model will come in at $43,895, while the high performance GT, at $60,500, won't arrive until Spring 2021. If you place a $500 deposit, you can reserve a limited First Edition model at $59,900, with extended-range, all-wheel drive and model specific detailing.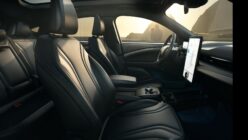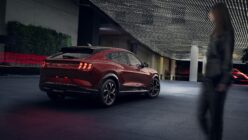 Source: Read Full Article