Forza Horizon 4 Season Change: Cosmopolitan Autumn
06/10/2021
Festivities continue in Forza Horizon 4 this week as a new Autumn season kicks off. Players are heading out across the UK to challenge the latest events and grab new content.
One of the most iconic Mazdas ever made arrives for Autumn, as well as more prizes for 50% and 80% completion of the Festival Playlist.
Reach For The Cosmos
Taking center stage for the seasonal completion prizes is the bombastic Lexus LFA supercar.
Following a ten-year development period, the LFA remains one of the most exciting cars Toyota has ever made. Underneath the carbon body sits a 4.8-liter V10 developed by Yamaha. Redlining at 9,000rpm, that V10 makes 552hp. Inside, the LFA features a digital rev counter in order to keep up with the fast-revving nature of the V10.
Something more modest for Toyota fans is the 1995 Toyota MR2. The SW20 generation roadster is argued as the peak of the MR2's desirability. Performance is stepped up a gear from the AW11, with a 2.0-liter turbocharged engine making 241hp. Along with a slimline weight of under 2,700lb, the MR2 will be riotous to drive.
Autumn's latest Photo Challenge is all about exploring castles. #CastleInTheSky wants you to snap any Nissan over at Bamburgh Castle. Bring a Skyline to get more in line with the challenge title.
Seasonal championships include the 2005 Honda NSX-R and 1992 Toyota Celica in the prize pool.
The big news is the arrival of the 1972 Mazda Cosmo. Mazda set the template for its sporting rotary lineage with this futuristic coupe. It was also the first Japanese road car ever to be fitted with a rotary engine. The engine in question is a 1.3-liter twin-rotor unit making 128hp. Thanks to low weight and a high redline, the Cosmo sets a high bar for its successors.
Take victory in the "Mazda's Guide To The Galaxy" championship to win the Cosmo.
A new batch of Super7 challenges awaits you for this season. Complete all seven and you'll win an Alfa Romeo Giulia Forza Edition.
Autumn events and prizes can be found below:
Mazda's Guide To The Galaxy
Series: Road Racing Series
Cars: Classic Sports Cars
Restrictions: B Class, 700 PI
Prizes: 15,000 CR, 25,000 CR, 1972 Mazda Cosmo
Journey Into The Night
Series: Street Scene
Cars: Japanese cars
Restrictions: A Class, 800 PI
Prizes: 15,000 CR, 25,000 CR, 1989 Toyota MR2
Retro Tourism
Series: Dirt Racing Series
Cars: Retro Rally
Restrictions: B Class, 700 PI
Prizes: 15,000 CR, 25,000 CR, 1992 Toyota Celica
The Trial: With Love From Australia (Co-Op Championship)
Series: Cross Country Series
Cars: Australian cars
Restrictions: A Class, 800 PI
Prizes: 1988 Holden VL Commodore Group A SV
Autumn Games – Series 36
Series: Playground Games
Cars: Honda
Restrictions: A Class, 800 PI
Prizes: 2005 Honda NSX-R
Super7 – Autumn
Completion Prize – Alfa Romeo Giulia FE
Mam Tor Danger Sign
Season Objective: 1,010.5 ft
Deep Vale Speed Trap
Season Objective: 165 mph
Brookside Speed Zone
Season Objective: 147 mph
Forzathon Events
Forzathon takes a look at a symbol of modern motoring, the SUV. More specifically, it's performance SUVs, so you'll need to grab one of the powerful machines available to get started.
Next, show who rules the streets by earning a total of 10 Binman skills, which should be an easy target around Edinburgh. Afterwards prove your school-run superiority by winning three Cross Country Series circuit events.
Finally, let nobody stand in your way as you earn 10 Trading Paint skills to close this week's challenges.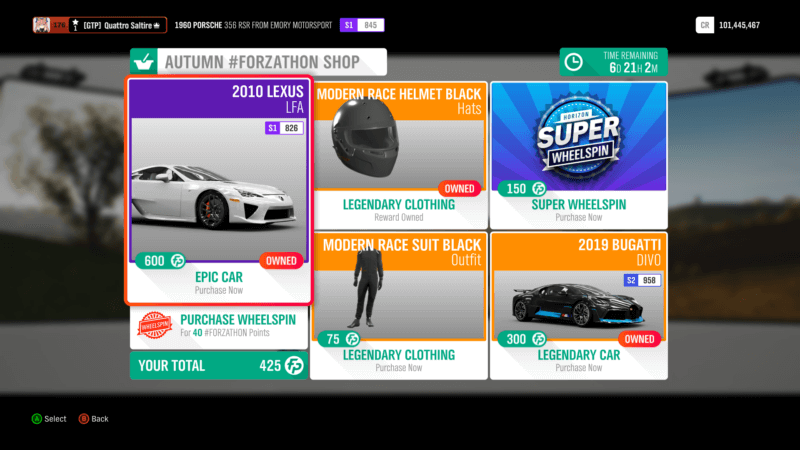 Forzathon Shop
Those who are keen to pick up the Lexus LFA quickly, but without needing to complete 50% of the season, can also score it in the Forzathon shop as well.
The LFA will set you back 600 Forzathon Points, but you'll get one of the best sounding V10 engines ever created in return.
If you're after more exclusivity, you can look to the Bugatti Divo. Although it shares underpinnings with the Chiron, the changes on the Divo go beyond just a new body.
Weight is cut by 77lb and the aggressive new body is designed to generate more downforce than a Chiron. Bugatti has also reconfigured the suspension for better cornering. What hasn't changed is the Chiron's 8.0-liter, quad-turbocharged W16 engine. With 1,479hp to play with, you'll need to be on your toes when you pitch the Divo into winding corners.
At 300 FP, the Divo is considerably cheaper than the LFA. If you buy one, you certainly turn more heads than if you drive a Chiron.
Clothing items available for purchase are the Black Modern Race Helmet and Race Suit.
Source: Read Full Article