Goodyear Blimp: specs, history and ride review
12/20/2022
The Goodyear Blimp has been an iconic piece of advertising for many years. We hitched a ride in the airship over London and met the pilots who fly the machine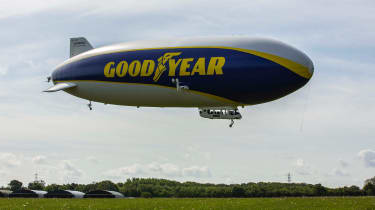 There's advertising everywhere you look these days. Whether you're watching TV, browsing social media or walking through a city centre, there's no escaping the constant flow of bright pictures and bold text, all designed to catch your eye and plant a particular brand name in your head.
Of course, adverts can often be annoying – this may even be a desirable quality if it makes you remember the product – but the best pieces of marketing are those that stick in people's minds for positive reasons. And like almost every other industry, the automotive sector depends on advertising; you'll even find adverts in the magazine you're currently reading.
Tyre reviews: best car tyres to buy now 2022
Arguably the most iconic piece of automotive marketing isn't an advert you can read, listen to or watch. Instead, it's one you can see in the sky.
The Goodyear Tire and Rubber Company launched its first blimp in 1925, and since then, various individual ones have come and gone as technology has advanced. Today, the firm still has a fleet of blimps, including two based in Europe. One of these made a tour of motorsport events earlier this year that briefly brought it to the UK, providing an opportunity to meet the pilots and, crucially, to climb aboard for a flight over London.
The European Goodyear Blimps are operated by Deutsche Zeppelin-Reederei (the German Zeppelin Transport Company). The firm is headquartered in the German city of Friedrichshafen, where the blimps are also housed.
On 7 May, one of these airships was hovering above the 6 Hours of Spa-Francorchamps World Endurance Championship race, after which it set a course for Britain to cover the British Touring Car Championship at Brands Hatch. At first, it only made it as far as Calais, because high wind speeds meant that a Channel crossing wasn't possible at the planned time. Had the craft attempted to launch in the conditions, it would have actually been blown further away from its destination.
The next day, however, the wind calmed down long enough for the blimp to cross and land at its destination, Damyns Hall Aerodrome in East London.
As we arrived at the airfield, excited to soar high above the capital, we saw the blimp anchored by its nose and swaying from side to side in the wind. We should have taken that as a warning for the bad news we received moments later, however. It turned out the wind speed had picked up again and, as such, it wasn't safe for the blimp to fly that day.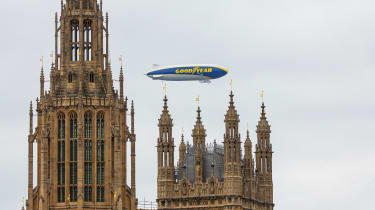 This was a huge disappointment, but at least we still had the opportunity to meet the airship's pilots and hear their stories. Fritz Günther used to be an instructor in the East German Air Force until the Iron Curtain came down and he found himself unemployed.
"I was looking for a job in the aviation business and started working for an airship company as a ground crew member," he explained. "The company had come from West Germany to East Germany, but the East German airspace was still controlled by the Russians and they had no one able to do the radio communications, so they asked me to do it.
"The next thing I knew, I started flying airships for advertising, after I had completed my conversion training. I thought I would do it for three or four years and then go back to fixed-wing aircraft, but that was in 1990 and I haven't stopped."
Our second pilot – the Goodyear Blimp has two seats in its cockpit – was Katharine Board. Born in Essex and raised in Kent, she admits that she became an airship pilot "totally by accident". She explained: "I was at school and my dad said to me: 'What would you like for your 19th birthday present?', and I said I'd like a flying lesson, so he bought me a five-hour introductory course at the local flying school.
"When they handed me the controls, I decided after five minutes I was going to be a pilot and that decision has never changed. I got my initial licence while being a dogsbody at the airport, but I had no interest in being an airline pilot."
Instead, Board was "in the right place at the right time" when she was offered the opportunity to fly airships at the age of 22. She's still doing the job 24 years later and is one of only two female airship pilots in the world. She's also a qualified instructor and examiner, something she's too modest to point out, but Günther highlights.
Günther and Board both love their job of piloting the Goodyear Blimp, because it's far more interesting than the airline or cargo flying they would be doing otherwise.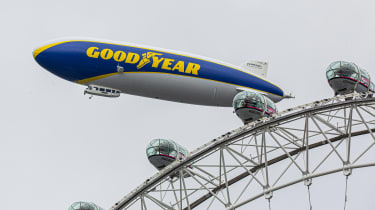 As the conversation wraps up and we reluctantly prepare to leave Damyns Hall Aerodrome having not had our flight, some sudden good news is brought to us. Another set of flights are being prepared for the following day and we may be able to get on one of them.
The next day, our route back to the airfield near the M25 motorway takes us through central London, and this time we see the Goodyear Blimp in the sky on our way, with people on the streets staring up and taking pictures.
Sure enough, the blimp sets down soon after our arrival at Damyns Hall and we're invited to climb aboard. There are only a handful of seats in the gondola, but each one is next to a window so nobody misses out on the incredible views.
As we climb to around 1,000 feet and pass over the Dartford Crossing, the blimp rocks from side to side.
"Have I told you we have waves in the air?" Board shouts from her pilot's seat. "You just can't see them. It's completely normal and safe, so don't worry!"
She's right, of course, and we settle down to enjoy our airborne sightseeing tour of London, first taking in the O2 Arena and Greenwich Observatory, before passing Canary Wharf, Tower Bridge, the Shard, St Paul's Cathedral, the London Eye and the Palace of Westminster.
Once we land safely back at Damyns Hall, opening up social media reveals that our flight has caused quite a stir on the ground, with countless Londoners posting pictures of the blimp as it passed over the capital.
Right there, spelled out in the centre of every one of those images, is the word Goodyear. Now, if that's not good advertising, we don't know what is.
History of the Goodyear Blimp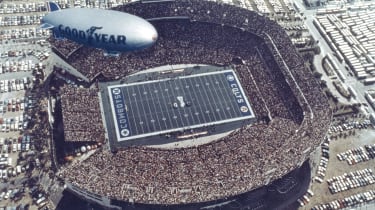 Although the first Goodyear Blimp officially took flight in 1925, the tyre company's involvement with flying started a few years earlier. The firm created its aeronautics department in 1910 to market rubber-infused fabrics and coatings for aircraft – primarily aeroplanes. In 1912, Goodyear built its first balloon and by 1913, it had multiple balloons, which flew above various competitions in the US and beyond.
In March 1917, construction began on the Wingfoot Lake hangar. That same month, Goodyear started airship production for the US Navy, before beginning to operate its own airships in 1919. Six years later Goodyear launched its first commercial non-rigid airship that used helium. It was dubbed Pilgrim and was the first blimp to be used for PR purposes.
By 1929, five additional blimps had been built and added to Goodyear's fleet. In 1930, one of these – named Defender – became the first airship to carry an illuminated sign.
Throughout the thirties, the Goodyear Blimps grew in size and the technology surrounding them advanced. The aircraft were tasked with welcoming US Navy ships when they returned to their home ports and hovering over stadium events, such as the 1932 Olympic Games in Los Angeles. In 1932, the blimp called Volunteer became the first to appear in a feature film, when it was shown in a western called Hidden Valley.
Several of Goodyear's blimps were equipped with "blimpcast" technology in 1940. This used a record player, microphone and loudspeaker to broadcast messages to crowds on the ground. Goodyear also loaned its blimps to the US Navy for ocean patrols during World War II.
Fast-forward to 1955, and Enterprise V became the first blimp to be used for a TV broadcast when NBC used the airship to cover the Tournament of Roses Parade in Pasadena, California.
In the decades that followed, there was growth along much the same vein, with more and more sporting events covered as the blimp became increasingly recognisable.
Source: Read Full Article