How to start your model car collection
09/02/2022
We meet the model car collector whose collection represents a lifetime's passion for miniature motors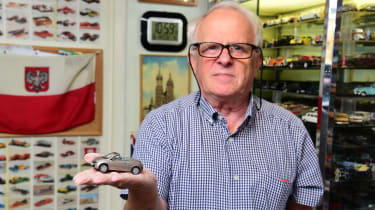 The owner of one of the biggest private model car collections in the United Kingdom gives us a stark warning as we admire his vast miniature motor museum: don't let it get out of control.
"Don't do what I did – don't collect everything!" adds Marian Gradus, as we're allowed a privileged private tour of his lifetime's passion. "Watch yourself, because this can grow like mushrooms after rain."
Matchbox launches carbon neutral die-cast cars
Marian has owned 15 cars in real life, beginning with a Renault 10 and culminating in the unique gold Nissan Micra C+C on his driveway today. But shrink his love for all things automotive down 43 times and he's owned some 5,000 examples and counting.
It all started in his native Poland in the mid-fifties. The country was locked away behind the Iron Curtain and the motoring scene was gloomy, but his grandfather made his living by finding and renovating old German and American cars left behind after World War II. One of these was a 1950 US-built Ford 'Woodie' station wagon.
"I loved that car," says Marian, with a high-quality diecast model of it in the palm of his hand. "I cried when he sold it. I used to play in it so it was like my home."
If glamorous cars were a rarity, however, toys were even harder to get hold of. In 1955, his grandfather made a seven-year-old Marian his first, a model aeroplane, from wood offcuts, and only on a trip to Paris to visit an uncle did he receive his first toy car, a plastic Norev model of a Citroen ID19 Safari.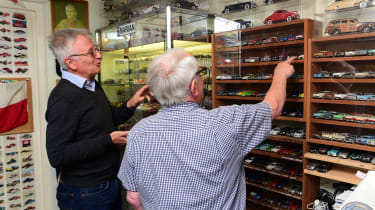 "I had never seen anything like it," he recalls. "When I was a bit older, I became cheeky enough to approach foreign tourists in Krakow, and ask if they would do a hobby exchange with me. I would send them something like Polish records or stamps and in return ask if they would send me some model cars. I once got stopped by the police, who suspected I was buying foreign currency, which was illegal!
"That's how I started to have quite a big collection which included Matchbox, Dinky, Corgi, Spot On, Norev and Solido from France, Siku from Germany and so on. It worked very, very well and it really started to build up. You could buy Matchbox cars at a few city-centre [hard currency] shops called Komis, which specialised in selling foreign goods, but they were very expensive."
When Marian's career as an aeronautical engineer brought him to the UK at the end of the sixties, though, he was in small car heaven. He quickly graduated from the playthings made by Matchbox, Dinky and their ilk, and discovered model shops such as the now-defunct Beatties chain, where precise accuracy and beautifully crafted miniature detail were key. His collecting frenzy took off.
Fast-forward to today and Marian's collection is so vast he has entire shelves in his glass display cases devoted to single themes, or sometimes just one marque.
At eye-level in his study, for example, you can take a giant's view of a Rolls-Royce and Bentley collection that would be the envy of any real-life museum, yet just one shelf down is a tightly packed vista of East European cars from countries such as Romania, Czechoslovakia and East Germany. Your eyes flit across the roofs of recognisable Skodas and Wartburgs and alight on amazing obscurities, such as a Polish-made version of the Daewoo Nexia and a prototype East German Syrena sports car that, Marian says, once tickled Enzo Ferrari himself.
There are rows and rows of Mercedes, several square feet of British classics, and a range of presidential limousines clustered around the Lincoln Continental stretch convertible in which John F Kennedy was assassinated. There are military vehicles, concept cars, old lorries, you name it, but you have to motor over to the dining room to catch the 'Americana'. Here, several cases are crammed with Detroit's finest, from the Ford Model T to those chrome-laden cruisers of the mid-fifties that, to a Polish boy of the time, were iconic symbols of the 'free West'.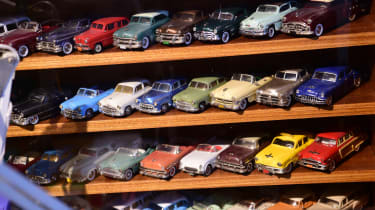 Although Marian has some stunning models of mostly American cars and Rolls-Royces at 1:18 and 1:24 scale, it's the compact size of the 1:43-scale tradition (see sidebar) that saw the collection grow to its epic proportions.
"I just have a passion for the cars themselves, and by collecting models you can see the evolution of the car, how design has changed," he says. "All my life I worked in aircraft and automotive engineering, and I've collected models of all the cars I've admired at motor shows, which I saw when I was there on business." Sure enough – and with an eye to the competitive car industry itself – Marian has a display of models featuring every European Car Of The Year winner from the 1964 Rover 2000 P6 to the 2017 Peugeot 3008.
Yet it's the groupings in his collection with personal themes that are, strangely, the most compelling. He has a line-up of models of all the different cars he's owned, which includes a Renault 10, then a Renault 4, Fiat 127, Mini and Austin Princess. And not far away is a similar row of all the cars his wife's parents had, from a Czech canvas-bodied Velorex three-wheeler running through their DKWs and Opels, and then shifting to the Morris Eight and Triumph Herald they had after moving to the UK decades ago. For the recent Queen's Jubilee celebrations, Marian even put on a display of 1:43 Royal Family transport at the living room window.
"My models are a mixture of resin, plastic, white metal and diecast, some of them from specialist manufacturers like Western Models, Brooklin and Danbury Mint," Marian explains. "I also have many Russian model cars that were made by the state in the seventies and eighties, and they are rare and very collectable these days.
"About 15 years ago d'Agostini launched magazines that came with a free model, and they were incredibly popular, in Eastern Europe especially. The models were made in China as diecasts – they could never have done this beautiful level of detail in the west; it's just too expensive. Models used to cost £50 each but, because of China, they are £10-11. They're affordable to everybody.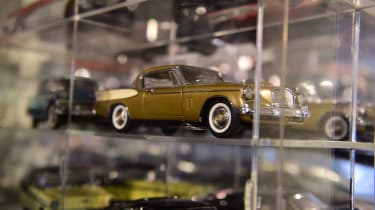 "So now you can a get model of almost every type of car ever made. It was like a dream come true for me, and I admit I did go a bit mad then because I could fill in the gaps with all the cars I ever wanted!
"These are models, not toys. I've always looked for quality and a close resemblance to the car. In resin models, for example, the detail is far better even if parts like doors and bonnets don't open. So, do you like things from Harrods or Woolworths? You have to decide."
Marian's expertise and quest for fastidious detail mean his name is revered when it comes to customised models.
He shows us a Morgan he's created for an owner that reproduces the specific detail of his very car, even down to the special bumpers and individual number plates. Two additional examples were needed to harvest components for this one exact replica. Meanwhile, Rolls-Royce has been a customer for the owner of a specific Phantom Drophead Coupé, while Marian also has letters from both the Queen and the late Princess Diana thanking him for perfect reproductions of their personal cars (in Princess Di's case, her Audi Cabriolet).
Only after spending a few hours admiring his collection does something slowly dawn on you about Marian's colossal display: there are almost no sports or supercars, and not a single Formula 1 racer.
"I did have a beautiful collection of F1 cars because I used to work for Williams, but I sold it. I'm not interested in Ferraris or Lamborghinis. I actually hate sports cars! So most of my collection is saloons and limousines," he reveals.
Building up a collection like this takes extraordinary dedication; 'curating' it can become addictive. But Marian puts it into perspective, saying: "Yes, I agree it can be fanatical, an obsession, but it makes me happy. I don't smoke or drink, so all my extra money has been spent on models. Wherever I've been on holiday I like to go off and find a few new ones, and although my wife wasn't always very happy about that, she knew what I was up to!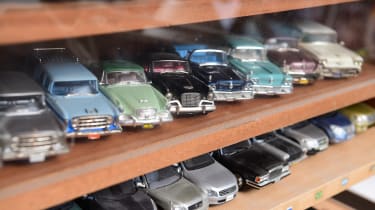 "It has been my hobby, and actually it's a pity young people don't have hobbies much any more, because there's nothing nicer in life than an interest you can lose yourself in. My generation is probably the last that will collect model cars."
Chronology: History of the hobby
Diecast toy cars were originally a by-product of American zinc hot-metal typesetting in the early 20th Century, while manufacturers in Germany brought tinplate model cars to life by fitting them with clockwork motors at the same time.
However, it was Britain's Dinky Toys, launched in 1933, that started the collecting craze. The firm pioneered and popularised the 1:43 scale because they were originally seen simply as layout accessories for Hornby train sets at the corresponding O-gauge size.
Dinky Toys was joined by more affordable Matchbox series cars and more intricate Corgi Toys in the fifties, although from then until the seventies, European brands such as Solido, Mercury and Gama usually had the edge on their rivals when it came to modelled realism.
Italy's Rio started selling highly accurate 1:43 models of veteran and vintage cars in the sixties. These were intended for display rather than play (Brumm, Vitesse and many others successfully followed), and the demand for 'collectors' models exploded.
In the UK 'handbuilts' from brands such as Grand Prix Models and Mikansue catered exclusively for aficionados, and 'white-metal' kits allowed devotees to custom-make 1:43 one-offs. Resin models joined them in the specialist market, although age-related shrinkage sometimes overshadows the pinpoint authenticity they achieved.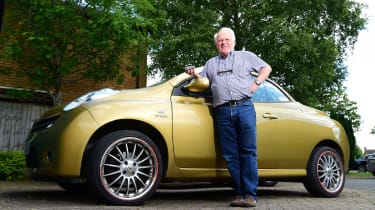 Manufacture in China over the past 25 years has radically changed model-car collecting, and the low prices and limitless choice now available are the envy of the pioneering collectors of the sixties.
How to start your own collection
A hugely experienced collector like Marian urges newcomers to decide at the outset what they like, and stick to it. "If you like Renault, collect Renault," he says. "If you like Ferrari, collect Ferrari. Otherwise you'll end up with so many models you'll run out of space."
Scale is important; the smallest standard size offering any meaningful detail is 1:87. Matchbox or Hot Wheels-type scale hovers between 1:60 and 1:65, yet most serious collectors prefer 1:43. Larger sizes at 1:24, 1:18, 1:12 and 1:8 get ever more impressive, but progressively devour display space.
Buying online has become the default over the past 20 years. But every year there are dozens of collectors' fairs across the UK called swapmeets, where the choice – and the chance to negotiate on price – is endless.
How will you display your collection? Glazed wall units or free-standing cases protect them from accidental damage and a lot of household dust, although it's almost impossible to banish the latter entirely. Shielding your collection from direct sunlight is critical to keep them looking peachy.
But the most important aspect to collecting is enjoying your models – whether that's an occasional half-hour, tipple in hand, admiring them, or else showing them off to friends who fully 'get' why you love them.
Do you own a model car collection? Let us know about in the comments section…
Source: Read Full Article