Lister LFP to be the world's fastest SUV
04/16/2020
666bhp F-Pace-based super-SUV set to become the fastest in the world, and Cambridge-based tuner gives sneak peek in new video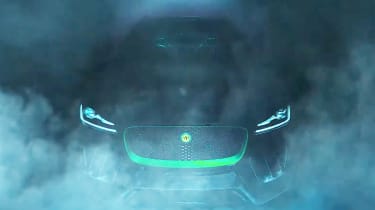 Lister Motor Company has confirmed its upcoming SUV, said to become the fastest in the world, will be called the Stealth.  
The name was confirmed in a new teaser video, which also reveals the sound of a distinctly un-stealthy exhaust note. The noise clearly points to a V8; in this case a tuned version of the 5.0-litre supercharged V8 used by the Jaguar F-Pace SVR. But while the Jag makes a more-than-healthy 542bhp, Lister's video confirms that the stealth will make 666bhp.
All-electric Lister Storm hypercar teased
As well as the supercar-baiting top speed, that should allow the Stealth to accelerate from 0-62mph in around 3.5 seconds. The electric Tesla Model X P100D is capable of 0-62mph in around 2.9 seconds when the company's notorious 'Ludicrous Mode' is enabled, but it can't get close to the Lister's top speed of 200mph.
The video also gives us a murky glimpse of a few of the Stealth's styling details. The front end sports an outlandish bumper with plenty of carbon fibre on show – the distinctive weave is clear to see both on the extended front splitter and the fins which direct air into the vast intakes to either side of the grille.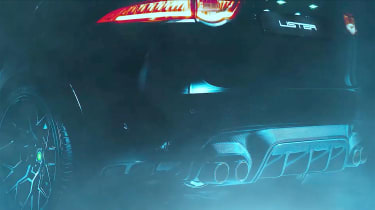 There's more evidence of carbon fibre at the back, where an enlarged rear diffuser is teased in the video, surrounding Lister's own sports exhaust system responsible for the angry noise in the clip.
Following the success of the Lister Thunder, the company's fastest-selling model to date, Lister says that initial interest in the Stealth, formerly codenamed LFP, is strong and orders for the model are being taken now.
Full technical details on the Stealth are still closely guarded, but Lister has previously said that prices will start at around £120,000.
Now read about the return of the iconic Lister Knobbly…
Source: Read Full Article