Mercedes-AMG reveals 804bhp plug-in hybrid power for future models
03/31/2021
Electrified V8 and four-cylinder powertrains under E Performance badge for next AMGs with more than 804bhp on offer; all-electric Mercedes AMG models also confirmed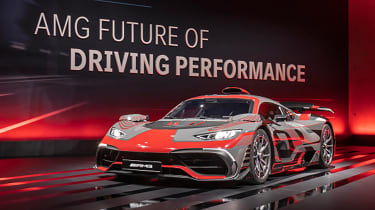 Mercedes-AMG has set out the electrified future of its performance powertrains, with two new plug-in hybrid drivetrains – the most potent of which will offer more than 804bhp and four-wheel drive. 
The electrified AMG line-up will be branded under the E Performance banner and has been inspired by Mercedes-AMG's Formula One operation, with tech transfer from race track to road helping the development. All-electric AMG models have also been confirmed. 
Mercedes-AMG E-Performance hybrids: engine, battery and electric motor
AMG says the new units engines both use a modular hybrid system. They employ the firm's familiar 4.0-litre turbocharged V8, and a reworked version of the 2.0-litre four-cylinder turbocharged four-cylinder engine used in the A 45 superhatch.
These combustion units will be mated to a nine-speed AMG Speedshift transmission with what AMG calls a "fully variable" 4MATIC+ all-wheel drive system helping distribute power.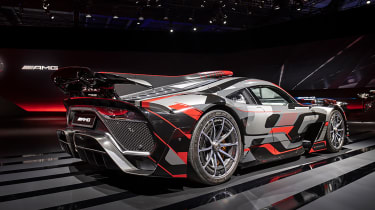 For both engines, an electric motor on the rear axle drives independently of the gearbox, allowing quicker transmission of power for stronger acceleration. The new PHEV powertrains will deliver zero emissions running over shorter distances, too. 
Depending on the powertrain the electric motor can produce peak power of up to 201bhp for a maximum of 10 seconds, and 320Nm of torque. However, continuous power is rated at 94bhp.
The rear axle also features an electronically controlled limited-slip differential to help handling, while the motor drives through its own two-speed transmission. The second ratio is selected depending on driving conditions, changing up by a top speed of around 87mph, where the motor reaches its maximum speed of 13,500rpm.
The system is fed by a relatively compact 6.1kWh lithium-ion battery to help its packaging in the cars. The 400-volt unit's 560 cells are also individually cooled, keeping the battery temperature constant for more consistent performance.
AMG says that "even during fast laps in hybrid mode on the race track, where acceleration (battery is discharged) and deceleration (battery is charged) are frequent, the energy storage system retains its high performance capacity."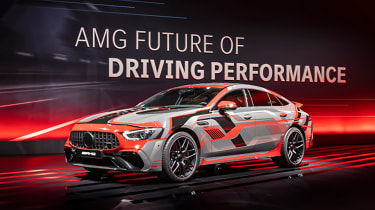 Mercedes also states that the AMG High Performance Battery tech is scalable, so that "it would also be conceivable in principle to have further expansion stages follow," with the modular concept to be rolled out across several models in the future.
Mercedes-AMG E-Performance hybrids: power and performance
The headline figures for the 4.0-litre turbocharged V8 PHEV powertrain stand at "more than 804bhp total system power and over 1,000Nm of system torque."
AMG says, depending on the vehicle, this delivers a 0-62mph time of less than 3.0 seconds, helped by the car's four-wheel drive system and the immediate response of the rear-axle-mounted electric motor.
The brand has also improved the response of the combustion unit with electrically assisted turbochargers to help further reduce lag and sharpen up driver inputs with the throttle.
Mercedes says that, "The electric exhaust-gas turbocharger solves the conflict of objectives between a small, fast-responding turbocharger, which achieves comparatively low peak power, and a large turbocharger with high peak power, which in turn responds with a significant delay." 
Powered by the 400-volt battery, AMG claims the new turbo set-up makes the engine as agile as a naturally aspirated V8.
It's expected that this V8 PHEV powertrain will launch in the brand's forthcoming Mercedes-AMG GT73e four-door, which has recently been spied testing.
AMG has also revealed details of its other E Performance plug-in hybrid option using four-cylinder petrol power, expected to make its debut in the next BMW M3 rivalling AMG C63. The 2.0-litre four-cylinder unit will also use an electrically-assisted exhaust gas turbocharger and will produce "more than 443bhp" – combined with the electric motor's peak output of 201bhp it means that more than 644bhp is possible. 
Mercedes claims that, "The total power and the total torque enable future AMG models to achieve driving performance that even surpasses comparable, current vehicles with V8 engines without hybrid drive." So it should be faster, more agile and more efficient than the outgoing C63.
Mercedes-AMG E-Performance hybrids: driving modes
The new hybrid system is "always on," according to Mercedes, drawing operating logic from the brand's F1 car so that "maximum propulsion is always available when the driver needs it."
There are six AMG Dynamic Select driver modes to choose from though, with pre-set calibrations for the powertrain.
'Electric' allows zero-emissions driving at up to 80mph, which means in this mode only the rear axle drives the car. However, thanks to the mechanical connection the 4MATIC+ system brings it means the electric drive unit can also send power to the front axle if a loss of traction is detected.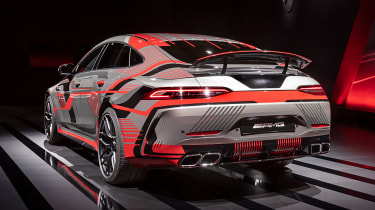 When the battery is empty the system defaults to 'Comfort' mode. This uses both power sources but prioritises electric driving. The gearbox will upshift early when the combustion engine is on, while the steering and suspension are set up for refinement, comfort and efficiency.
'Sport' mode means the electric motor's boost function is released earlier, throttle response is sharper, the gearbox will hold onto ratios for longer, changing quicker on up and down shifts, while the suspension and steering set-ups are also more direct.
'Sport+' takes this to another level with an even more dynamic calibration that includes "cylinder blanking" for faster upshifts and a higher engine idle to help with quick getaways.
'Race' mode maximises performance, with the e-motor's full performance available alongside the combustion engine. The battery is also recharged more aggressively to maximise the assistance available from the system too.
Finally, 'Individual' allows drivers to tailor these parameters – engine, transmission steering, suspension and exhaust sound – to their desired settings.
AMG Dynamics variable traction control settings also feature, with Basic, Advanced, Pro and Master modes linked to the different drive parameters mentioned above. These settings tune the ESC system and the car's handling balance, with the electric motor working to reduce ESC intervention.
There are four stages of energy recuperation for AMG's new plug-in hybrid powertrains, ranging from Level 0 to Level 3.
Level 0 means the car behaves in a similar way to a combustion engined car coasting along with the clutch disengaged, so regenerative braking is low.
Level 1 is the standard setting and feels like regular engine braking, Level 2 ramps this up and Mercedes says that "the brake pedal hardly needs to be depressed when moving in traffic."
Level 3 delivers the most energy recuperation, with one-pedal driving possible, like in an EV.
Mercedes-AMG E-Performance hybrids: hot EVs on the way
AMG has also confirmed that performance versions of Mercedes' electric EQ models are on the way.
These will be badged 43 and 53, and "are ambassadors for a new era in the performance segment," according to the brand.
These cars will feature AMG-specific styling cues, with vertical louvres for the radiator grille, a new front apron design, a different spoiler and diffuser, plus a choice of AMG alloy wheels. The interiors will receive a sporty makeover too, with many AMG touches.
The twin-motor four-wheel drive powertrains will offer performance on a par with the current most potent V8 biturbo AMG cars. This means 0-62mph will take "well under 4.0 seconds" while top speed stands at 155mph.
Details of the 400-volt battery's capacity have not been revealed, but the brand says the wiring has been upgraded to handle the extra power demands of an AMG.
Sound is a key part of any AMG package, and to break the electric silence the firm is developing an "AMG Sound Experience" that uses the car's speakers, a shaker and a sound generator to develop a sound signature for its performance EVs.
Check out the best cars to look out for in 2022 and beyond…
Source: Read Full Article