MG Cyberstar two-seat EV roadster teased in new images
03/22/2021
New images hint at dramatic styling for MG's Cyberstar all-electric open-top sports car; reveal planned for 31 March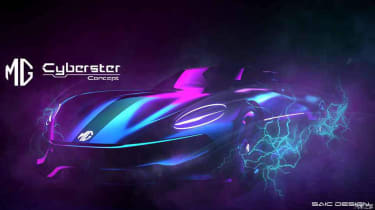 MG has given us the best hint yet at design elements of its Cyberstar two-seat all-electric roadster concept in a series of new images issued on social media. The full reveal of the Cyberstar is planned on 31 March.
The MG Cyberstar was first trailed last year in a social media post by parent company SAIC's London-based design studio, but these new pictures give us our best look yet at some of the sports car's design elements – including our first glimpse of the interior.
Best electric cars to buy 2021
We can see from the images that the nose is low and the bonnet looks fairly long, confirming what we knew from the original teaser image not far off 12 months ago.
However, a second picture shows a more detailed close-up of the car's deck lid, with two individual roll-over hoops to protect occupants integrated into the body work – it's reminiscent of the Porsche 918 Spyder in this respect.
Inside, the interior image clearly shows a cockpit sectioned off by a central section, dividing the passenger and the driver. The heavily sculpted steering wheel features an illuminated badge with a pair of rotary knobs to potentially control driving functions. Behind the chopped-down wheel sits a digital display showing the Cyberstar's speed, probably alongside other driving data.
The Cyberstar will be a new breed of sports car for the British brand. Unlike the brand's traditional V8 and four-cylinder-engined roadsters of the past, the Cyberstar will use an all-electric drivetrain with information suggesting a 0-62mph time of around three seconds, and a potential range of up to 800km, or around 500 miles.
MG is no stranger to EVs. Its ZS Eelectric SUV was the brand's first all-electric offering in the UK and served up solid range at an affordable price, a direction that's also been followed by the recently facelifted MG 5.
The Cyberstar will use a completely different drivetrain to this pairing though, inheriting the twin-motor four-wheel drive set-up from the firm's dramatic E-Motion 2017 concept car. At the time MG claimed the powertrain, developed in house for the E-Motion, was capable of delivering a sub-four-second 0-62mph time in that car and 310 miles between charges.
The concept was based on a modular electric vehicle platform developed by SAIC, so it's likely the Cyberstar will use the same underpinnings.
The Cyberstar will sit as MG's halo car in a range populated by SUVs as the brand transitions to electric cars in Europe. The roadster will back up its sporty credentials with plenty of tech, potentially offering 5G-connectivity and more advanced semi-autonomous driving features.
Would you like to see and MG roadster back on sale in the UK? Tell us in the comments…
Source: Read Full Article