Moments to remember: our car highlights 2021
12/31/2021
Auto Express team members name their highlights from the past 12 months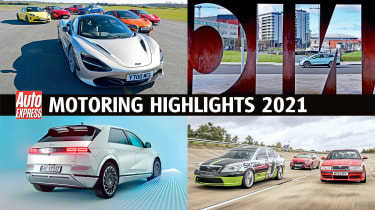 Working at Auto Express comes with plenty of perks, mainly driving new cars almost on a weekly basis, but sometimes we get to explore something out a little of the ordinary. It's these special occasions that we often remember years later, whether it be sitting behind the wheel of a supercar on a closed runway or flying halfway across the world for a motor show.
But while we did some fantastic things in 2021, many of us were just happy to get out and about again – meeting up with colleagues and industry execs. So read on below as each member of the Auto Express team reveals their motoring highlight of the year.
Highlights of the year 2021
Skoda Enyaq to Northern Ireland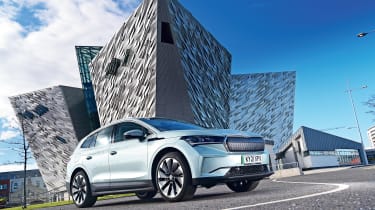 John McIlroy, deputy editor
Much of the past two years has been spent working at home, with journeys restricted to essential trips only. So my highlight of 2021 has to be a proper road trip – and one spent in the company of legendary Auto Express snapper Pete Gibson.
The plan was to drive Skoda's new Enyaq iV in Scotland, England, Wales and Northern Ireland on a single charge. So day one was a long run from Dumfries down to Deeside and then up to Birkenhead to catch the overnight boat to Belfast. We trundled off the ship on that May morning under uncharacteristically sunny skies, and received a warm welcome from staff at the city's stunning Titanic building.
Skoda Enyaq road trip: four nations on one charge
It was the drive after that I've kept savouring since, though, as we headed north of Belfast on the glorious A2 to Glenarm, spectacular cliffs on one side, the Irish Sea (and visible Scottish coastline) to the other. I loved the roads, I enjoyed Pete's company, and was blown away by the pics he took.
Yes, a little bit of me was proud of how beautiful my home country looked. But most of all, I just enjoyed the act of driving really just for the sake of it and how a car, electric or otherwise, can take you to special places and experiences.
Rediscovering the UK's roads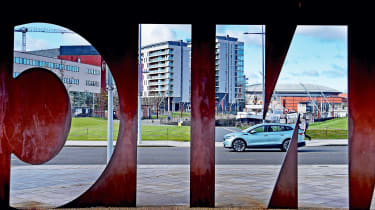 Pete Gibson, senior photographer
Like John McIlroy, my highlight of the year was our epic four-nation road trip with a Skoda Enyaq iV. But for me it was Belfast that made the most memorable stop, particularly when we lined up the Enyaq beside the city's mesmerising Titanic Belfast exhibition.
Next to Harland & Wolfe's Titanic Slipways, we were able to enjoy the utterly remarkable building; from the outside at least, because Covid restrictions meant the attraction wasn't fully open. The building itself is a homage to the iconic ship, with its 126-foot-tall facade matching the height of Titanic's hull. It's surely one of the nation's most incredible feats of architecture. It even trumped Gretna Green, Penrith Castle and the majestic Flintshire Bridge, which spans the Dee Estuary in North Wales, on our tour; all are undeniably marvellous in their own right.
The journey was precisely the slightly precarious challenge I enjoy; it makes a great story, and it was a wonderful chance to reacquaint myself with the UK's many and varied delights. It was also proof, if any were needed, that the current crop of EVs are as useable during a round-town trip as they are touring the four home nations. The Enyaq iV was a superb companion.
Driving the David Brown Mini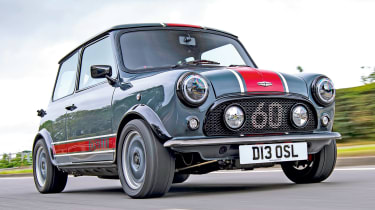 Luke Wilkinson, staff writer
I'm an old Mini obsessive. And this year, I got a chance to drive arguably the best version to date: David Brown Automotive's Mini Remastered Oselli Edition. It keeps all the good bits about Issigonis' original design, but adds some highly adjustable suspension, an extra gear, hand-beaten flared arches and paintwork even Rolls-Royce wouldn't be ashamed of turning out.
There's 123bhp on tap, a good 50bhp more than even the most well built Coopers from back in the day. The suspension's been well set-up, too. It's an old Mini, so it's as comfy as falling down a flight of stairs, but there's no arguing with the amount of grip on offer. If you've ever watched old Minis racing around Goodwood, it drives just like that, steering rear-end first into corners. It's a riot.
Getting out and about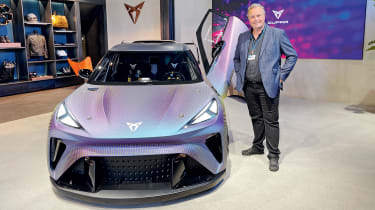 Steve Fowler, editor-in-chief
My biggest highlight this year has been being able to meet up with colleagues in person for the first time in ages. The Auto Express team has done a remarkable job working remotely – as we mostly still do – but being able to work literally (if socially distanced) alongside colleagues has been brilliant; screens are great, but it's not the same. For example, I'd not met Yousuf Ashraf in person since he joined us – and didn't realise how tall he is!
Munich Motor Show 2021: news round-up and all the cars
Similarly, getting to the Munich Motor Show and being able to interview industry folk around cars was hugely valuable. Quite simply, we get better stories that way. And the story that struck me most in Germany was sustainability and how important it's going to be in the car business.
Sustainability is important to me, too, so seeing the work that the likes of BMW and Hyundai are doing in this area was fascinating and inspiring. If cars built with sustainability in mind look as good as BMW's iVision Circular concept does, then a sustainable future is hugely exciting.
Kia's UK 30th anniversary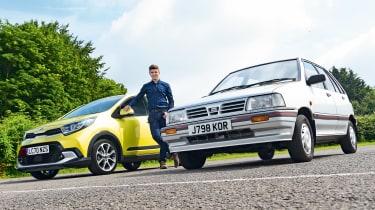 Tristan Shale-Hester, deputy consumer editor
The progress made by the automotive industry in recent years and decades has been incredible, and I was reminded of this when I spent the day behind the wheel of a selection of old and new Kias to reflect on the Korean brand's 30th anniversary of coming to the UK.
While I always welcome the chance to try out the latest and greatest new cars on sale – such as the highly impressive Kia Soul EV – I must admit to deriving more amusement from flying along a country road in a 1992 Kia Pride. Another vintage Kia I got behind the wheel of that day – one not included in our feature – was a Kia Elan. No, that's not a typo; when Lotus Elan M100 production ended in 1995, Kia bought the rights and went on to build around 1,000 examples between 1996 and 1999.
This version of the sports car was never sold in Europe and, as such, is extremely rare in the UK. Despite the virtues of its 149bhp 1.8-litre engine, however, this curio wasn't overly inspiring to drive. I've been behind the wheel of the latest Lotus Elise and Exige, so this was another example of the progress modern cars have made.
Driving the Skoda Octavia vRS Bonneville special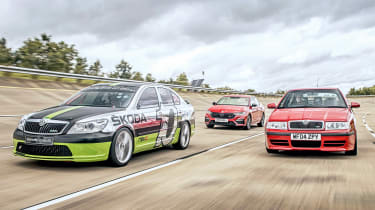 Yousuf Ashraf, video content producer
Ordinarily, driving an old Skoda Octavia could only be the highlight of a pretty dull year. That is unless said Skoda Octavia produces 700bhp, and tops out at 227mph. That's why getting behind the wheel of the Skoda Octavia vRS Bonneville special was a little on the daunting side for me.
But, at low speeds at least, the car was a doddle to drive – after all, it's based heavily on the road-going vRS, so pootling around the roundabouts approaching Millbrook's high-speed bowl wasn't particularly taxing, aside from the piercing four-cylinder blare that was drilling into my ears. But if you settle in and accept
the inevitable hearing damage, then the Bonneville car is wonderfully deranged.
What is Skoda vRS? History and best cars driven
Drop the clutch, fish around for second gear with the enormous, wand-like gearlever and sink your foot into the throttle. Nothing. More noise, still nothing. Just as you wonder if it's broken, the huge Garrett turbocharger takes a deep breath and catapults you at the scenery. It's a case of holding on, watching the digital rev counter whip towards the limiter and seeing the speed rise at an impossible rate. I stole a couple more laps of the Millbrook bowl than I was allowed, because it's probably the last time I'll drive a 227mph Skoda.
Autoexpress.co.uk record numbers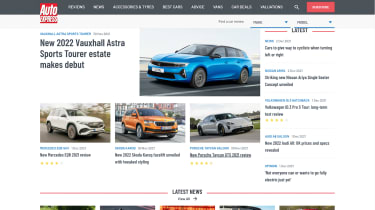 Steve Walker, group web editor
As drivers, we all hate traffic, but as the group website editor for Auto Express, I love it. Back in August the Auto Express website smashed through the five-million-users barrier, recording its best-ever traffic
for a single month. Now, this'll seem mind-numbingly dull compared with the sensational automotive events that the rest of the team have plucked out, but we (I) like to think of the huge numbers of you that use autoexpress.co.uk as an endorsement of the "work" the team does reporting on the amazing world of cars.
The new website opened for business in March 2020 right before the pandemic really started to bite, and in the difficult times since, the impact of our new technology has been nothing short of phenomenal. It's fair to say that the car industry has experienced myriad problems, but the story of our website shows that far from waning, the interest and enthusiasm of our audiences is growing. In fact, 35 per cent more people have visited our site since it relaunched, and 2021 is the best year we've ever had.
The best is yet to come, however, and in 2022 we'll be producing even more of the car reviews, news and video content that you know and love.
Hyundai Ioniq 5 vs Volkswagen ID.4 vs Ford Mustang Mach-E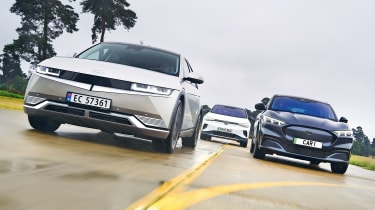 Stuart Milne, executive editor
It's not usual to include a road test among our highlights of the year, but then the Hyundai Ioniq 5 is not your usual car. The car pictured was one of only two in the UK and arrived the day before, directly from Norway, hence its unfamiliar number plate. But it's the model itself that's my personal highlight of 2021; indeed it's probably among the top ten cars I've ever driven.
First, there's those looks, which are equal parts DeLorean and Lancia Delta. For a child of the eighties, this is a very good thing indeed. During my time with it, the 5 turned more heads than anything I've driven.
But that's merely an appetiser. The interior manages to out-Tesla Tesla, the tech is absolutely first rate and there are features that surprise and delight everywhere. The charge flap opens at the touch of a button, the intricate lights are a thing of beauty and a three-pin plug in the boot allows you to charge all manner of items. And then there's the brilliant 800V architecture, which is an absolute game-changer.
The future is here, I've already driven it, and I can't wait for more.
Bentley Continental GT Speed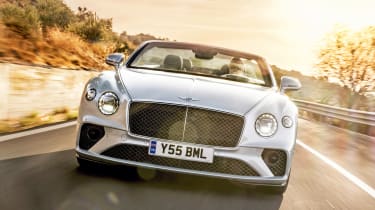 Alex Ingram, chief reviewer
As it turns out, first-world motoring journalist problems are just like buses; you wait the best part of 18 months for a major international launch, and then two come along at once.
In early September, I attended events for two vehicles at opposite ends of the market. The week was rounded off by the debut of the all-new Peugeot 308 – a likeable car in its own right – but my highlight was a trip to Sicily to sample the Bentley Continental GT Speed.
There are obvious reasons for this. For starters, it's a phenomenal car; the thunderous 6.0-litre W12 and tweaked chassis make it faster and sharper to drive than any Continental before, yet they do so without compromising the impeccable comfort and refinement one would expect from Crewe's finest. It's an incredibly difficult machine to fault. In Convertible form it's a perfect way to cruise beautiful Italian island roads, too.
But the event peaked at Comiso Air Base. Bentley converted the abandoned military compound, formerly housing 112 cruise missiles, into a mini rally stage. The only thing more bizarre and thrilling than apexing inches away from dilapidated Cold War bunkers from the driver's seat of a £209,000 Bentley was slithering the 208mph coupé flat out on a loose surface.
Goodwood is back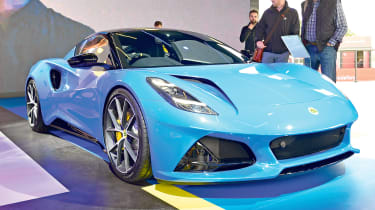 James Brodie, news and reviews editor
The return of big-crowd events in the summer meant that we could look forward once again to the biggest date in the UK automotive calendar: the Goodwood Festival of Speed.
Goodwood Festival of Speed 2021: news round-up
I'd been at the 2019 festival – the 2020 edition was cancelled due to Covid – and while the spectacle (and the weather) this time didn't quite hit the peaks of two years ago, Goodwood hardly returned on weary legs. Full-capacity crowds streamed in over the weekend.
BMW unleashed the new 2 Series, while Lotus wowed the crowds with the Emira. I also got to grips with Polestar's Experimental 2 prototype, ticking off a bucket-list item by getting in some laps on the Goodwood circuit for the first time.
Kids proving EVs are child's play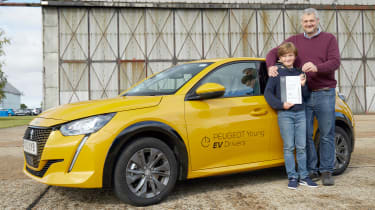 Chris Rosamond, consumer and features editor
I haven't been on the Auto Express team long, so many of my 2021 highlights involved long bike rides around the traffic-free roads of West Sussex during lockdown. Before anyone gets the wrong idea, I've loved the freedom to drive and the thrill of a road trip since I was a child, when a day out often involved exploring Dartmoor.
So it was a bit of a moment watching my 10-year-old son start his driving journey with the Peugeot EV Young Driver challenge. Apart from a few spins round a car park 'steering' from my lap as a toddler, he'd never been behind the wheel before, so watching him whizzing by at 50mph at Bedford Autodrome after just a few minutes behind the wheel was mind-bending. He had a ball, but I couldn't help wondering how the future might reframe his adult motoring life.
Formula 1 road test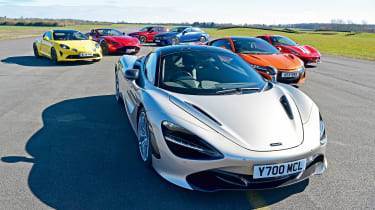 Pete Baiden, web producer
When I got the call to ask if I wanted to be a part of Auto Express' Formula One feature for our motorsport special in March, I didn't have to think twice.
While there wouldn't be any actual F1 cars at the shoot, each of the seven road-car manufacturers taking part in the 2021 season was sending some of its very best metal on sale today. I could hardly sleep the night before. I arrived to find supercar after supercar rolling off delivery lorries, including the likes of a McLaren 720S, a Ferrari 488 Pista, a Honda NSX, and an Aston Martin Vantage Roadster.
In all, there was a combined total of 3,886bhp to play with. Even when it came down to the serious stuff of taking tracking pictures at 30mph, it was hard not to smile when I was sitting behind the wheel of some of these cars. Just knowing that a touch of the accelerator would catapult me off into the distance was intoxicating.
But the cherry on the top of this supercar cake was still to come for those involved. When the cameras did stop clicking, we had a closed runway to really see what all that power could achieve. I'll be lucky if I ever get to experience another day like that again.
Audi e-tron GT vs Porsche Taycan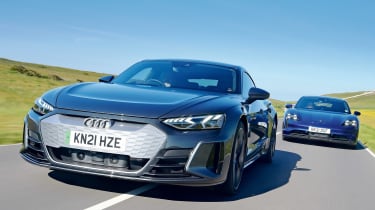 Dean Gibson, senior test editor
Having been away from the front line of new-car testing for a few years, one highlight was to try out Audi and Porsche's latest high-performance EVs head-to-head. The performance, range and handling that these two electric machines delivered were very impressive, and demonstrated that the mainstream manufacturers are more than on the case when it comes to catching up with Tesla.
The day that we brought them together for our photoshoot on the South Downs was glorious, while their big batteries had lots of energy, so we didn't have to limit our driving through the day, and could explore their abilities to the full. Not that it would've been the issue that it once was, because the biggest change I've seen is the increase in number, quality and speed of chargepoints in the UK, and it's only getting better.
In the final verdict, there was next to nothing to choose between the e-tron GT and Taycan 4S, and you wouldn't be disappointed by either machine, but for me the Porsche delivered a slightly more enjoyable drive. Driving these two side-by-side was an enviable position, but that will pale into insignificance if you're lucky enough to be in the market for either.
Driving the first electric vehicle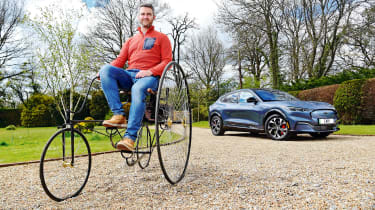 Richard Ingram, Driving Electric editor
Few people know that battery-electric vehicles actually pre-date the very first petrol-powered cars. The reason EVs didn't take off at the turn of the 20th century probably has more to do with the abundance and relative affordability of oil, than a lack of charging infrastructure or range.
So when I was given the opportunity to sample a replica of what is widely considered the world's first EV, I couldn't resist. And for a bit of fun, I took along a new Ford Mustang Mach-E for a tongue-in-cheek comparison. The British-built Coventry Rotary 'Salvo' Tricycle was the brainchild of Gustave Trouvé, but its modern recreation was built using little more than a single artist's impression from a French magazine, dated 1881.
Climbing out of the Mustang and aboard the tricycle was like stepping from a cutting-edge, gadget-filled smart home straight into a mud shed. I had to pedal to get it going, with the batteries then helping it to an assisted top speed of 7mph. The controls were heavy and vague, the brakes spongy, and the ride firm, the later being the only parallel that could reasonably be levied at the electric Ford.
Auto Express New Car Awards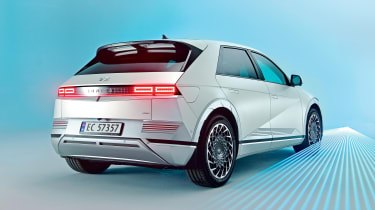 Darren Wilson, creative director
The Auto Express New Car Awards shoot is usually my annual highlight, because it's the chance to get really creative. After months indoors my focus was getting out and about, so I wanted to go big on event lighting and recreate the drama of music gigs. We took 23 cars, plus some nightclub-style laser lighting and a smoke machine to a Northamptonshire studio.
New Car Awards 2021: the winners
Over three days, we shot the 23 award winners from different angles and elevations, with the lights emitting different colours and patterns. It was a shoot I've wanted to do for years, and the results speak for themselves. It's a team effort and Pete Gibson's excellent photography and the retouching skills of Dave Kinnard combined to create images we're all extremely proud of.
The shoot also allowed me to get up close with the best new cars on sale. Like the rest of the team, I was mightily impressed with the Hyundai Ioniq 5. We made it Car of the Year, and on looks alone, it's a very worthy winner.
Dacia Jogger at Munich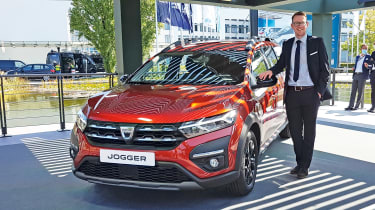 Sean Carson, associate editor
As a sports saloon fan, our test of the new BMW M3 could have easily been my highlight of 2021. However, it was something altogether more symbolic that I really enjoyed the most this year: the Munich Motor Show. For a while now, we've not had an in-person expo to attend, so to get back out to Germany, see the covers come off new cars and speak to those who power the industry – executives, engineers and designers – bringing you the latest stories and reveals, it felt like a return to normality.
I can gloss over the fact combustion-engined car debuts were few and far between (the pragmatic, petrol-powered Dacia Jogger, pictured, was my show star) and there was almost an apologetic air to some brands' attendance.
But we got a surprise debut in the form of the VW ID. Life, and aside from the hawking of 'mobility' and 'sustainability' – as important as those topics are – it was nice to quiz those deep in the new-car world as to what's coming in the future. I personally and Auto Express collectively learnt lots, much of which we'll bring you in 2022.
Check out the rest of our 2021 round-up below…
Best features 2021
Christmas quiz 2021
Best group tests 2021
Best long termers 2021
Best reviews 2021
Highlights of 2021
Best car news 2021
Source: Read Full Article