New 2021 BMW 4 Series Convertible spotted at the 'Ring
04/16/2020
The new BMW 4 Series Cabriolet has been spied during its handling assessment; folding metal hard-top ditched for fabric this time around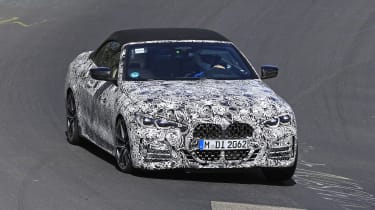 BMW's forthcoming 4 Series Convertible has been spied again, this time during handling assessment at the Nurburgring. The German brand's latest rival for the Mercedes C-Class Cabriolet and Audi A5 Cabriolet will make its debut early next year, sporting a controversial new front grille design and a choice of BMW's most potent powertrains.
Like the recently launched BMW Z4, the new 4 Series Convertible will ditch its folding metal hardtop in favour of a fabric roof, in an effort to lower the car's kerb weight. The decision will also help lower emissions and improve fuel economy, while reducing the amount of space the roof occupies when it's folded into the boot.
Best convertibles and cabriolets 2020
From behind the disguise the latest spy shots show us that, like the 4 Series Coupe, the Convertible will use BMW's latest interpretation of its kidney grille design; oversized twin elements will extend all the way from the leading edge of the bonnet to the base of the bumper. The fabric roof is shorter than the more gently sloping roof on its coupe counterpart, which means that the drop top has a longer, flatter rear deck.
The interior will be carried over from the 3 Series saloon, albeit with a few changes to accomodate the car's lack of a solid B-pillar. The seats will have their inertia reel units built into the back rests, while the rear middle seat will be replaced with a storage bin. However, BMW's latest 12.3-inch digital gauge cluster will be transferred wholesale, alongside a 10.2-inch iDrive infotainment system with sat-nav, real-time traffic info and Apple CarPlay connectivity.
Under the bonnet, the 4 Series Convertible is expected to feature only the more powerful 3 Series engines. The entry-level units will likely be badged 420i and 420d, using tweaked versions of the current car's four-cylinder petrol and diesel units. Above this will sit the 430i, as well as the six-cylinder 430d and 440i.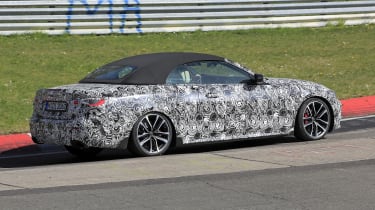 It's unlikely that the lesser three-cylinder 3 Series engines will feature in the sportier Convertible. At this time, it's also unclear whether the 4 Series will adopt the 3's forthcoming plug-in hybrid and full-EV powertrains – but a flagship M4 Convertible is a given.
Like the 3 Series, we expect the 4 Series will be offered with a range of M Sport accessories, including an electronically-controlled differential, larger M Sport brakes and lowered adaptive suspension. We expect the new Convertible will go on sale in late summer this year, priced from around £40,000.
Click here for all the latest on the new BMW 3 Series…
Source: Read Full Article