New Audi SQ8 2020 review
09/15/2020
The Audi SQ8 is now petrol-powered with 500bhp, but does it risk making the flagship RS Q8 redundant?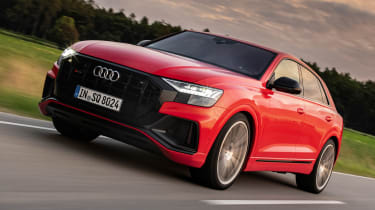 3.5 out of 5
Verdict
The new Audi SQ8 TFSI moves away from diesel refinement and frugality, which strengthens its principles as a performance SUV. It's slightly better to drive than the SQ7, but perhaps more importantly it risks making the RS Q8 redundant, given it serves up similar straight-line performance as well as greater levels of comfort at a much cheaper price.
The new SQ7 isn't the only hot Audi SUV receiving a heart transplant for 2020 – the SQ8, its lower, wider, more coupe-inspired sibling also receives a big update under the bonnet.
It moves away from diesel power, embracing petrol in a bid to woo buyers in big markets where hot, petrol-powered SUVs are growing in significance – mainly the USA and China. As such it's out with the short-lived 429bhp 4.0-litre V8 diesel, and in with a twin-turbocharged, 4.0-litre V8 petrol also used in the range-topping RS Q8.
Fastest SUVs in the world 2020

Power creeps up to 500bhp and 770Nm, and drive is sent to a quattro four-wheel-drive system via an eight-speed automatic gearbox. As in the SQ7, sports air suspension is standard, as is a tweaked dynamic four-wheel-steering system. It retains the same sporty exterior body kit as before, riding on 22-inch wheels as standard, while the interior is home to a pair of sports seats and a sports steering wheel alongside standard extended black leather with contrasting stitching.

More reviews for Q8 SUV

Car group tests

BMW X6 vs Audi Q8
Audi Q8 vs Porsche Cayenne vs Range Rover Sport

In-depth reviews

Road tests

New Audi RS Q8 2020 review
New Audi Q8 2018 review
New Audi Q8 prototype ride review

As before, the focus point of the interior is a pair of sharp touchscreen infotainment systems in the middle of the dashboard and centre console, while digital instruments are standard too, with Audi's 12.3-inch Virtual Cockpit display fitted by default.

If anything, the new petrol powered V8 feels more at home here in the SQ8 than it does in the SQ7. That's because, as the lower slung, sportier of the two large Audi SUVs, it chimes a little better with the car's character.

While many prospective SQ7 buyers in Europe will miss the availability of a diesel, perhaps the average SQ8 customer will see the introduction of a raucous petrol-powered V8 – much less economical than before – as another tick in the car's box. It's certainly not the more rational purchase of the two SUVs, skimping a bit on headroom, with a smaller 605-litre boot, no seven-seat option and with a loftier price tag.

However, the SQ8 is marginally better to drive than the SQ7. It's more or less the same weight as its sibling, but thanks to its wider track and lower centre of gravity, it leaves you ever so slightly freer to explore the strong level of grip on offer in corners with more confidence.

Crucially though, it retains the other car's star quality: ride comfort. Many performance SUVs compromise on this in a bid to compensate in the bends for their unideal sizes and shapes as much as possible. However, the SQ8's air suspension setup feels finely judged, with a supple ride in comfort and a firmer edge only when you dip the car into Dynamic mode on the drive mode selector.

Ultimately, though, what makes the new SQ8 a slightly more interesting proposition than the re-engined SQ7 is the existence of its more powerful RS Q8 relation. Now that the SQ8 uses the very same petrol V8 as its more expensive full-fat RS counterpart, it could serve as an enticing money-saving move for buyers lured towards the RS Q8.

It's down on the RS Q8 by 92bhp, but top speed is exactly the same and 0-62mph is only slower by two tenths of a second. However, the basic price is over £20,000 lsss and it's more comfortable to live with day to day. You don't get quite as much standard equipment (you could rectify this with one of the Carbon Black or Vorsprung trim models), and nor the wild RS styling, but for many it will shape up as a much better buy than the flagship of the Q8 range, as it more than stands on the toes of its sibling.

| | |
| --- | --- |
| Model: | Audi SQ8 TFSI quattro tiptronic |
| Price: | £83,740 |
| Engine: | 4.0-litre V8 turbo petrol |
| Power/torque: | 500bhp/770Nm |
| Transmission: | Eight-speed automatic, all-wheel-drive |
| 0-62mph: | 4.1 seconds |
| Top speed: | 155mph |
| Economy: | 23.5mpg |
| CO2: | 276g/km |
| On sale: | Now |

Source: Read Full Article