New BMW M4 Competition 2021 review
03/09/2021
The new BMW M4 Competition coupe is a great all-round performance car, but it comes at a cost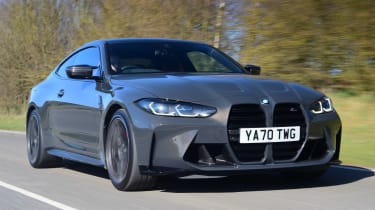 4.5 out of 5
Buy used for less at Buyacar
Verdict
The M4's design is the obvious talking point, but beneath its dramatic makeover lies a car with a broader breadth of ability than before. It's easy to live with day to day and now delivers its thundering performance in a more user-friendly and manageable way. As a road car the M4 is superb, a track assessment will come, but from this early drive BMW looks to have nailed it. Just be prepared to pay for it. 
It's always quite an occasion when a new M car comes along, but the arrival of the all-new BMW M3 and M4 have perhaps been the most anticipated in a generation. The design overhaul will be a topic that is unlikely to recede for some time, but viewed from a mechanical as well as a marketing point of view, the latest M4 has also undergone quite a shift. 
Let's start with the cost. At a whopping £76,055 – that's before you even glance and BMW's exhaustive and not-so-cheap options list – the M4 has moved quite some distance from the £56,356 coupe that arrived in 2013. The M4 Competition in 2016 nudged that figure up to £60,055, but this all new version is in another league entirely.
Best performance cars 2021

And in that league sits another famous and highly capable German sports car – the Porsche 911. Some might argue that the basic 911 isn't a direct rival given that the latest 992 generation has morphed into a softer GT car. But if you have almost £80,000 to spend on a fast, practical two-door coupe you'll almost certainly be considering it – or at least you should be. 

More reviews

Car group tests

BMW 4 Series vs Audi A5 vs Lexus RC
Kia Stinger vs Volkswagen Arteon vs BMW 4 Series

In-depth reviews

BMW M4 (2014-2020) review
BMW 4 Series Coupe (2014-2020) review

Road tests

New BMW 4 Series 2020 review
New BMW M440i xDrive 2020 review

Used car tests

The version we have here, once fully loaded with an assortment of options, actually costs an eye-watering £87,495. The big ticket items include the £6,750 M Carbon pack, which adds admittedly very smart carbon fibre bucket seats and exterior carbon fibre detailing. 

BMW's Laserlights (£1,500), the Comfort Pack, adding a heated steering wheel and electric boot (£990), and Parking assistant Plus (£650) inflate the price to that figure you see above. In truth, it doesn't take too much more digital box ticking to make this M4 a near-£100,000 car. The Ultimate Package (£11,750) fancy BMW Individual paint work (£3,985), M Driver's Pack (£2,095) take it close to six figures. Really.

The big news under the skin is that the M3 and M4 both go four-wheel-drive, but the xDrive system will be an option costing around £2,000. However, you'll have to wait until the summer to order an M3 or M4 with the system as the early cars are rear-wheel drive only. 

UK buyers are also restricted to the flagship Competition models – no hardship – which means the new twin-turbo six-cylinder engine churns out a thumping 503bhp and 650Nm of torque. Power is diverted to the rear wheels in this case via an eight-speed auto rather than the dual-clutch unit used by the old M4. The reason for ditching the dual clutch is down to the fact that engineers got the best results with the xDrive four-wheel drive system using the traditional auto. 

Enough of the preamble, then, what's the M4 actually like to drive? On the road, mightily impressive. The M4 has a pretty solid foundation to work from – given a standard 420d is better to drive than a diesel coupe has any right to be. So hand the car over to the BMW M boffins and throw in a load of extra power and technology and the result was unlikely to be a disappointment. 

The first thing you notice, however, is how relaxed and laid back the M4 appears to be. Despite its snarling snout and flared arches, it's no more taxing to drive than a 420d; the ride is firm, yes, but its supple and the damping takes the edge of what you'd expect to be harsh road imperfection allowing smooth and pretty easy progress at low speeds. 

In contrast to the old M4, which was, let's be honest, quite feral, this new version feels more mature and more rounded as if it's been shipped off to a high-end German finishing school to clean up its act. 

But BMW's M division hasn't forgotten about the M4's wilder side, and given the level of adjustability you have when it comes to the car's key parameters, such as engine performance, gearbox ferocity, steering, brake feel and traction control, you can dial the M4 into delivering as much or as little performance as you like.

The caveat here is that there are so many programmable modes and so many different levels to adjust, you could spend a long time trying them all before you find one configuration that suits you. In its most extreme setting with everything in Sport Plus mode the M4 doesn't feel intimidating because the chassis balance and feeling you get through all of the car's major controls let you know exactly what's going on at all times. 

The steering is quick off centre, and communicates pretty clearly how much grip you have at the front end. It's the same at the rear, there's a huge level of traction despite the amount of power going through the rear wheels only here. Even so, be too aggressive with the throttle and you'll feel the back axle shimmy through the base of your seat. 

The engine has some serious punch to it, but doesn't really get into its stride until about 3,000rpm once the turbos really wake up. Once beyond that magic number the engine pulls and pulls with unrelenting force – 0-62mph takes a claimed 3.9 seconds and feels entirely believable. The eight speed-auto cuts cleanly and quickly through the gears on the way up, but does labour a little with its downshifts when you ask for several downchanges in quick succession.

One gripe is that the M4 just doesn't sound that good; there are no rasps, bangs or barks as you accelerate even with the sports exhaust activated. It all sounds a little tame from inside, and if you turn the sports exhaust off it muffles the noise further still . 

A word on practicality and running costs, not that either of these things are a top priority to M4 buyers, but in the real world you're looking at 18mpg rather than BMW's claim of 28mpg. The boot can easily swallow a couple of suitcases and you can drop the middle seat to load through longer items while transporting two people in the back at the same time. 

Anyone approaching six-feet tall will feel their head brush against the roof lining in the rear, but those pricey carbon fibre buckets seats do leave a nice amount of space for you to slide your feet beneath then – so it's more comfortable for adults back there than you might think. 

| | |
| --- | --- |
| Model: | BMW M4 Competition |
| Price: | £76,055 |
| Engine: | 3.0-litre 6cyl twin-turbo |
| Power/torque: | 503bhp/650Nm |
| Transmission: | Eight-speed automatic, rear-wheel drive  |
| 0-62mph: | 3.9 seconds |
| Top speed: | 155mph |
| Economy: | 28.2mpg |
| CO2: | 228g/km |
| On sale | Now |

Next Steps

Source: Read Full Article