New Dacia Sandero 2021 review
12/16/2020
The all-new Dacia Sandero hatchback belies its budget badge while staying true to its brand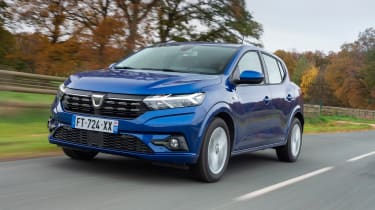 4.0 out of 5
Buy used for less at Buyacar
Verdict
The new Sandero feels like a very well targeted update to its predecessor. It drives better than ever and introduces more big-car features and technology – but not at the expense of the value proposition, which remains pretty much unrivalled. Only supermini buyers transfixed by Euro NCAP ratings should dismiss it; for everyone else, it provides a fascinating budget alternative to the class benchmarks.
Every manufacturer updates its models from time to time, but at Dacia this is a dangerous business. The Renault-owned brand has a (deserved) reputation for not tolerating frippery, and its customers expect nothing less. So loading up its popular Sandero hatchback with a few extra bells and whistles won't fool anyone.
Imagine the angst, then, that the Dacia product team must have faced with the all-new Sandero. Because this Ford Fiesta rival now switches to CMF-B, the latest Renault-Nissan-Mitsubishi Alliance platform and the same architecture that impressed us beneath the Mk5 Renault Clio.
This revolution in technology has the potential to drive the Sandero (whisper this) upmarket. CMF-B is lighter and stronger than anything the model has had before. Newfangled tricks such as LED headlights become available. Heck, there are even six airbags in every model (even though Dacia admits it isn't targeting a full five-star Euro NCAP rating).
More reviews for Sandero
Car group tests
Dacia Sandero vs Ford Ka+

In-depth reviews

Dacia Sandero Stepway review
Dacia Sandero review

Road tests

New Dacia Sandero Stepway Techroad 2019 review
New Dacia Sandero Stepway 2017 facelift review
Dacia Sandero 1.0-litre SCe 75 Ambiance review
New Dacia Sandero 2017 facelift UK review

And yet the razor-sharp focus on value remains. The new look does not bring a major shift in size, but rather a more focused stance created through a widened track and more pronounced wheelarches. Inside, the boot capacity rises slightly, to 328 litres, and there's an extra 42mm of legroom for rear-seat passengers.

The new Sandero is being offered with four drivetrain options. The entry point is the SCe 65, a normally aspirated three-cylinder unit producing a modest 64bhp and paired with a five-speed transmission. Meanwhile, the sweet spot is likely to be the TCe 90, an 89bhp 1.0-litre three-cylinder turbo with either a six-speed manual (as driven here) or a new CVT auto. And then there's the TCe 100 Bi-Fuel, which continues Dacia's commitment to LPG tech. The model range is as simple as ever, with only three trim levels and a grand total of two possible options (metallic paint and a spare wheel). The Access model will continue to grab the headlines, thanks to a £7,995 price tag that maintains its status as the UK's cheapest new car – although this version accounted for less than one per cent of the outgoing Sandero's sales.

The entry point's kit list is predictably sparse. You do get electric front windows, LED headlights, rake and reach adjustment on the steering wheel and a smartphone holder on the dashboard, but there's no radio or air-conditioning. This model is restricted to the SCe engine, too.

Essential looks set to live up to its name, with a sensible feature list that includes cruise control, air-con, central locking, body-coloured front and rear bumpers, DAB radio and both Bluetooth and USB connectivity. This car gets Media Control, too, which allows you to position your phone on the dash and use a Dacia app to access key features, including Waze and Google Maps navigation. It's priced from £8,995.

Comfort, the version we're driving here, costs £11,495 and throws in front foglights, keyless entry, electric rear windows, automatic wipers, rear parking sensors with a reversing camera, and body-coloured, electrically adjustable door mirrors. It also includes an eight-inch infotainment display, bringing six speakers and both Apple CarPlay and Android Auto.

Best small cars to buy 2020/2021

On paper at least, then, even the fully laden Comfort looks a remarkable amount of car for the thick end of six grand less than the cheapest five-door Ford Fiesta

– let alone a vehicle based upon the same underpinnings as the latest Clio. Don't expect a carbon copy of the Renault on the road – but that's not to say the Sandero is a million miles away from the class best. In fact, it's alarmingly decent; the TCe 90 engine is a proven quantity, and while it can't match the punch that you get in the likes of the Clio's 99bhp motor, or the Fiesta EcoBoost, the Dacia has enough low-down shove to keep a car of the Sandero's size moving at a sensible pace. The steering is light, but it's accurate enough. And the six-speed gearbox plays a pleasing role in the dynamic make-up, with a slick shift that allows you to jump around from one ratio to the next and keep the engine spinning in its sweet spot, between around 1,750rpm and 3,000rpm. There's little point in going beyond that.

Our early test car was a left-hand-drive example, so we spent an inordinate amount of time dropping into drain covers and potholes near the side of the road. And yet the core underpinnings of the Clio – a car more focused on compliance than agility – are evident. There's a fair amount of body roll in corners, but you'll only really feel hampered if you try to chuck the Sandero down a twisty road; do that, and understeer will soon dampen your enthusiasm.

The biggest difference remains refinement – for while Dacia is claiming big gains in this area over the old car (and we don't doubt there are improvements), there's nowhere near the same level of noise suppression that you get in the Clio or Fiesta. You'll hear turbo whine from the engine that's a much more distant phenomenon in the Renault, and both road and wind noise are more noticeable at 70mph. It's not unbearable but it is, in dynamic terms, the most obvious reminder that you've saved some cash.

Cheapest cars on sale 2020

The old Sandero's cabin is less of a pointer on that score than it used to be. We have to remind you that we're discussing the range-topper here, but even so, clever use of soft materials in key areas pays dividends. There's a neat padded-fabric section in the middle of the dash, and while the door linings are all hard plastic, the armrests do get a useful bit of cushioning.

The overall facia layout is neat and easy to use, with clear dials and a simple LCD multifunction display between them. The infotainment system, meanwhile, has one of the largest frames we've ever seen on such a unit, but the display itself is reasonably crisp and bright.

It's mounted high up on the dash, too, so it's easy to use – but it's a shame that only the upper USB socket allows you to connect your phone for data, because you then have to store the mobile in a fiddly mount that's close to your line of sight. It'd be better if the lower socket, in the base of the centre console, also offered this functionality, instead of being just a charger.

The boot is a convenient shape, despite its hefty lip, and there are several useful hook points in the moulded plastic at either side. Again, it's simple, no-frills practicality – something Dacia does better than anyone.

| | |
| --- | --- |
| Model | Dacia Sandero TCe90 Comfort |
| Price | £11,495 |
| Engine | 1.0-litre 3cyl turbo petrol |
| Power/torque: | 89bhp/160Nm |
| Transmission: | Six-speed manual, front-wheel drive |
| 0-62mph | 11.7 seconds |
| Top speed: | 111mph |
| Economy: | 53.3mpg |
| CO2: | 120g/km |
| On sale | February 2021 |

Next Steps

Source: Read Full Article