New Fisker Pear electric city car breaks cover
12/20/2022
New small EV for urban areas packs plenty of innovations, Fisker boss tells us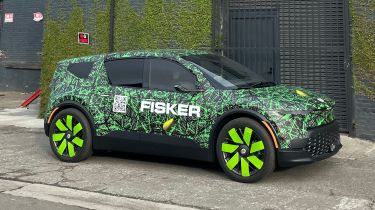 EV brand Fisker's second model in its line-up has broken cover. Called the Pear – which stands for Personal Electric Automotive Revolution – the new electric city car was spotted testing recently and will boast some radical features when it's unveiled next year.
With US prices confirmed to start from $29,900, Fisker is targeting a price tag of around £25,000 in the UK for the innovative machine.
Best small electric cars to buy 2022 / 2023
"Use of space on a car this size is going to be key," Fisker told Auto Express. "The features and the vehicle are going to be completely different. The way you get into the trunk – I call it the Houdini trunk, because nobody has ever done it that way before."
Fisker stopped short of fully revealing how this will work, saying "We don't want to give that away just yet. Basically, the car is so radical that we don't want to show it until 2024 just before we start selling it." However, it's thought that how the boot opens will again be part of a clever utilisation of space, with Fisker's patent documents and drawings referring to "front storage and rear window gate retraction features" with what looks like a retractable drawer as part of the front grille assembly and a rear tailgate that will extend to access storage.
Bolstering this were Fisker's comments when speaking to Auto Express that "It's [the Pear] very good for food delivery and for car sharing, so it's a vehicle that actually has a much broader spectrum of use."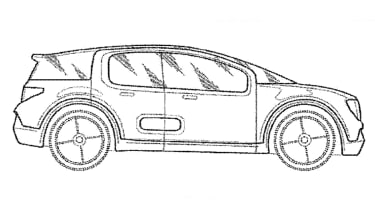 While there are lots of innovative features as part of the car, Fisker claims that the clever thinking runs deeper than just the vehicle and that he and his engineering team have totally rethought the process of building the vehicle too.
"We have actually rethought everything about how you even make a car", he says. "To get the pricing lower, to ask if a vehicle has to be made the way we do today? To think about cost and how can we get connectivity and exciting things in a lower cost car.
"That's been the whole kind of brainstorm that went through last year, and this year we kicked off full development. We are already now in the phase of working with suppliers. We are in the middle also working with Foxconn to set up the manufacturing plant – that's where the little bit of the joke comes in, because Foxconn makes Apple products but this is the Pear, much more radical." The car will be built on Fisker's own all-steel platform.
Fisker hopes that the Pear will be the vehicle that takes the brand to a million vehicles produced per year (by 2027), and the car will be offered with two battery options delivering up to 310 miles of range in what Fisker calls the "Hyper Range pack".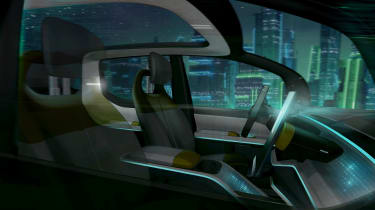 The CEO previously outlined that the Pear's exterior design "will feature new lighting technology and a wraparound front windscreen inspired by a glider plane glass canopy, enhancing frontal vision." This first image shows how these traits will be expressed in production.
Commenting on the design to Auto Express he said: "I like to see Fisker vehicles as having a sense of unique proportions and beauty in their own right rather than us just making cars in different lengths. I think we're going a little bit away from that. There will be something you can recognize that it's a Fisker, but we have just taken it to sort of the next level."
The brand's VW ID.3 rival will go on sale in the US first next in 2024, with European sales set to follow. The Pear is just one of four vehicles the brand is working on currently, with Fisker highlighting that the range could stretch to "eight to 10 vehicles eventually". The Fisker Ronin – a sporty GT developed in the UK at Fisker's Magic Works base – will follow the Pear. When asked if a sporty crossover could make up the fourth model, Fisker said, "Maybe. Maybe it's not a no." Watch this space.
Now read about Fisker's upcoming Ocean SUV…
Source: Read Full Article