New Hyundai i30 N 2020 review
05/22/2020
Subtle updates make the Hyundai i30 N hot hatch even better suited to UK roads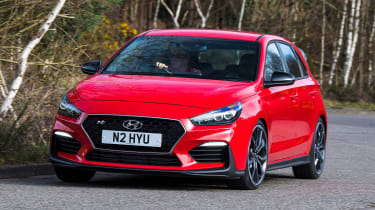 4.5 out of 5
Verdict
These 2020 updates have just added a little extra sophistication to a car that was already one of our favourite hot hatchbacks. The i30 N isn't about to challenge a Civic Type R for outright thrills, but it's a fast, fun and practical option – made all the more appealing by a reasonably aggressive price, and suspension that's now a little better suited to British roads.
Advertisement – Article continues below
As first attempts go, the Hyundai i30 N was a bit of a stormer. The first proper hot hatchback from the Korean brand bullied its way onto many shortlists with a blend of strong pace, sharp handling and decent value when it made its debut in 2018. Anyone who'd been doubting the ability of N boss Albert Biermann, formerly of BMW's M division, to develop a front-wheel-drive car was proven wrong in a single stroke.
Hyundai tends to work on quicker product cycles than most other brands, so perhaps we shouldn't be surprised that the company has treated the i30 N to a bit of an update. It's an even less surprising move because the bulk of these tweaks have already been seen on the i30 N Fastback, which was added to the line-up last year.
Best hot hatchbacks 2020

This could still be significant, though, because if we had one major criticism about the original five-door i30 N, it was that its ride was a bit on the extreme side for British roads. The slightly dialled-back set-up of the Fastback could be enough to nudge its sister model closer to the top of the hot hatch pile.

The core of the i30 N package remains reassuringly familiar. The Performance model tested here has a 2.0-litre four-cylinder turbocharged engine producing 271bhp and 378Nm of torque. There's a six-speed manual gearbox, and the i30 N can accelerate from 0-62mph in 6.1 seconds – not the current hot hatch benchmark, but certainly respectable.

More reviews for i30 N

Car group tests

Hyundai i30 Fastback N vs Skoda Octavia vRS Challenge
Kia Ceed vs Volkswagen Golf vs Hyundai i30

In-depth reviews

Hyundai i30 Fastback review
Hyundai i30 review

Road tests

New Hyundai RM19 review
New Hyundai i30 Fastback N 2019 review
New Hyundai i30 N Line review

Inside, the cabin is a functional, smart but relatively drab environment, with a decent infotainment system and few flashes of colour beyond the odd splash of N blue. At least you still get supportive sports seats – even if we'd still like the driver's hip point to be a few millimetres closer to the road than it is.

Underneath, the adaptive dampers are unchanged, and they continue to play their part in the N's frankly bewildering variety of driver modes.

The changes come in physical suspension bits, and there are plenty of small modifications. At the front, the wishbone bush angles have been reduced, the bump stops are 7mm longer than before, the spring rates have been reduced by five per cent, and the anti-roll bar is a millimetre slimmer.

At the back, there's less camber than before and Hyundai has beefed up the mountings for the gearbox and differential, while the stability control system has been remapped – presumably to take into account the vehicle's different behaviour.

And it does behave differently. We're not talking a night-and-day revolution here, but this i30 N does feel a little bit more capable on UK tarmac than the original. Weirdly, softening off some aspects of the set-up just allows the car to settle and get its house in order on bumpy British roads. And if it's not bucking, thudding and skipping around on the rougher stuff, it's better able to cope with cornering forces and inputs – as well as being just that little bit more open to extra squeezes of the throttle.

Key attributes haven't changed, mind. The Hyundai's steering remains positive, direct and reassuringly hefty (even in the least extreme mode; it's bicep-building in its heaviest setting). There's a good rev-matching setting that blips the throttle for you on downshifts if you want it to, although decent pedal spacings and a slick-shifting manual gearbox should encourage you to have a go yourself. The engine note is enhanced into the cabin but in a reasonably natural way – and we love how the exhaust pops and crackles when you're hustling the car along the right road.

The electronically controlled limited-slip differential helps traction in tighter corners, and the i30 is very neutral if you just throw the front end at an apex and hope. It is still firm, though – and even if you do notice that smidgen of extra compliance in the most extreme N mode (activated by a steering wheel button), you'll still find yourself looking out for the worst road imperfections and trying to avoid them.

So even after all the chassis mods, we'd still use the excellent customisation feature to fine-tune our own 'sport' set-up, mixing the most aggressive power delivery with the most comfortable dampers.

| | |
| --- | --- |
| Model: | Hyundai i30 N Performance |
| Price: | £29,495 |
| Engine: | 2.0-litre 4cyl turbo |
| Power/torque: | 271bhp/378Nm |
| Transmission: | Six-speed manual, front-wheel drive |
| 0-62mph: | 6.1 seconds |
| Top speed: | 155mph |
| Economy: | 36.2mpg |
| CO2: | 178g/km |
| On sale | Now |

Source: Read Full Article