New Mazda 2 to gain hybrid tech in Toyota collaboration
10/04/2021
Mazda will soon launch a rebadged version of the Toyota Yaris as the replacement for its aging Mazda 2 supermini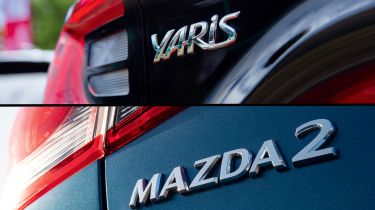 Mazda appears to be gearing up to launch a rebadged version of the Toyota Yaris, which could soon become the replacement for the Mazda 2 supermini. Nothing's official yet but, after trawling through the company's various investor presentations and financial results, we've pieced together the story.
The new car will form part of Mazda's long-running partnership with Toyota, which will see the pair collaborate on everything from autonomous technology to pure-electric vehicles.
Updated 2022 Mazda CX-5 on sale now priced from £27,845
During an investor presentation in November 2020, Mazda announced that it would launch an "OEM-supplied model based on the Yaris THS" by 2022 – which we expect, given the two cars' similar sizes, will become the next-generation Mazda 2.
In June of this year, Mazda announced it would launch 13 new electrified vehicles by 2025, separated into five plug-in hybrids, five hybrids and three EVs. In the same report, Mazda also confirmed the hybrids will be powered by the same electrified technology found in the latest Prius and Yaris – the rather unimaginatively named Toyota Hybrid System (THS).
We've already seen a similar partnership in action between Toyota and Suzuki. The latter firm recently launched the Swace estate and Across SUV, which are subtly tweaked versions of the Corolla and RAV4 respectively, sharing the same platforms, powertrains, technology and most of the styling with their Toyota-badged counterparts.
So, the next 2 should use the same platform and body-in-white as the latest Yaris, with Mazda making a few adjustments to the supermini's front end styling and interior trim in an effort to make the car its own. 
Toyota's 114bhp 1.5-litre petrol-hybrid powertrain will also be shared across the two vehicles, meaning economy figures of around 65mpg should be possible. As an added benefit for Mazda, Toyota's hybrid powertrain will also bring down its fleet emissions and help the company meet ever-tightening CO2 regulations.
Inside, we're expecting the same dashboard layout, digital gauges and seven-inch infotainment system as the Yaris, although the Toyota-branded graphics for the screens will be swapped for Mazda ones to match the badge on the car's boot.
Now click here to read about Mazda's electrification strategy from now until 2025…
Source: Read Full Article