New Peugeot 308 2022 review
02/23/2022
The all-new Peugeot 308 hatchback has arrived in the UK to challenge the Ford Focus and Skoda Octavia, but what's it like on the road? We find out…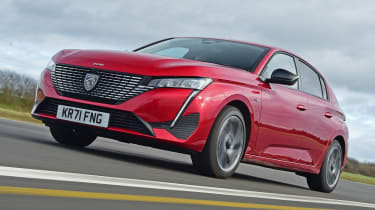 4.0 out of 5
Buy used for less at Buyacar
Verdict
Peugeot's posh push is more obvious than ever in the latest 308. It looks and feels like a premium product, while it drives well; there's even a hint of previous Peugeots' pizazz to put a smile on your face. There are still a few foibles around infotainment and the i-Cockpit, while you can get much more space in an Octavia. But on this first outing, this is another strong competitor in a sector where you're not exactly lacking in choice.
It's an interesting time for the Stellantis empire, newly crowned as Europe's biggest-selling car group and with a flurry of new launches across its myriad brands.
We recently reviewed the new Vauxhall Astra, and now we've driven the new Peugeot 308 here in the UK. Both cars sit on Stellantis's EMP2 platform and share many other bits under the skin.
Best hatchbacks to buy 2022

Of course, this is a well-trodden path, not least with Stellantis's big rival, the Volkswagen Group. And although family hatchbacks like 308, Golf, Astra and Focus don't sell in the numbers they used to (while SUV share still grows), they're still mighty important to their makers.

The 308 has always had offered a strong dose of French style, as has its forebears whether they wore numbers 9, 8, 7 or 6 as Peugeot's three-o models have done in the past.

More reviews

Car group tests

Toyota Corolla vs Volkswagen Golf vs Peugeot 308
Peugeot 308 – best hatchbacks 2018

In-depth reviews

Peugeot 308 review
Peugeot 308 GTi review

Road tests

New Peugeot 308 SW 2021 review

Used car tests

You can decide, but to our eyes the latest 308 is one of the better-looking cars in the class. Peugeot says it's a whole new look for the brand, but there's a distinct family flavour when it's lined up next to the 208.

The biggest change is the use of the oversized new Peugeot logo that features the brand name and lion mark within a shield. That means the low-hung grille has to be bigger for the shield to fit into, but it flows into slim LED headlights and Peugeot's trademark fang-like LED running lights on the front corners.

Similarly, the 'three-claw' light theme continues at the back of the 308, nicely animated on higher-spec models. And with traditionally tight bodywork, it all adds up to an athletic and classy look.

That's the case inside, too. On lesser models you get fabric around the dash and doors which gives the cabin warmth, while sportier models get a mix of Alcantara, leather (or leather-like –all with green stitching) and metallic finishes. To be honest, whichever trim level you go for it all looks smart, feels premium and has build quality that is at the top end of anything else you'll get in the class.

Peugeot has also upped the game when it comes to technology. We've seen the three-dimensional instrument display as part of the i-Cockpit before but it's a first time on the 308, while the i-Connect infotainment features a 10-inch screen with voice control and there are also customisable i-Toggle fast keys.

There's the expected roster of advanced electronic safety features, while the adaptive cruise will not only keep you in lane, but also change lanes when it's safe and automatically adapt your speed to keep within speed limits; that's a bit nannying, but quite handy.

When it comes to luxury, not only can the seats be heated, so can the steering wheel, while top-spec GT Premium models get massaging seats approved by German back specialists.

This is also the first 308 that you can't get with a manual gearbox – all cars get a slick-shifting eight-speed automatic, operated by a toggle switch on the centre console.

For our first UK test of the new 308, we opted for what's likely to be the mainstay of the engine range, the 1.2-litre Puretech three-cylinder petrol. Company car users will, no doubt, be swayed by the fiscal benefits of one of the two plug-in hybrids, while high-mileage drivers may still like the go-further flexibility of the 1.5-litre BlueHDi diesel.

Five trim levels range from Active Premium through Allure, Allure Premium and GT and GT Premium, with our top-spec model costing £30,885, although the entry-level car with the same powertrain can be had for £24,635.

Peugeot's current finance deals mean a nicely specced Allure Premium model can be had for £259 per month over 48 months if you're able to put just over £6,000 down; a similar Golf on similar terms would cost around £14 a month more.

The Puretech engine has proven popular across the Stellantis range and its smoothness impresses here. From the moment you prod the start button it's reasonably vocal, whichever of the drive modes you choose, with a three-cylinder growl that actually sounds quite sporty.

Things are quieter once you're cruising, while changes from the auto box are quick and smooth. You'll not be racing away from the lights, though, with a 0-62mph time of nearly 10 seconds. We also found the brakes on our test car a little fierce; it was hard to come to a gentle stop, especially at parking speeds. The adaptive cruise control was also a little brutal on the brakes at times.

Apart from the performance, we were surprised by just how sporty the 308 feels on the move and a bit like Peugeots of old. The front end reacts sharply to steering inputs, while there's plenty of grip and the car stays flat through sharper corners; it's really quite fun to drive.

With those words, we quite often have to caveat things when it comes to ride quality, yet our GT Premium model rides the bumps well. Sure, you can feel the state of the road underneath you, but you won't find it uncomfortable. That may well be because Peugeot hasn't gone overboard on wheel sizes; our car sat on smart 18-inch wheels, while we suspect the Active (16-inch wheels) and Allure (17s) models will ride even better.

The car's sporty feel is helped by the small wheel that's part of the i-Cockpit, although the same old foibles exist with the small wheel/high-set instrument set-up. It forces you to set the wheel low – not where everyone wants it – or some drivers may still struggle to see all of the instrument panel. Why Peugeot perseveres with this is beyond us.

Another Peugeot problem of old has been the infotainment system. The new i-Connect system is better, but still far from perfect. Its i-Toggle fast keys, which let you jump to certain menus or back into your smartphone connection (Apple CarPlay and Android Auto are present and correct), sit precisely where you might want to rest your thumb to get a more stable connection between finger and screen. Clearly Stellantis hasn't learnt from the VW Group's mistakes here.

Similarly, if you want to change the temperature, you must prod one of the i-Toggle fast keys (assuming you've set one up to take you to the climate control menu), wait for an unnecessary animation to perform its routine and then prod the screen. Just don't touch the i-Toggles as you're doing it.

Otherwise, the lovely interior offers good adjustment for the driver and okay space in the back; it's far from class leading and a little tight for adults, but it should be okay for most families. As is the boot space – 412 litres here (a bit more than in a Golf), which is enough for a kid's buggy and some squashy bags, but only 361 litres in the plug-in hybrid.

| | |
| --- | --- |
| Model: | Peugeot 308 1.2 PureTech 130 EAT8 GT Premium |
| Price: | £30,885 |
| Engine: | 1.2-litre three-cylinder petrol |
| Power/torque: | 130bhp/230Nm |
| Transmission: | Eight-speed automatic, front-wheel drive |
| 0-62mph: | 9.7 seconds |
| Top speed: | 130mph |
| Economy: | 43.5mpg |
| CO2: | 131g/km |
| On sale: | Now |

Next Steps

Source: Read Full Article