New Volkswagen Multivan TSI petrol review
08/24/2022
Does petrol power make sense in a large MPV?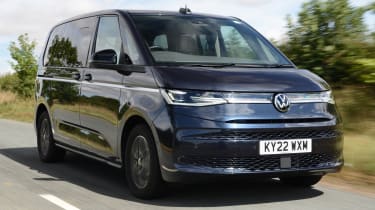 3.0 out of 5
Verdict
The VW Multivan TSI fills a brief for buyers that don't want a dirty diesel or a plug-in model, but it's not as good as either of these versions. While 201bhp sounds like a punchy output, the Multivan is heavy, so it needs all the power it can muster to make progress, blunting fuel economy. There's no arguing with its cabin versatility, but the PHEV is a better option in town, while the TDI diesel is the one to go for if you're planning longer trips.
We've already tried the Volkswagen Multivan as a plug-in hybrid, and were impressed by its comfort, refinement and hugely practical interior. The other thing that appealed was that while its one-box shape is quite van-like, there is no commercial equivalent to the Multivan, and VW's engineers have been able to make it more car-like to drive than any van-based counterpart.
Best people carriers and MPVs 2022

These traits are common to the whole Multivan range, with petrol and diesel versions also available alongside the PHEV. Here we're trying the 2.0 TSI petrol version, which comes with 201bhp (14bhp less than the PHEV) and a saving of around £1,000 over the plug-in model.

From the outside there are no differences between the TSI and the hybrid, except for the lack of a charging socket on the front wing of the former. Inside, both versions are identical, because unlike with other PHEVs, where boot space is sacrificed in the quest to fit the biggest possible battery, the Multivan is large enough to accommodate any kind of running gear under the floor. The TSI does feature a 60-litre fuel tank, though, whereas the PHEV only has a 45-litre tank.

More reviews

Road tests

New Volkswagen Multivan eHybrid 2022 review

That leaves the cabin free to create acres of space, and the Multivan is a hugely versatile people carrier as a result. There's plenty of room for seven in a 2-2-3 seating layout, or you can specify four captain's chairs in the back as a no-cost option. Either way, there's still decent space for luggage, including a parcel shelf that can take loads weighing up to 25kg.

The seats are mounted on floor rails, and they can slide back and forth in a variety of layouts. Removing them is a pretty simple process, too, and while the individual chairs are on the large side, they're relatively light to lift in and out. Remove them all and you have 3,672 litres of space to play with. Our Style model featured an electrically opening tailgate and sliding doors, which make life even easier still.

Up front, the cabin shares its layout with VW's passenger cars. There are digital dials and VW's infotainment system, with touch-sensitive climate and volume controls. As in other VW models, this set-up is tricky to use on the move, but at least the multifunction steering wheel offers controls that are easier to use.

One place where the Multivan differs from its counterparts is with its drive selector. Since all versions come with VW's DSG auto, the drive selector is a toggle switch on the dashboard next to the touchscreen. Once you're used to it, it's simple enough to use, while the automatically engaging electronic parking brake makes more space for storage on the dashboard. And there's no complaints in that department. There's a dash-top cubby, twin flip-out cupholders, a wireless phone charging tray, twin gloveboxes and three storage pockets in the front doors; even the most focused hoarder would have trouble filling them with stuff.

In the back, there are separate climate controls and vents for the middle and rearmost rows, while USB-C sockets are fitted inside the sliding doors and on the sills of the rear windows. Comfort is first class, with armrests for the two individual chairs, while the sliding central cubby has cup holders and big bins; it also lifts so that two tray tables can be used. That's in addition to the tray tables mounted to the back of the front seats, too.

On the move, the Multivan is quiet and refined. The ride can get a little jiggly at lower speeds, which is surprising when you see the high sidewalls of the tyres, but the ride smooths out the faster you go. What the TSI model does lack is the instant response that the plug-in model enjoys. Since there's no electric motor to fill in the power band, the petrol engine seems to gather pace more than accelerate, especially when the Multivan is fully loaded. Flooring the accelerator results in a big rise in revs like a CVT gearbox, but not much faster progress, and it's clear that all of the engine's 201bhp is needed to get going.

Still, at least the Multivan is agile in corners. You're aware of the car's tall body, but the quick steering means the VW is surprisingly engaging – another benefit of the Multivan abandoning its commercial vehicle requirements.

During our time with the Multivan TSI, we saw best fuel economy of around 40mpg on a motorway run, but this dropped to around 30mpg around town. This is where the plug-in model will come into its own, since most short trips will easily be covered by the battery and electric motor set-up.

| | |
| --- | --- |
| Model: | Volkswagen Multivan 2.0 TSI DSG Style |
| Price: | £58,253 |
| Engine: | 2.0-litre 4cyl |
| Power/torque: | 201bhp/320Nm |
| Transmission: | 7-speed automatic, front-wheel drive |
| 0-62mph: | 9.0 seconds |
| Top speed: | 124mph |
| Economy: | 31.4mpg |
| On sale: | Now |

Now read our review of the Volkswagen Multivan eHybrid…

Next Steps

Source: Read Full Article