UK new car sales: British-built Nissan Qashqai tops 2022 chart
01/05/2023
UK car registrations dropped by 25 in 2022, but battery electric cars are now the second most popular after petrol models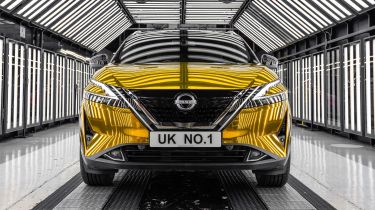 New car sales dropped to 1.61m in 2022, down 2 per cent on 2021 and the worst year since 1992, as the pandemic hangover continued with the restriction on supply of parts for new cars hitting hard in the first half of the year.
However, Nissan has managed the disruption to the supply chain better than most, enabling the Qashqai to top the sales chart for the first time with 42,704 going to customers in 2022. The Qashqai has been designed and engineered in Britain and is built in Sunderland, Tyne and Wear.
Best-selling cars 2022: the UK's top 10 most popular models
Andrew Humberstone, managing director of Nissan Motor (GB) Ltd, said: ''This is a landmark moment for a landmark car and it's great to see how the latest generation Qashqai has struck a chord with car buyers here in the UK.
"We're absolutely thrilled to see this car's increasing success over the last 16 years, and it's a fitting tribute to the skills and talents of Nissan's excellent design, engineering, production and sales teams all around the UK."
2021's biggest seller, the Vauxhall Corsa, took second place in the 2022 sales chart, followed by the Tesla Model Y, which was also the best-selling battery electric vehicle of the year and best-selling vehicle overall during the month of December.
Battery electric cars have now overtaken diesels with 16.6 per cent market share in 2022, putting them second behind petrol-powered models in the sales chart for the first time. Petrol cars still accounted for 56 per cent of all car sales, while hybrid cars took 11.6 per cent of sales and plug-in hybrids 6.3 per cent.
Best new car deals 2022
However, Mike Hawes, chief executive of industry trade body SMMT which compiles the registration data, warned that EV uptake is slowing with the slow introduction of charge points potentially hitting further adoption of EVs. "Infrastructure is the major challenge," said Hawes. "Charging anxiety is the biggest obstacle.
"Even taking the government's lowest target of 300,000 charge points by 2030, that requires more than 100 new chargers to be installed every single day. The current rate is around 23 per day. The user experience may get worse before it gets better."
This year is likely to see an easing of supply issues to enable car makers to work their way through their back orders, with a forecast of 1.85 million sales in 2023. And there are already signs that supply is already easing – December was the fifth consecutive month of growth in car sales. 
"There's room for optimism," said Hawes. "2023 is set to be a year of recovery. We will potentially see around 15 per cent growth, which will be worth around £10bn to the automotive sector and will be the envy of other sectors."
Top ten selling cars of 2022
Nissan Qashqai
Vauxhall Corsa
Tesla Model Y
Ford Puma
MINI
Kia Sportage
Hyundai Tucson
Volkswagen Golf
Ford Kuga
Ford Fiesta
Looking to sell your current car quickly and for a good price? We've partnered with Motorway to bring you the best offer from its network of UK dealers…
Source: Read Full Article