Used Land Rover Discovery review
01/19/2021
A full used buyer's guide on the Land Rover Discovery, covering the Discovery 3 (2004-2008), Discovery 4 (2009-2016) and Discovery 5 (2017-date)

1

Used Land Rover Discovery 5 review

– currently reading

2

Used Land Rover Discovery 4 review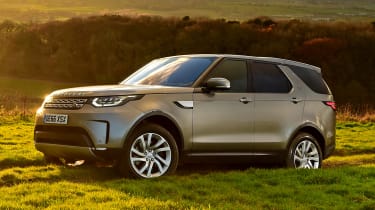 Ever since Land Rover launched its first car in 1948, this British brand has been at the forefront of off-roaders. For decades the firm focused on off-road ability above all else, and it's no exaggeration to say that up to a point its cars were one-trick ponies, in that they could tackle any terrain, but they were noisy, thirsty, slow and uncomfortable.
Obviously the Range Rover didn't fit into that category, but until the arrival of the original Discovery in 1989, you had to be pretty committed to use a Land Rover on an everyday basis. But then the Discovery arrived and everything changed at a stroke. It brought comfort with refinement, and before long seven-seat capability, too – all while still being able to tackle the toughest terrain – which is just the way the Discovery has remained ever since.
Models covered
Land Rover Discovery 3 (2004-2008)
Land Rover Discovery 4 (2009-2016)
Land Rover Discovery 5 (2017-date)
Land Rover Discovery 5
History
The fifth-generation Discovery arrived in spring 2017. Diesel engine choices were the 237bhp 2.0-litre four-cylinder Ingenium unit, and the 254bhp TD6 3.0-litre V6. For those who preferred petrol there was the 335bhp 3.0-litre V6 Si6. Whichever engine was chosen it had an eight-speed automatic transmission; no manual 'box was offered.
More reviews for Discovery SUV
Car group tests
New Land Rover Discovery 5 vs 4, 3, 2 and 1: Disco generations review
Land Rover Discovery vs Audi Q7 vs Volvo XC90
In-depth reviews
Land Rover Discovery review
Long-term tests
Land Rover Discovery HSE Luxury: long-term test review
Road tests
New Land Rover Discovery Si6 2018 review
New Land Rover Discovery TD6 2017 review
New Land Rover Discovery 2017 review
Used car tests
Used Land Rover Discovery Sport review
The Anniversary Edition that went on sale in January was limited to 400 units for the UK market only. Created to mark three decades of the Discovery, it was based on the SD6 SE and came with three exclusive colour options. Three months later the Landmark edition was launched, also to celebrate 30 years of the Discovery. This time numbers weren't limited and buyers could select SD4 or SD6 engines.
Which one should I buy?
The four-cylinder engines are very capable, but the V6 units are noticeably smoother and more muscular. Buy a Discovery S and it'll come with 19-inch alloy wheels, a six-speaker hi-fi, 10-inch touchscreen with DAB, air-conditioning, air suspension, a powered tailgate and a heated windscreen.
Move up to SE trim and you'll also get front and rear parking sensors, automatic headlights and wipers, heated front seats, nav, LED headlights, dual-zone climate control, leather trim, a 10-speaker hi-fi and power-fold, heated door mirrors. HSE adds keyless go, a rear-view camera, electrically reclining rear seats and powered third-row seats, plus 20-inch wheels, a panoramic roof, and heated front and rear seats.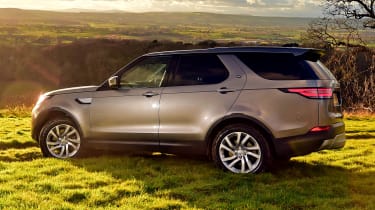 HSE Luxury brings an opening glass roof, a 360-degree camera, heated steering wheel, rear-seat entertainment, 14-speaker hi-fi, four-zone climate control and 21-inch wheels.
Alternatives to the Land Rover Discovery 5
The Disco's toughest rival is the Volvo XC90, which is also very roomy, has a superb cabin and is as safe as you'd expect a large Volvo to be. Also very impressive is the Audi Q7, which is bristling with technology and has a superb cabin, while the BMW X5 is another seven-seater that's good to drive and has some very impressive engines.
Other affordable seven-seat SUVs that are cheaper to run and readily available include the SEAT Tarraco and Skoda Kodiaq as well as the Kia Sorento. None feels as special as the Land Rover, but all are likely to be more reliable. If seven seats aren't vital, you could consider a Porsche Cayenne, Range Rover Sport or Volkswagen Touareg.
What to look for
Seats
Every Discovery comes with seven seats, unlike Land Rover's smaller Discovery Sport, which is also available in five-seat form.
Spare wheel
Unlike far too many new cars, the Discovery is fitted with a full-sized spare wheel in the back rather than just a mobility kit.
Engine
Some SD4 models have had new engines fitted because of metal fragments being found in the oil, seemingly from failed piston rings.
Vibrations
Some Discovery owners have reported vibrations at 65-75mph, which occur when one of the front driveshafts is out of balance.
Interior
Spacious and crammed with premium materials (apart from cloth seats on the entry-level S), the Discovery's interior is superb. It's well laid out and there's plenty of space for seven adults to travel in comfort, with lots of head and legroom for them all, while a sliding middle row improves versatility.
With seven seats in use, boot space is pegged at 258 litres. Drop this to five seats and the figure jumps to 1,137 litres; with just two seats, it's 2,406 litres. Discovery owners can use the Land Rover InControl Remote Premium app to fold the rear seats from their smartphone. The infotainment system is let down, though, by a poor interface.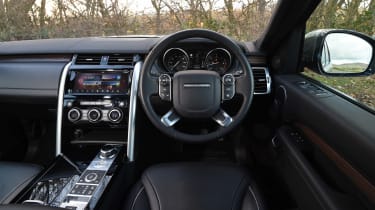 Prices
Check out the latest used prices for the Land Rover Discovery on our sister site Buyacar.
Running costs
Discovery 5s with the SD4 engine need to be serviced every two years or 21,000 miles, but all other models have a 12-month or 16,000-mile interval.
The service schedule runs on a 10-year cycle, so that's five services for SD4-engined cars and 10 for all others. SD4 prices are set at £416, £546, £910, £611 and £1,704, while for the TD6 the first six services cost £384, £533, £437, £615, £384 then £998. The seventh one is dear, at £1,493, but this includes a new cambelt. The next three are then £615, £1,672 and £830.
No routine service is cheap, but there are no add-ons such as replacement coolant (every 10 years) or brake fluid (every three years), because these are included in the prices given. If you can find a car that comes with a ready-paid service plan, you could save plenty.
Recalls
Land Rover has issued four recalls for the Discovery 5 so far. The first came in December 2016 because 452 Land Rovers built between July and October that year were fitted with front passenger airbags that might not deploy in a collision. In March 2018, 1,537 Land Rovers made between May 2016 and January 2018 could suffer from fuel leaks; in the case of the Discovery 5, though, only cars with the 2.0-litre petrol engine were affected.
The third recall came in April 2019 because 4,779 cars produced between March 2015 and July 2018 had faulty software that led to excessive CO2 emissions. All three recalls affected several Land Rovers, but the action in February 2020 focused solely on Discovery 5s made from September to December 2019. Just 10 cars left the factory with faulty middle-row seat fixings, though.
Driver Power owner satisfaction
There were no Land Rovers in the 2020 Driver Power new car survey and the Discovery 5 has never appeared in any of our new or used car owner polls. Land Rover did appear in this year's Brands survey, though, in 25th place out of 30, after a 20th place last year. Owners love the brand's interiors, roomy cabins, safety and comfort, but dislike the running costs, build quality, reliability, ergonomics and infotainment systems.
Verdict
We've always loved the Discovery because it's the consummate all-rounder; when the Mk5 arrived we liked it so much that we gave it our Car of the Year award in 2017. Purchase and running costs are high because you simply can't build a genuine seven-seater with decent performance without it being big, heavy and quite thirsty. Naturally the fifth-generation car is the most sophisticated and luxurious Discovery, but owners say it can be a bit too complicated for its own good, with compromised reliability and high purchase prices. An updated model will reach showrooms imminently, priced from a hefty £53,090, with cleaner engines and even more tech. There will surely be much to like, but there's plenty to like about the outgoing Disco, too.
Next Steps
In this review
1

Used Land Rover Discovery 5 review

– currently reading

A full used buyer's guide on the Land Rover Discovery, covering the Discovery 3 (2004-2008), Discovery 4 (2009-2016) and Discovery 5 (2017-date)

2

Used Land Rover Discovery 4 review

A full used buyer's guide on the Land Rover Discovery covering the Discovery 3 (2004-2008) and Discovery 4 (2009-2016)
Source: Read Full Article