Volvo EXC90 patent shows XC90 successor
09/12/2022
The new flagship Volvo SUV will change its name, with an all-electric variant planned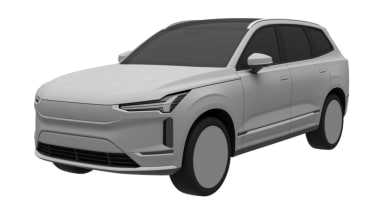 Volvo is working on the next-generation XC90, but it may not be called that at all, with the firm registering the name 'EXC90' with the European Patent Office. We've previously heard rumours the XC90 would be renamed 'Embla', in a move that would go against Volvo's traditional letter and numbering nomenclature.
Volvo changed its CEO in March this year, with Briton Jim Rowan taking over. This could have been a key factor behind the brand's U-turn on the naming for its EXC90, seemingly backtracking from the 'Embla' nameplate. As the biggest SUV in Volvo's lineup, we expect it to continue challenging the likes of the Audi Q7, BMW X5 and Volkswagen Touareg in the large SUV segment.
Top 10 best large SUVs on sale 2022
Along with the new name, we can already see patent images of the new car. It looks like Volvo will play it safe in terms of design, with the signature 'Thor's hammer' headlights featuring once again with a front end not too far removed from the current model. The rear has a new bumper and C-shape light design, but the overall proportions are very similar to the current XC90. The grille has been covered however, suggesting this particular patent model will be an electric car.
Electrification has been on the cards for the XC90's successor for a while. The new SPA2 platform that will allow the brand's biggest SUV to be electrified from the start. The Recharge Concept uses Volvo's new SPA2 platform, which is scalable for cars ranging from the S60 to the XC90 in size. The layout is Volvo's first to have an entirely flat floor with the battery underneath.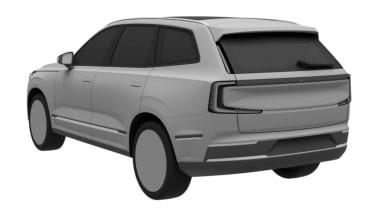 As such, there will be no pure petrol or diesel-powered versions of Volvo's next big SUV. Indeed, by 2025 Volvo wants 50 per cent of its sales to be of fully electric models. We can still expect plug-in hybrid variants of the new EXC90, however.
The new EXC90 will introduce a new-generation interior for Volvo. As per the Concept Recharge, the car will still use a central touchscreen with portrait orientation, but will be integrated into a much more minimalist environment. The 15-inch central display will run a new-generation software called VolvoCars.OS, and will sit on a floating style dashboard; the pure electric powertrain and underfloor batteries make a central tunnel unnecessary, opening up further space in the car.
Now read our in-depth review of the current Volvo XC90 SUV…
Source: Read Full Article