'Work is needed to make electric cars accessible for everyone'
10/06/2021
Consumer and features editor Chris Rosamond investigates the challenges facing disabled electric car drivers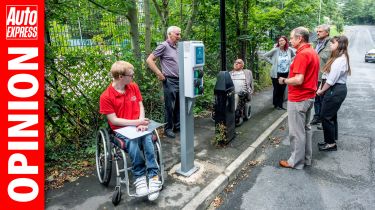 I once heard a theory that no one is disabled until people or society puts obstacles in their way. It sounds glib, but maybe it's a useful way to help comprehend how the world can look from different perspectives. 
Witnessing two wheelchair users unpicking the multitude of "designed-in" challenges on the first stop of our tour of Brighton and Hove Council's electric vehicle charging installations brought the theory sharply into focus for me. The site comprised a handful of compact on-street bays situated on a steep slope, with woefully cramped pavements, precipitous kerbs and unmanageable chargers. "Accessible", it was not.
Don't leave disabled drivers behind in the switch to electric cars
There are around 26,000 public EV chargers in the UK today, with thousands more installed every year. We can't tell you how many have been installed on accessible parking bays, because most of the network providers that we asked couldn't – or wouldn't – tell us. Our experience, and evidence from groups we've spoken to, suggests it's barely a handful, and the problem for disabled drivers is compounded by myriad other issues around the design of charging devices and the cars you plug them into.
The tragedy is, we already know how to cater for disabled drivers. We have Blue Badges, wheelchair accessible cars, dedicated parking bays, wide pavements with dropped kerbs, BSI standards for car park ticket machines, and filling station staff trained to assist drivers who can't pump fuel for themselves. Now it seems, in the race to build infrastructure to support the switchover to electric cars, all that knowledge and experience has been thrown out of the window.
As the government begins a belated series of consultations, we'll be exploring the accessibility challenges tied up in the EV switchover in future, too. Our goal? Not to provide solutions, but if we can help to keep the spotlight focused, we hope to play our part.
Check out our list of the best Motability cars on sale here…
Source: Read Full Article