VW Golf with 738 Miles on the Clock Heads to Auction
11/11/2020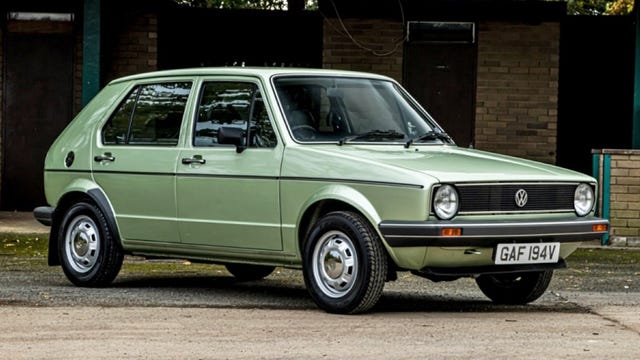 Is it possible these days to experience a 40-year-old Volkswagen Golf in as close to as-delivered condition as possible, just as it would have left the factory? In a few days bidders will have the opportunity to battle it out for just such a car, when Silverstone Auctions offers a 1980 Mk1 Volkswagen Golf with just 738 miles on the clock.
How did this Golf manage to make just two short trips in its life?
First of all, even though this car was sold new in Holland, it's RHD because it was headed to an owner in the U.K. who took advantage of lower car prices across the English Channel, ordering the car through a dealer in the Netherlands. Second, the reason for the purchase might seem stunning today but might have seemed prudent in 1980: The owner already had a Golf at the time for daily driving but wanted to buy another one and pickle it for the moment the first one wore out. The British buyer instructed Freddie Taub of FT Motors in Cornwall, U.K., to order the diesel Golf in RHD through a Dutch dealership and deliver it to Cornwall.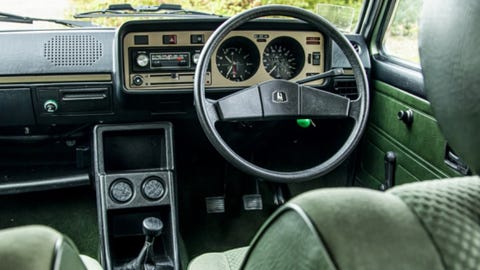 "We are not really sure why, but Mr. Taub decided that it might be a good idea to pick the car up himself and deliver it via Calais to his customer in Cornwall which he duly did," Silverstone Auctions notes. "He is on record as swearing that he would never become involved in another transaction of this type again given the difficulties of dealing with the totally intransigent British Customs Service at the time."
After it made it home to Cornwall, the Golf GLD was given a Waxoyl underbody treatment, and because the first Golf was still very much operational the GLD was put in the garage and locked up for 20 years, in a manner similar to how Cold War armies would produce trucks and other machinery ahead of them and then preserve them in vast hangars for the moment they were needed.
The Golf GLD made a grand total of two trips during that 20-year stretch: One to a dealer for a mandatory engine breather service, and another one nearly 20 years after its purchase when it was driven for an MOT test. It passed with 561 miles on the odometer at the time. What became of the first Golf it was bought to replace? Not much at all — it served its owner for the next 15 years, never necessitating the spare Golf to replace it. And its owner didn't feel inclined to start driving the spare one even occasionally.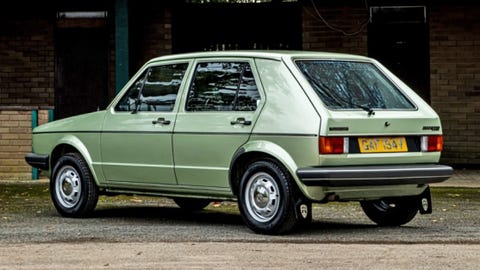 That's how the Golf GLD first traded hands in 1999, when a collector bought it with just under 600 miles on the clock. It was also registered for the first time that year. During the next 20 years its second owner drove it… even less, adding about 200 miles to the odometer in that time.
"The little Golf attracted much attention with its new owner (as it does now) and was featured on the cover and in a 4-page feature in 'VW Motoring' in August 2000," the auction house notes.
The diesel Golf will be offered at no reserve later this week, with extensive documentation and two sets of keys.
Silverstone Auctions hasn't published an estimate for the Golf, and perhaps the car's uniqueness fits this approach — there aren't many comparables out there. As to whether there are other Mk1 Golfs in similar condition, Silverstone takes an agnostic stance, indicating there could be a couple of museum cars around with similar mileage. That's perhaps for Wolfsburg experts to uncover, but this doesn't change this Golf's uniqueness, especially since it's RHD and a diesel.
The fates of such cars tend to be rather lonely: They're usually the first or last cars off a given production line, and right after all the photos are taken with VIPs they're sent to the automaker's museum with balloons and banners still attached. And then they sit for years on end, at times not receiving the proper exercise and upkeep, which leads some systems, especially fuel lines and rubber hoses, to degrade over time.
As many collectors who's bought such "museum cars" will readily tell you, the recommissioning work can costs thousands or even tens of thousands in some cases, such as the often-stashed Ferrari Testarossas bought at a discount right after the 1987 stock market crash. They've sat in garages for the past 30 years with just a couple hundred miles on the clock, and now need new fuel tanks in addition to all the piping. Mk1 Golf parts won't be too pricey if the new owner wants to actually drive this one with some regularity, but some systems could be worth a thorough look, even though it appears it has been kept in ready-to-use condition with proper preservation and maintenance.
Perhaps VW itself will bid on this example to add it to its collection?
Visit the auction website to view the full list of lots from the upcoming sale.
Source: Read Full Article