1998 Hindustan Ambassador: A complete restoration back to original spec
08/08/2022
The old engine was not strong enough for a rebuild. So the customer decided to change the whole setup and make it original, refined, silent with no extra mods.
BHPian Faith Aby recently shared this with other enthusiasts.
Hi petrol heads,
So this is my very first forum thread or post.
I was wondering what to start with, so I chose to make a project related post as I've seen many forums related to it and many users like it too.
Here's my first post on the restoration project of a new toy which was brought by one of our customers.
The toy is a 1998 model Ambassador swapped with an original carburetted Nova 1500cc 4cyl diesel engine.
The customer basically had it parked at a workshop at Kottayam, Kerala. Sadly, it stood there for almost 3-4 years (no pics of before restoration). The climatic conditions and the age has hit it so hard. It had lots of work to be done and lots to be spent.
The customer had enough funds and interest in bringing back this beauty to life. He approached us two months back saying that somebody has to drive it from KL to BLR as he planned to give it to us for the restoration.
My dad found it the right opportunity to go to KL as he needed parts and spares for his Landmaster, sierra and also various other reasons. The time was convenient. My dad and his friend left for Kerala.
The story of the car over there was dreaded and pretty painful. It was rusted and jammed. But the mechanic somehow managed to make it run, as it was in a shelter and luckily the garage owner used to start it once in a month.
But unfortunately the car only did 40kmph max and the brake cylinders were faulty and the car had to be cranked directly from the battery to starter. But somehow with God's grace and the heart of that machine to come back to life didn't make it stop anywhere and create issues, except for fuel and cooling.
They brought that beauty back to BLR in running condition.They took turns while the other one was tired.
By the time she was here, she was hot and thirsty and ready to get restored and we couldn't wait to lay our hands on it.
The project had already started while I was out for educational reasons. So all the pictures are the ones which I've taken after the project started.
When I came back, the car's engine work had started. The engine was detached from the car and was ready to get rebuilt.
The customer wanted us not to hurry it up as it may end up in faults. We did each work patiently and without stress.
Here is the picture of its bypass surgery: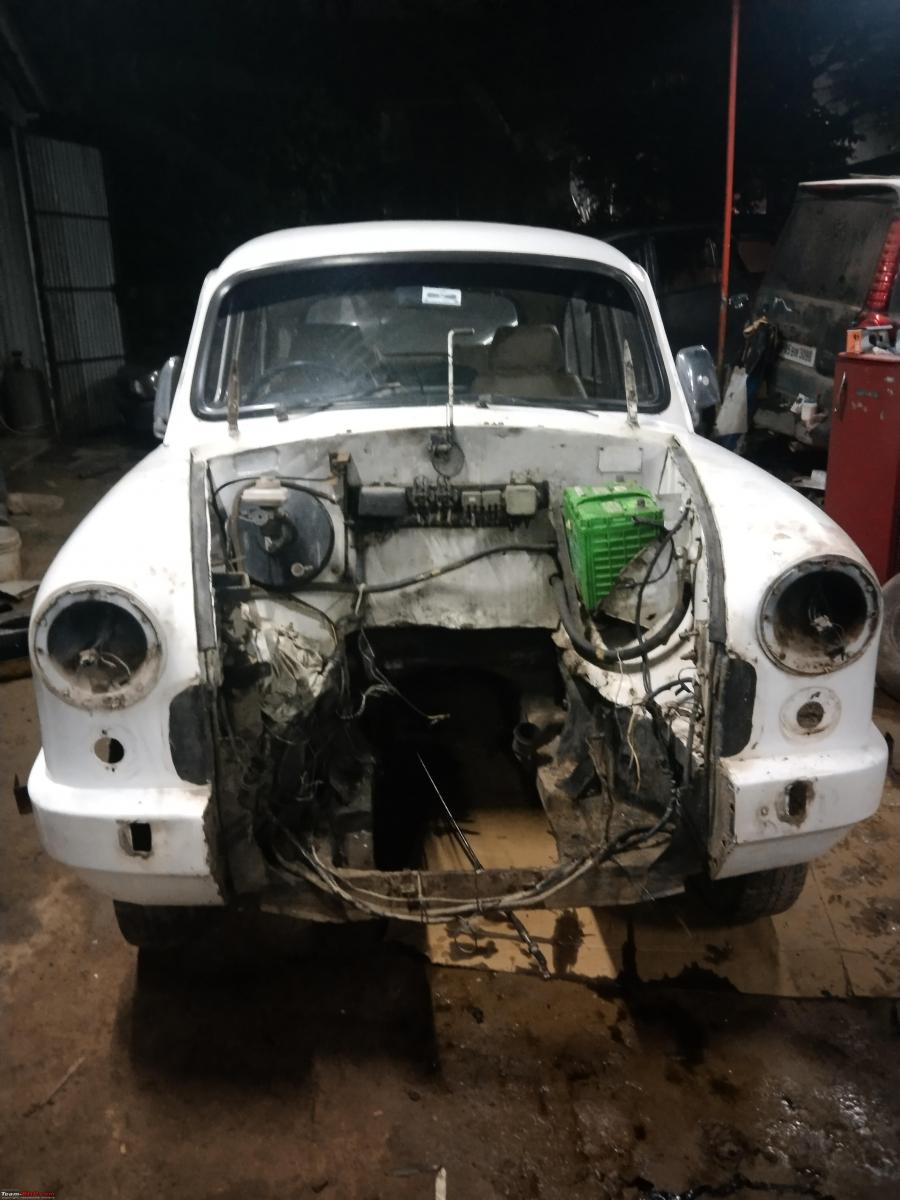 It had a 1996 Ambassador Nova diesel engine with a 5-speed Isuzu transmission.
The engine and transmission didn't match well. It didn't run properly, and moreover it grinded the clutch a lot. The desired performance wasn't received.
But now the customer regrets and has somehow managed to get an original ISZ1800 engine which is in the OEM spec and can cope up with the gearbox.
He has brought a 1998 Isuzu Peugeot engine which needed new pistons, rings, oil seals, bearings, valves, re-boring and cylinder alignment.
Here's the pic of the old engine. That's the gearbox next to it.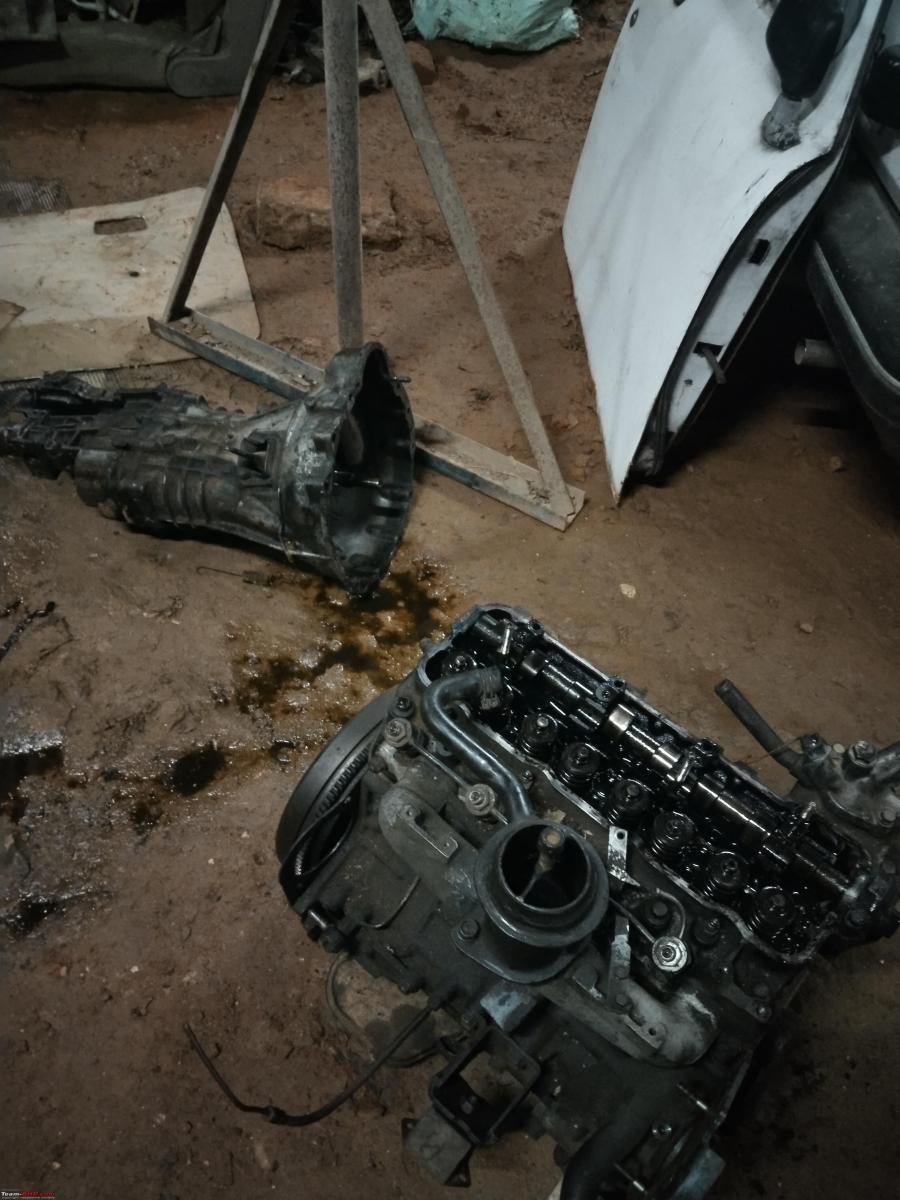 The old engine was not strong enough for a rebuild. The customer didn't experience much refinement and it also gave him approx. 5-6 kmpl. So he decided to change the whole setup and make it original, refined, silent with no extra mods.
He has planned greater restoration plans for this car and is taking opinions and concerns from my dad and a fellow technician who who used to work at the HM manufacturing plant in his good old days.
We have planned to restore it back to mint condition and back to the old showroom look which he had in 1998. But a bit different in appearance.
Main focus is on making it run like a daily drive and having it not too fancy.
For now, the engine work is taking place. We are planning to start the under body and running board works as the body is free.
The engine work is being done neatly and precisely by our mechanic who is an expert in engine rebuilding. He has 25 years experience in laying hands on various beauties and machines. He has rebuilt Gallardo engines and various other vintage toys.
I'm not disclosing all the facts in one single post. Lots more to come. But it will take time. But I'm damn sure its worth the wait.
Will be the posting next update of project very soon. Stay tuned.
Here's what BHPian anjan_c2007 had to say on the matter:
Very proud to read of a comparatively newer Ambassador getting restored. The earlier engine swap of the HM Stride/BMC 1489 cc/ 37 bhp diesel by the owner it is apparent was purely for fuel economy reasons and the five speed gearbox mating with the archaic diesel is a bit indigestible.

The ISZ 1800 (1817cc/ OHC/75 PS @ 5000 rpm/ 130 Nm @ 3000 rpm) petrol engine will go ideally with the 5-speed gearbox. I remember a road test of this car in Auto India magazine from 1992, where it said that then new petrol Isuzu engine gives the car "a wolf in sheep's clothing" like appearance. It gave a new lease of life to this ageing design during those years.

The ISZ 1800 engine was sourced by HM since around 1985-86 but only restricted for VVIP cars after Mrs Indira Gandhi, our PM was assassinated in 1984. The new security blue book required armour plated cars with bullet proof glasses for the VVIP's. The extra mass added required a newer power plant as the older 1489 cc/ 55 bhp/ BMC B-Series engine with its ancient design could not comply and did not fit into the scenario.

It was only in 1992 that this new engine was offered for sale to the general public. Fullbore Motors, UK had imported quite many examples into the U.K. sprucing these up for their local market purely for nostalgic reasons. Fortunately, many of these still survive in the U.K. and are chiefly used as wedding cars that are available on hire.

But despite the upgraded engine and gearbox in 1992, HM's workmanship continued to remain poor to pathetic and the body panels coming loose or rattling, metal rusting, poor quality of plastics and poor fit and finish marred the overall outlook for the buyers of this car, when newer technology was being introduced by peers into our market.

The car in question is just 24 years old, but was subjected to apathy lately and was located somewhere nearer to the sea coast where the climatic factors and neglect could have taken their toll on it.

The car is iconic for India and examples are permanently disappearing from all over. The recent West Bengal NGT order to scrap all private and commercial 15 year or older cars, trucks and buses etc, will take a very, very heavy toll on the Ambassador population in its heartland, that was once the Ambassador capital of India. So much so, that the last Ambassador taxi in Kolkata may get scrapped by 2029 !

My best wishes for the restoration project.
Check out BHPian comments for more insights and information.
Source: Read Full Article