Detailing a 12 year old car: Worth it or not
06/02/2022
The entire process took around 8 hours, including the wash and the step 1 detail.
BHPian Joshua_Ray recently shared this with other enthusiasts.
Hello everyone!
With lockdowns behind us and the world slowly opening up (read as office moving to 'regular' 9 to 5 operation), our cars have started to receive their daily dose of traffic jams and regular usage.
The Skoda Laura, which we had purchased way back in 2019, looks pretty decent for its age (now 12 years old), as long as you are 10 feet away! The moment you come closer, the years of improper washing, swirls, scratches and general neglect make themselves very apparent. I pride myself in keeping the car mechanically fit, but the idea of getting it detailed and dealing with 'namma ooru' Chennai traffic, kept the idea in my head only
With the daring cabbies, reckless bikers and auto-wallas who take every gap – the thought of driving, yet alone maintaining, a well polished daily, was not very appealing.
After a wash & before the detail. Notice the flat and dull paint
The rear three quarters is no better…
Last year, my windshield had somehow picked up a deep-ish scratch and I had tried getting it taken out with another detailer. He left my windscreen with a reduced scratch, but also added tons of pad marks, which made night driving a game of guessing – not fun!
I had heard about Wraplab in Kilpauk and after a quick phone call with the owner, decided to give my car for windshield polish 'take 2' – after all, it could not get worse right?
Luckily, it didn't, and after a good 6 hours of meticulous polishing, using a glass specific compound – cerium oxide, the scratch was almost completely taken out. More importantly, the remaining glass was made 'night drive friendly' again! What a relief! The owner also suggested a ceramic coating for the glass, to make it easier to clean & water repellant, which is something that has definitely aided during rainy drives, as the drops just bead and roll off! At that time he also suggested a full body detail, something which I declined, due to the said reasons above.
Fast forward to the second week of May, and the thought of getting a detail sprung up again, this time I decided to put my laziness & apprehension (with regards to maintaining a detailed car) behind me, and get it done!
The mandatory 50/50 preparation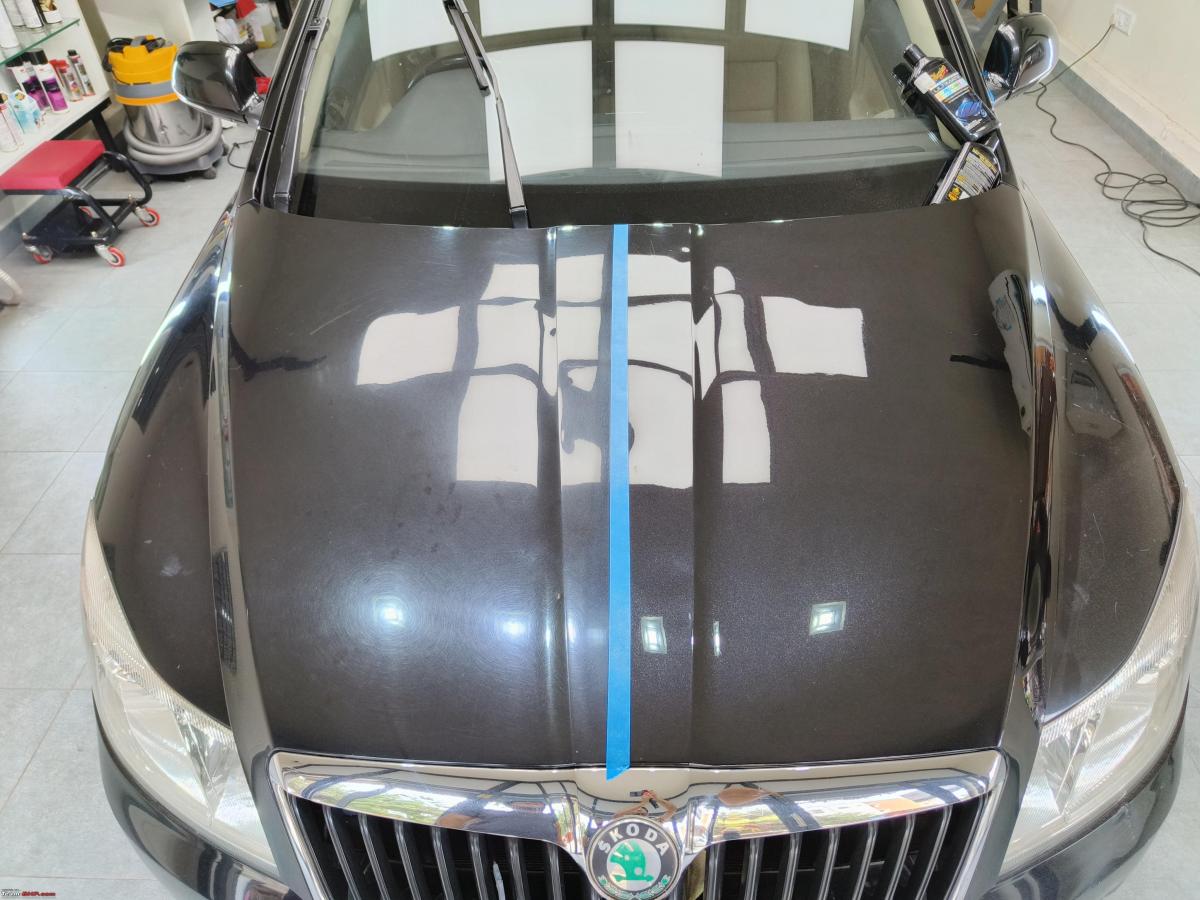 The before and after 50/50 is crazy!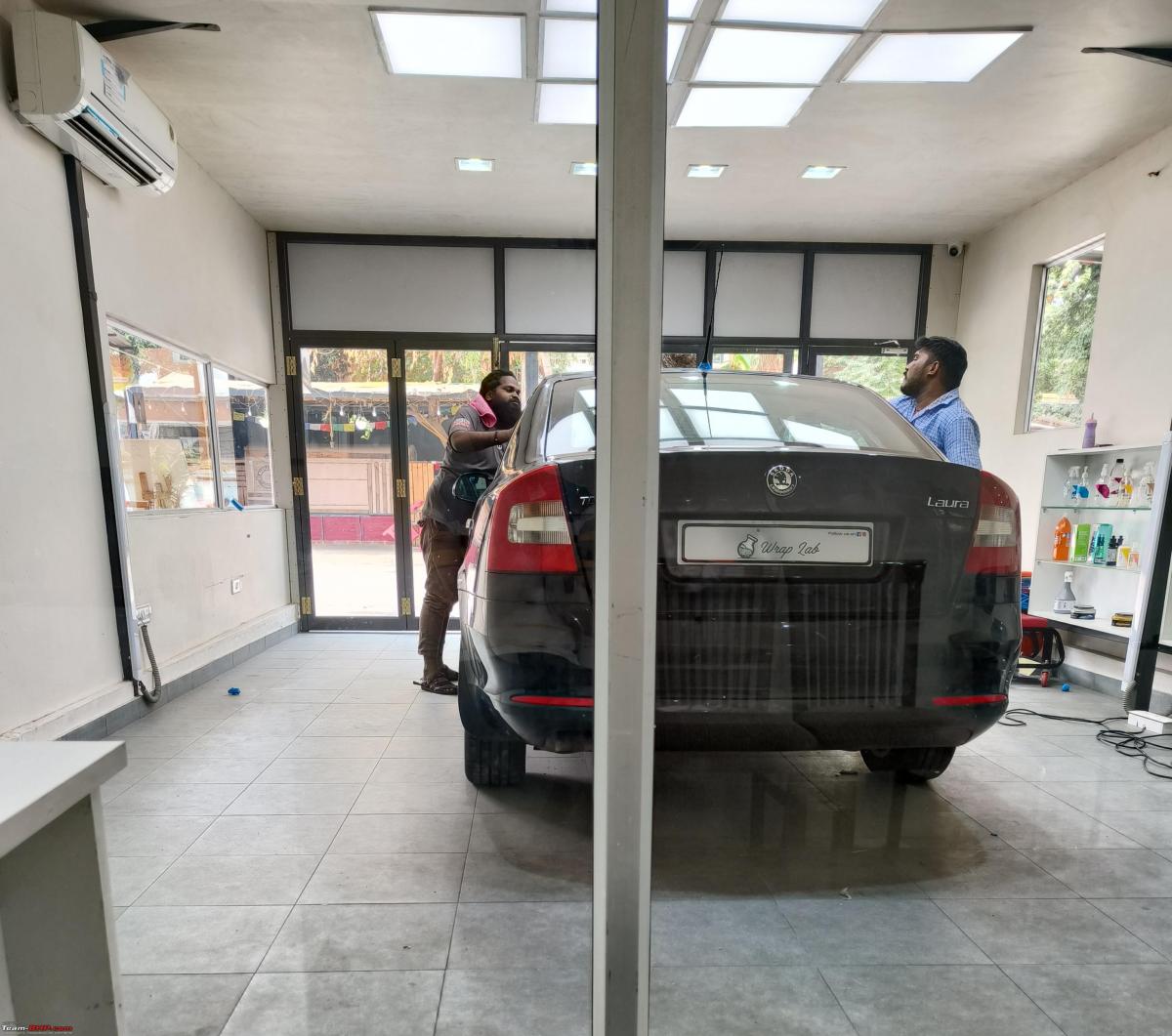 Work in progress…
The car now looks almost brand new, excluding the dents and deeper scratches, and the process has literally made the car look half its age! The lighter scratches and the dullness have been completely removed, allowing the 'magic' of the magic black color pop! I'll let the pictures do the talking now.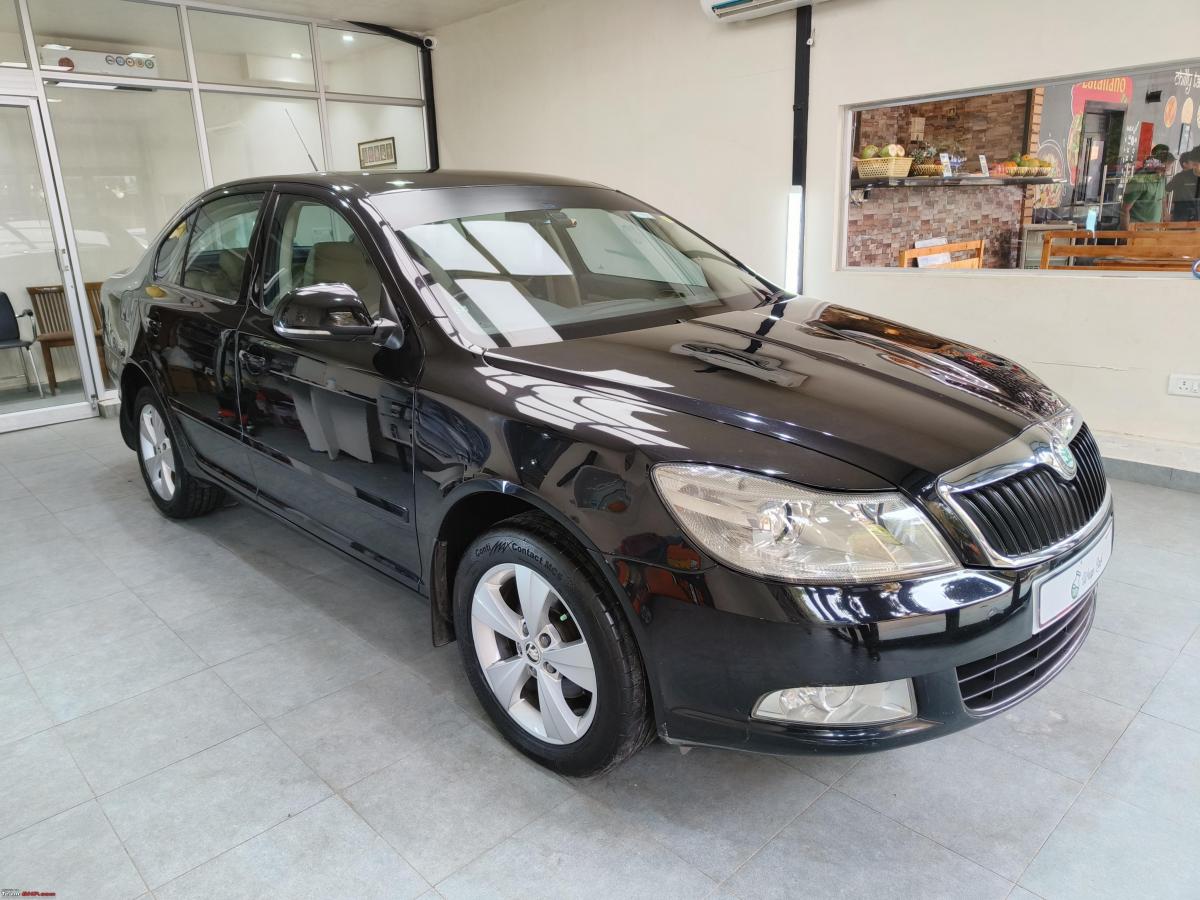 Looks fresher than the day I bought her!
That shine!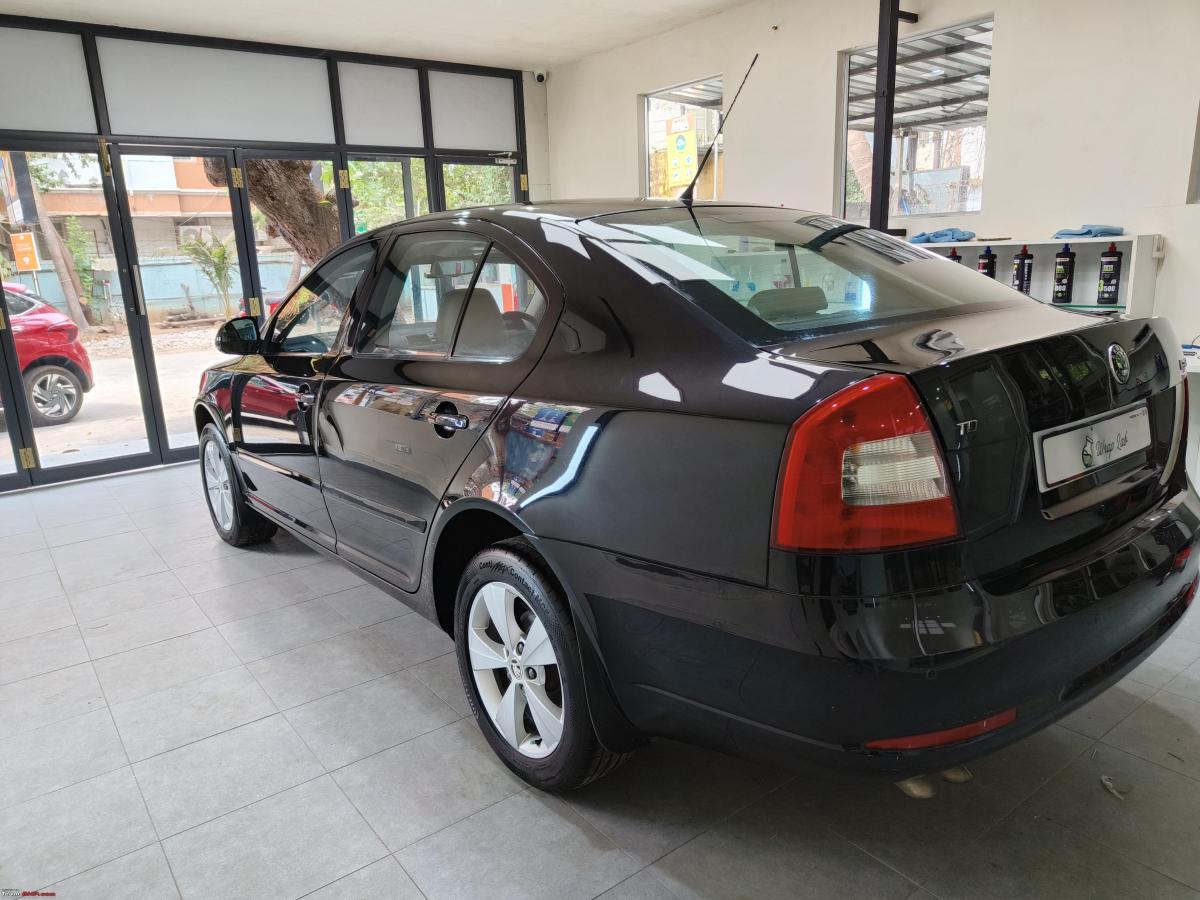 The best angle on the Laura?
The entire process took around 8 hours, including the wash and the step 1 detail. Detailing has 'steps' similar to the 'stages' of tuning a car, with a step 3 detail being the one that includes paint correction and a ceramic coating on top of it – something that I felt was excessive for a 12 year old daily driver, with multiple imperfections (dents & deep scratches)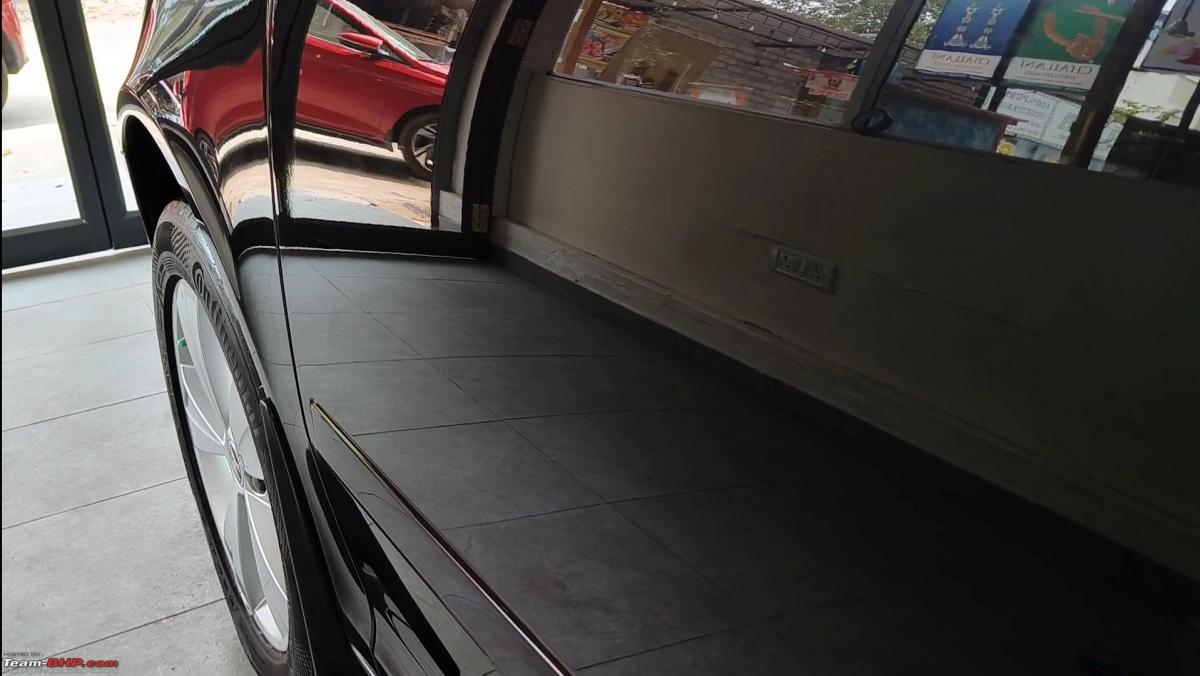 Yes, that is the reflection, with just a step 1 detail!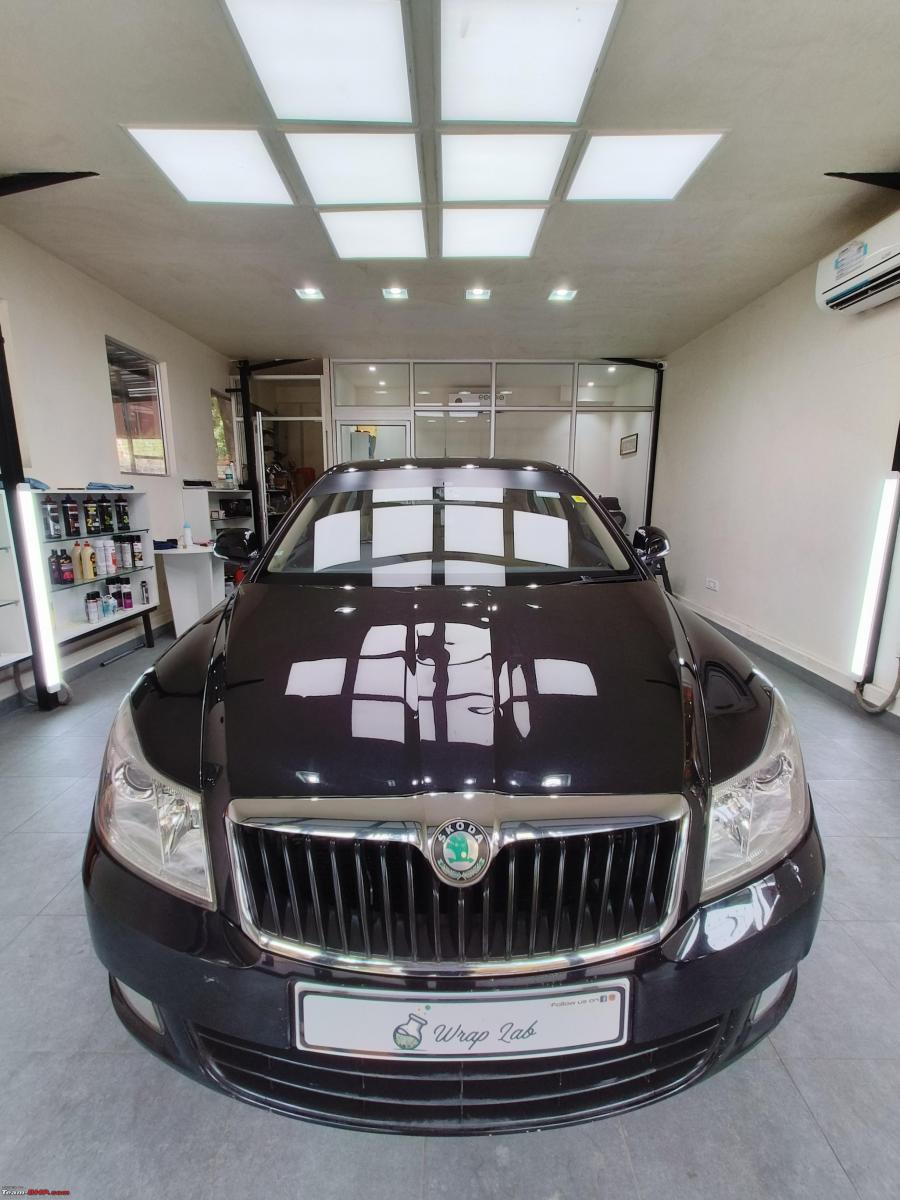 The dents on the bonnet are real, sadly, angry coconuts exist!
So, now that the car is detailed, let me try and sum up my experiences – to help anyone with the same dilemma as me – is it worth detailing your old car?
The simple answer is YES – but, there are a few minor drawbacks.
The Pro's are simple, you have a shiny car, that makes it look and feel 'new' again. It helps if its an older car, that is not seen often on roads, especially in good condition. And yes, it does make you look back, every time you park!
The downsides, well, they are small, but let us cover them…
You have to wash the car yourself – any car wash guy will fill your paint with swirls before you say 'Anna, niruthingaaa!' (Brother, Stop! – famous Tamil dialogue)
This is easier said than done, especially when it randomly rains every few days even in summer, just enough to dirty the entire car. Secondly the dust! A car can remain 'clean' for not more than 2 hours, before a layer of dust forms on it. The same goes for being that extra bit careful while driving, to prevent any scuffs and also includes parking far away from trees – sacrificing shade to save your car from birds using it as a big black shiny target!
So yes, while the work to maintain the car looking fresh has increased, the fresh look makes it worth the effort! Big ups to the guys at Wraplab for the great customer service, fantastic work that did not break the bank and overall experience!
Hope this article was useful and yes, my long pending ownership review of this tuned diesel brute, will be coming soon! Wrapping up with few pics at work & play (read BMW Joyfest )
Thank God for a covered car parking at work!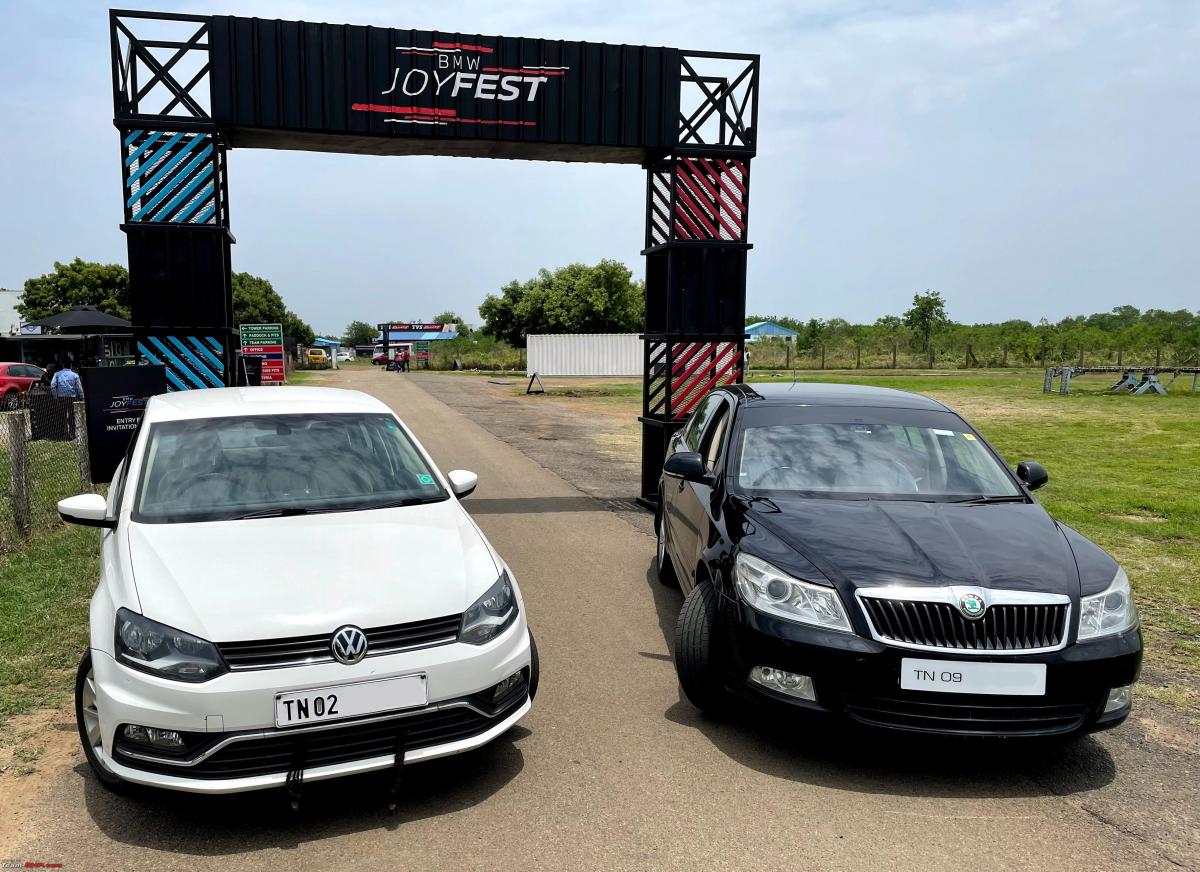 Nothing like a black car i.e. only when its clean!
Read BHPian comments for more insights and information.
Source: Read Full Article