From Octavia to 330i M Sport: Ownership review after 1 year & 25K km
12/06/2022
There was a time when a Laura vRS used to feel like a handler with stiffened springs. But this makes you realise how comfortably you can take corners without satan waiting around the bend.
BHPian HighRevving recently shared this with other enthusiasts.
It was in August 2021, the Octavia TSI had completed 50,000 KMs in 3.5 years despite covid and I wanted something better.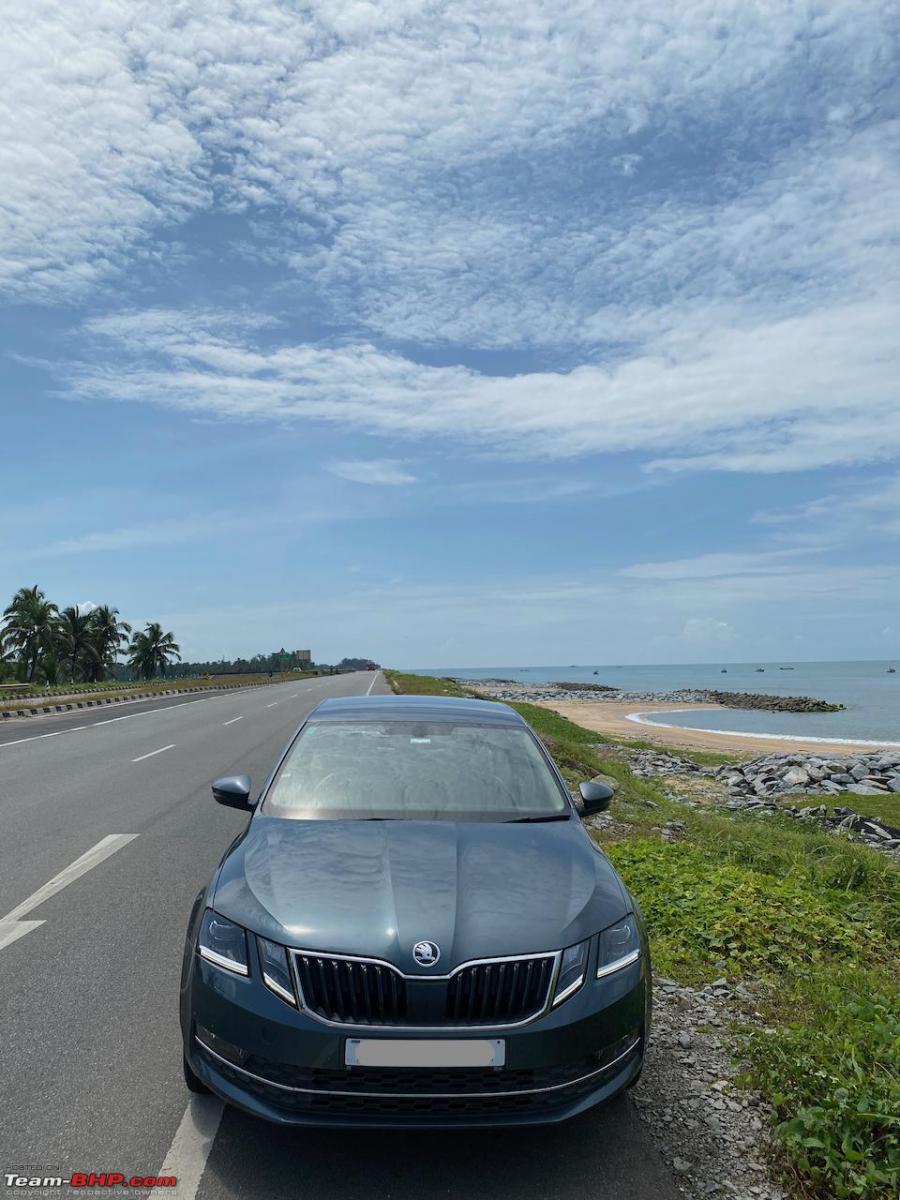 2018 Octavia TSI, had a mechatronic failure in 2021 after which reliability was my biggest concern. The car is doing fine after the mechatronic unit was replaced under warranty – 70,000 KMs and running well now. I drive into hills and remote areas with narrow roads and sometimes, no mobile network. So if the DQ200 fails, it is hard for me to even flatbed the car.
I was in the market looking for something that was:
Fun to drive turbocharged petrol.
RWD preferred.
Practical. Should be able to do 500+ KMs in a day without looking like Tom Hanks in Cast Away. Don't need rear seat comfort or large boot space, as it is mostly me and my girlfriend that travel distances – would prefer a shorter wheelbase and lighter car instead.
I have driven various Mercedes cars extensively and don't find them to be just as engaging as the Bimmers. Audis were never on the list.
So the choice was between 330i, 340i and 530i within the prescribed budget. Used M2C/M3/M4 were ruled out as reliability and more importantly, practicality was very important.
Ruled out the 530i as I did not need the extra space or features like larger iDrive etc – also the engine is slightly detuned compared to the 330i i.e. 350Nm vs 400Nm and hence, a few horses less.
It all boiled down to 330i vs 340i.
Spoke to friends who have driven 340i and all of them said the same thing – the car is too stiff for the kind of drives I do, which are at least 300KMs one way. It was hard to imagine a very stiff car with our ever-changing road conditions; heart said 340i, mind reminded me of my Laura vRS with VW racing springs that made me memorise the unevenness of the road, through my back.
Stage 2 tuned Laura vRS lowered with VW racing springs, the car in the background was my Stage 2 tuned Laura TSI.
So I made a visit to Navnit to speak to my usual SA. It was simple. There was no stock of either 330i or 340i, only waiting periods and minimal discounts. Asking for a discount was like going to the seller of a beautiful home in SF and placing a lower offer than what they already have – it was and still is, a seller's market. SA informed for either of them, I had to wait till December – there could be marginal discounts on the 330i but there would be none on the 340i.
I am someone who does not like driving others' cars so asking a friend to let me drive their 340i was a big no-no. I continued to speak to my friends. Someone I know in the media drove it around Buddh extensively, called me and said "yes, definitely too stiff for our roads if you are doing regular long-ish drives".
340i is a far better car – I-6 engine with +100 horses and +100 Nm, Alcantara seats, laser headlights etc. But costed 20 lakh more on-road MRP vs MRP compared to the 330i MSport and that's not as if the price difference was of a nail file. 330i offered pure RWD but 340i had too many pros. I was thinking sunset orange if it is 340i, Portimao blue 330i. At that point in time, Portimao blue was only available in MSport trim so it was adding up well for me.
Few days passed by and I got a call from Navnit SA, he said "Sir, we have been allotted a Portimao blue 330i MSport. The vehicle is in transit, manufactured this very month." I had driven the demo car in the same spec, so I knew what I was signing up for. 18″ wheels on the MSport aren't as comfortable as the 17″ ones in Sport but I really wanted the sportier looks including the wheel arches to be nicely filled up, M-seats and of course, the colour. I thought through it for some time – maybe the 330i can be the practical mile muncher while I can plan an impractical thoroughbred performance car in a few years. So finally, the decision was made, booked the car at Navnit and started negotiations.
In the meanwhile, I started getting calls from Deutsche Motors, saying they would better whatever price Navnit had offered. They did not have the Portimao Blue or ready stock, so I just ignored them assuming they were into some aggressive sales strategy. Besides, my experience with Navnit has been just fine. At the same time, a friend was buying an LCI 530d from Deutsche Mysore and his experience with them wasn't great and that feedback further pushed me to stick to Navnit.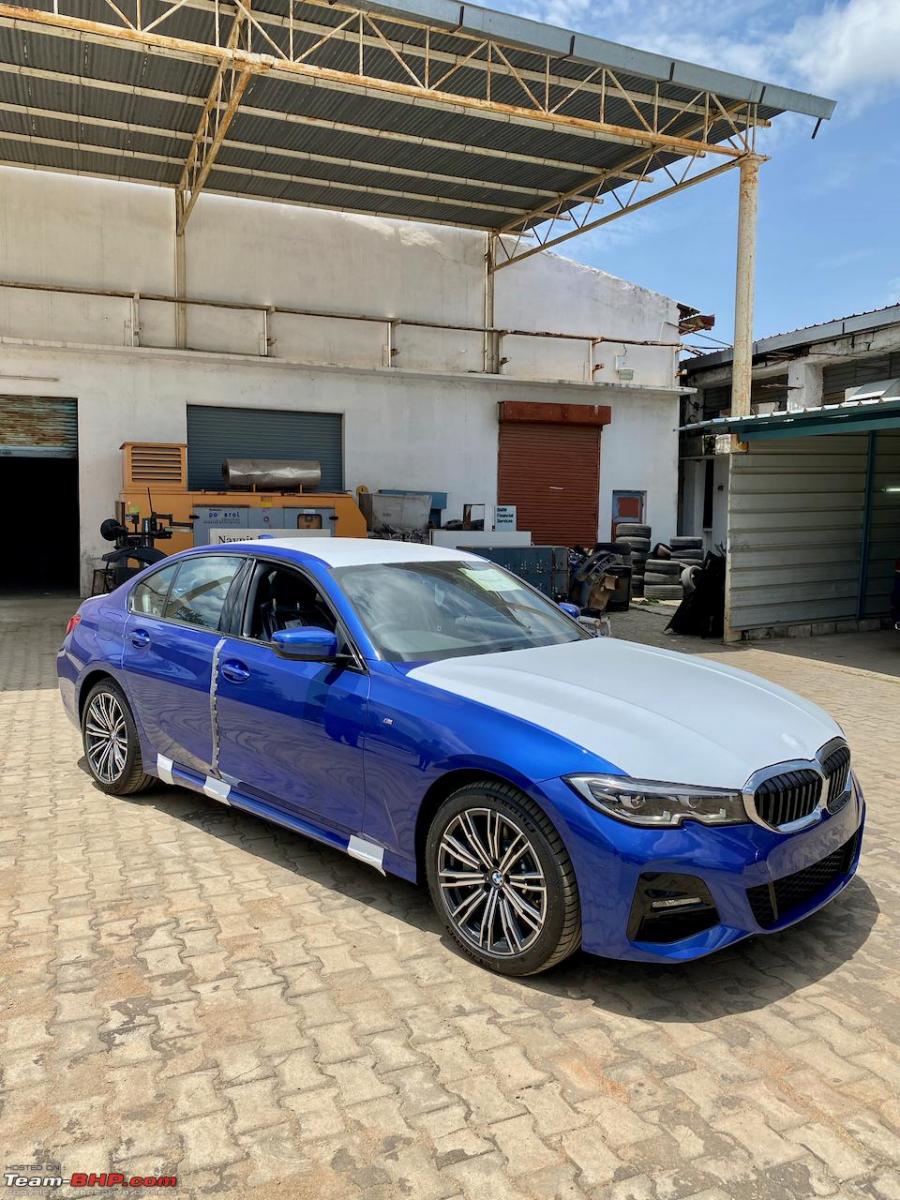 Did the PDI and everything looked fine.
I decided to buy the all-weather M mats and M-performance carbon fibre spoiler from Navnit in the meanwhile. Strangely, the MSport has no chrome part anywhere around the car, including window beading but the large grill in front is chrome. I know a service advisor in Navnit from the time I had an F30, who offered to have it painted in black from their paint shop. Something told me, I shouldn't do it. So I checked with their accessories division and figured out they do sell a black M grill – it was expensive, think ₹15,000 + taxes but I really did not want to scrape the paint off an original part of the car I hadn't even driven. Part was not readily available, so I placed an order and moved on.
By the time the payment was done and procedures completed, the inauspicious time had kicked in. While the superstition is debatable, I personally do not like to take chances when people around me advise against doing something, especially when there is nothing to lose. So the car was registered and ready to be driven, but I couldn't.
One of the things I did not like about my experience with Navnit was how the SA tried to push me to a particular detailer. I don't know if this trend still exists but a year ago every SA used to send the customers to one particular detailer. Worse, they would sometimes ask the customer where they were planning to detail their car and call that detailer saying they're sending a customer to them, which means the customer would pay inflated prices just because they revealed where they were getting the detailing done.
I decided to put the car in a container and send it to Ceramic Pro, Indiranagar. Shoutout to Rahul from Ceramic Pro who was very professional – met with me and spent time showing his setup. The cars parked in his shop instilled great confidence in his product and workmanship. The machine-cut XPEL Ultimate PPF was going to be expensive but I chose to put it on the entire car to maintain uniformity across, instead of just protecting the front of the car like many people do. I called for a flatbed straight to Navnit.
I watched, as the sales advisor drove my car into the container. The wait continued.
Rahul continued to send me updates about the car. He was sending me pictures of work being done and assured me that the car would be delivered on the 8th of October, which was when I was planning to drive it out.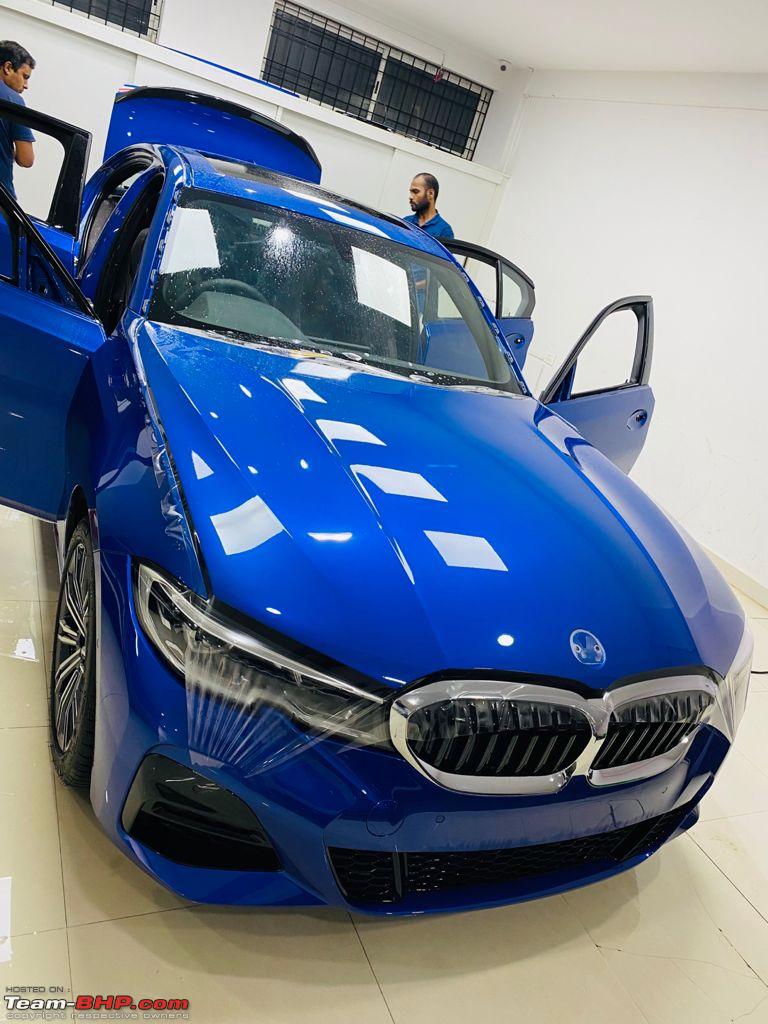 Finally, on 8th October 2021, the car was detailed and ready to hit the road. We'd already made plans to drive to Coorg the same evening and off we went.
Now to the good, bad and the ugly.
Performance, wheels & tyres and braking
MSport comes with a staggered setup of 225/45-18 in the front and 255/40-18 at the rear, providing sufficient grip in all conditions. I have never experienced wheel spins even while accelerating from a standstill, but that may be because the ZF-8 moves to the second gear very quickly and I have never tried accelerating in the first with paddles. With all the 400Nm going to the rear wheels, the acceleration though nothing phenomenal at 5.8s to 100, feels good.
My experience with the PS4ZP RFTs has been really good. In the F30, I swapped the RFTs for Primacy 3STs (sport was not available in that size back then) mostly because the quality of Bridgestone RFTs 8-9 years ago was simply pathetic. I have never launched my car and do not intend to, but the first set of rear tyres lasted only 10,000 KMs while the front tyres are still going good at 27,000+ KMs.
The car is a big leap from the F30.
258hp and 400Nm is practically enough for any road, there is little turbo lag that is hard to even notice. Honestly, I never felt like I needed more torque or power, though there is no such thing as too much horsepower. Engine is quite refined for a 4-cyl and sounds nice too.
ZF-8 does really well with gear shifts. I find the shifts to be best in Sport with M/S mode; Sport+ is for long open roads, feels overkill otherwise. Exhaust valves open only in Sport mode but MPE sounds best in Sport+ with M/S mode. You'll notice that in Sport+ and M/S mode it hardly shifts above the 6th gear.
Paddles work really well and the gearbox is very responsive. Quality of the paddles could have been better.
Gearbox is really good in comfort mode in the city. ZF's shifting in low speeds is exceptionally good. I have never used EcoPro mode.
Reverse tachometer is a bummer. In D/S mode, when it is needed the most, a thin line is displayed right underneath the speedo reading and that turns green, yellow, orange and red – filling up from left to right. Quite a nice touch.
Pure RWD makes the car feel well-balanced with unadulterated steering in the front and power delivery at the rear.
The chassis feels considerably stiffer, suspension is tuned really well. No "soft" feeling that was felt in the F30, especially on highway undulations or lane changes at speeds.
Suspension is stiff enough to avoid bouncy feeling/roll at high speeds and cornering but soft enough to keep your spine.
Steering feel is good and feedback is good at high speeds. Individual Sport setting allows you to change the sportiness of engine, gearbox shifts and steering feel which is a very welcome move. I personally enjoy the weighted steering feeling – while I cannot expect the hydraulic steerings to make a comeback, this is a refreshing change from the Octavia steering which is almost dead.
Can eat corners for breakfast, lunch and dinner.
I am assuming the harder sidewalls of the RFTs help in reducing sidewall flex, so I am going to stick to RFTs. The comfort of the RFTs in the PS4ZP is quite good and does not feel harsh except for very bad roads.
The M seats go really low and the electronically adjustable driver's seat bolster is a blessing while driving around the bends.
There was a time when a Laura vRS used to feel like a handler with stiffened springs. But the G20 with proper RWD with modern electronics makes you realise how comfortably you can take corners without satan waiting around the bend.
The stock exhaust on the car is just, meh. This is one department where I really missed the 340i – not for lack of power or torque but for a revving engine that could not be heard. The fake noise from the speakers is a sheer annoyance, especially if you have experienced a quality exhaust like Milltek on my vRS. Keeping in mind the warranty and reliability of the car, there was no plan of installing a custom exhaust. The ECU for the G20 was locked and folks in Europe have cracked it, but it is totally detectable and not worth risking, especially in our country where the warranty could be void even if the modification does not directly affect the part that fails.
A friend helped me source the M Performance Exhaust from BMW through their official channel and have it installed by them. Oh, what a relief, I thought. They said one last exhaust is readily available and costs about ₹1,50,000, however, from their experience claimed that the stock tips wouldn't bolt onto the MPE and there might be a little rattle. My OCD went through the roof. The MPE Carbon Fibre tips cost ₹50,000+ and paying that kind of money for exhaust tips which is 30%+ the cost of the actual exhaust, is like buying a wall clock for ₹1,000 and paying ₹300 for the nails that mount it. I went ahead and ordered it because the last thing I wanted, is irritation on a 500KM drive. It all seemed ridiculous until I saw them.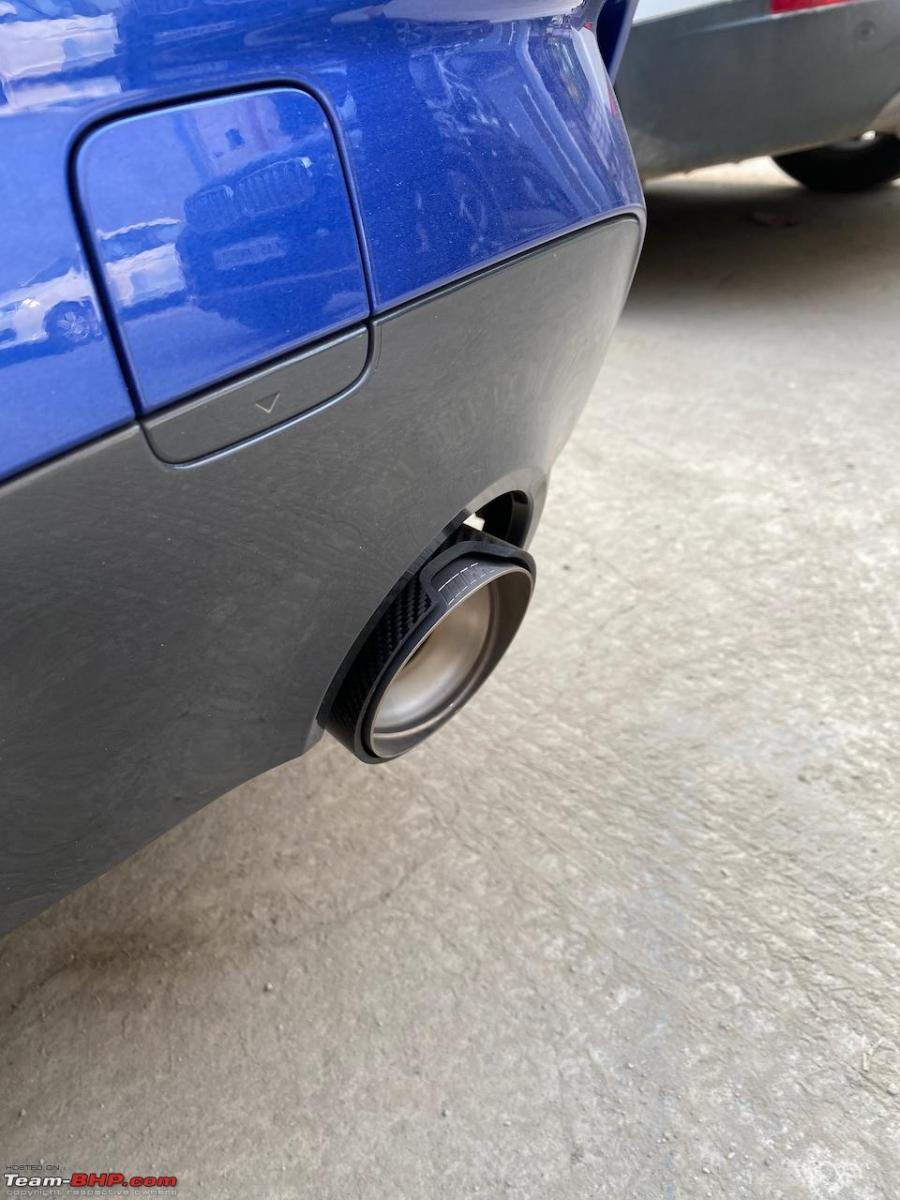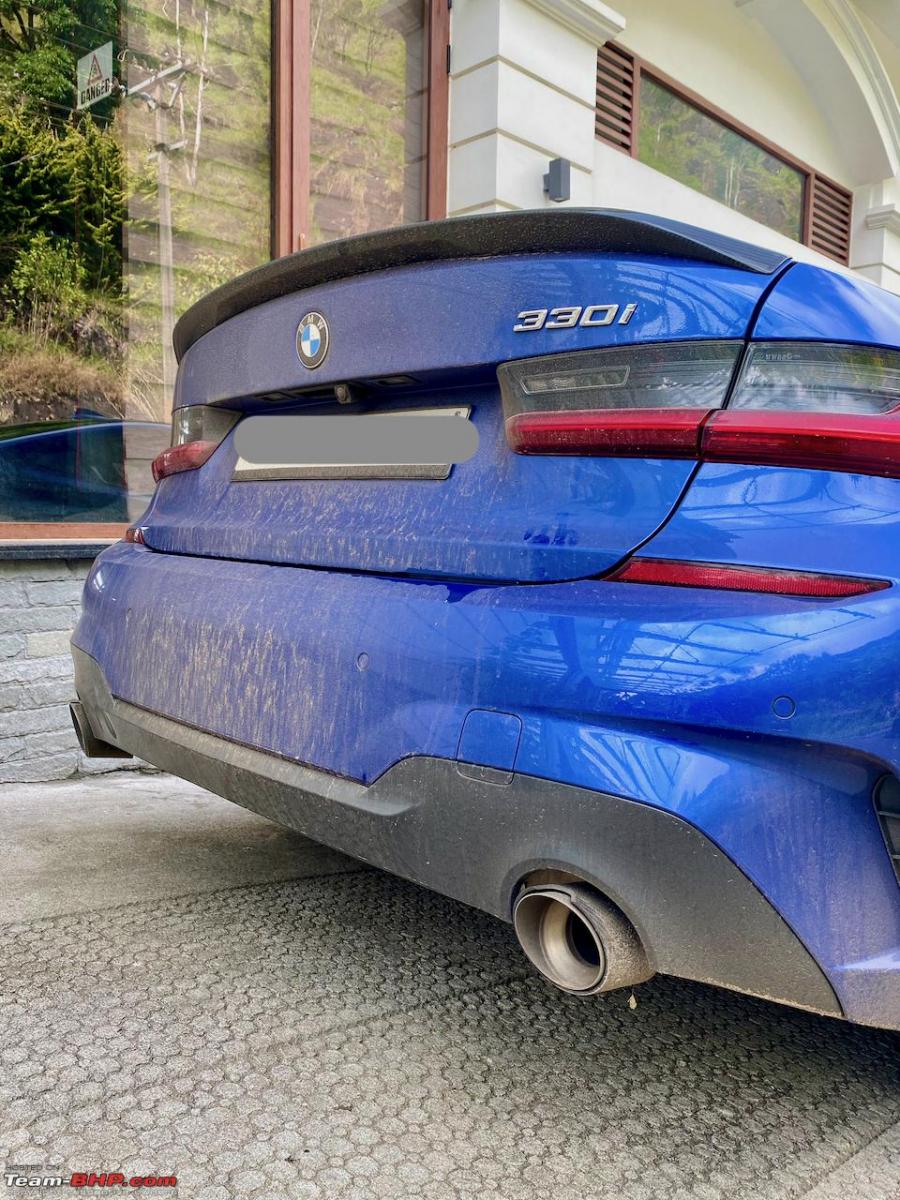 The carbon fibre tips look really nice in my opinion. I am not sure if the price is justified but I just assumed the total cost to be the cost of exhaust and moved on.
The ugly in this car was the wheels. A really busy design with the reputation of bending easily. The chrome finish all over didn't help either. I thought of doing something about it. Called up folks at Navnit and they could only offer the wheels from Li MSport and they seemed as ugly if not uglier.
The good folks at Madhus had an option that was available with PJ Speed, which I thought would be a bold decision. Burnt gold BBS RI-A forged rims. I was not a fan of installing larger wheels and these were in the stock 18″, which worked out well for everyone.
Big shoutout to @nikhilb2008, for recommending these wheels and the support through and through. Even though I had the contact of PJ Speed I went with Madhus and they proved it time and again that it is worthwhile dealing with them. I would not have invested this kind of money on wheels but for my confidence in what Madhus folks recommend.
Here is how the car looks with the BBS wheels. Lots of people say the combination is similar to Subaru and call it 'JDM vibes'.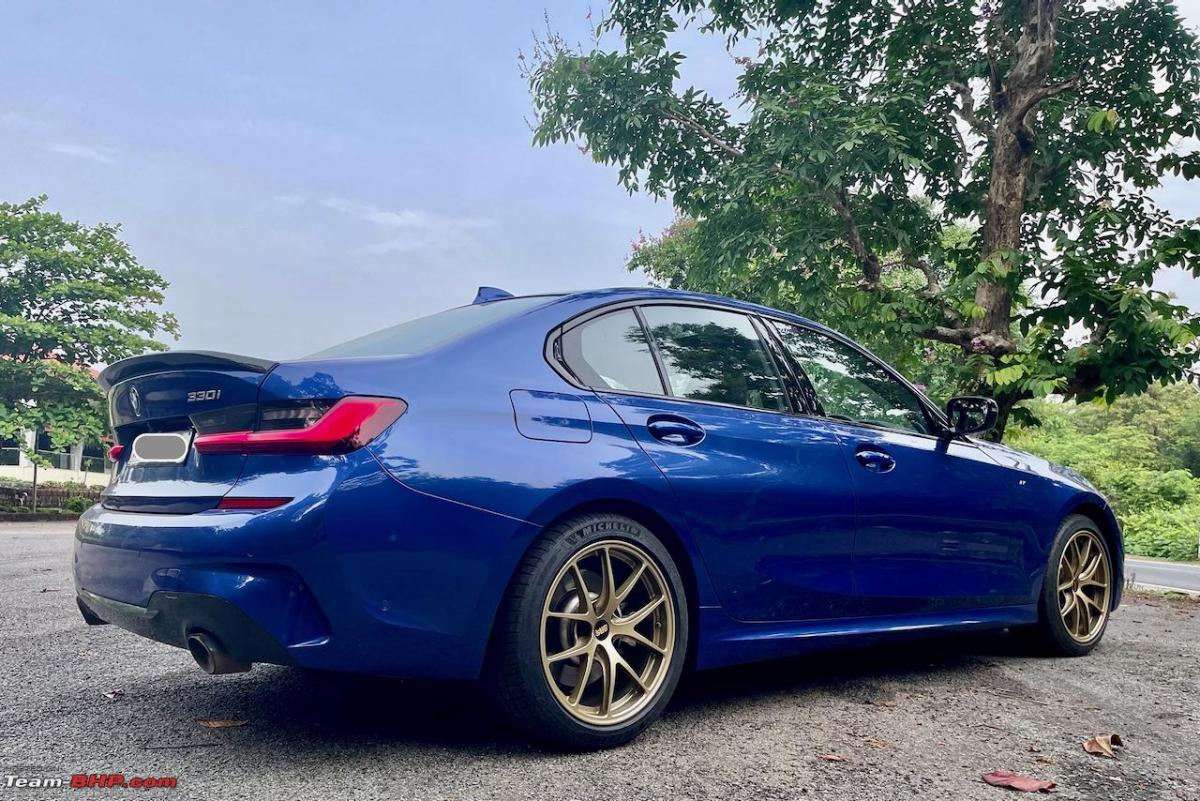 Braking of the car sufficiently complements the acceleration, making it comfortable to accelerate and brake all the way to 3 digits and back. The bite is good and I am sure the 18″ PS4s also help the cause. I personally love auto-hold for city driving but some people complain about it being a bit jerky – which to some extent is true because when the car is in auto-hold mode, the throttle is unresponsive for a fraction of a second and then pounces the car forward; it's important to maintain distance in bumper-to-bumper traffic.
The electronic handbrake works really well with a nice touch of sound while applying and releasing it.
The electronic handbrake sometimes throws an error when parked in extreme gradient conditions, which is a good feature as we can then use additional measures to stop the car from rolling.
Notice the busy design of stock wheels on the MSport.
I was driving the car across South India, climbing the western ghats, hills in Tamilnadu and coastal Karnataka. As my driving was predominantly around bends, I got my first brake pad replacement warning at mere 8,000 KMs. Turns out the DSC/TC works overtime around bends and keeps applying brakes. Folks at Navnit said "Sir, you just took delivery of your car", when I went to them. I had done 8,000 KMs in less than 3 months. Navnit replaced them under BSI+ and again at 16,000 KMs.
The uneven wearing of rear brake pads.
The front pads were going good until there was sudden judder from the brakes at around 24,000KM mark.

The road to Kolli Hills.
Exterior design
Except for the wheels, I have nothing to complain about the MSport variant. I think the aggressive sportier bumpers change the overall stance of the car and totally worth investing in. The Sport bumpers are mellow and have chrome bits, which combined with beige interiors if opted for, really take away the sporty looks.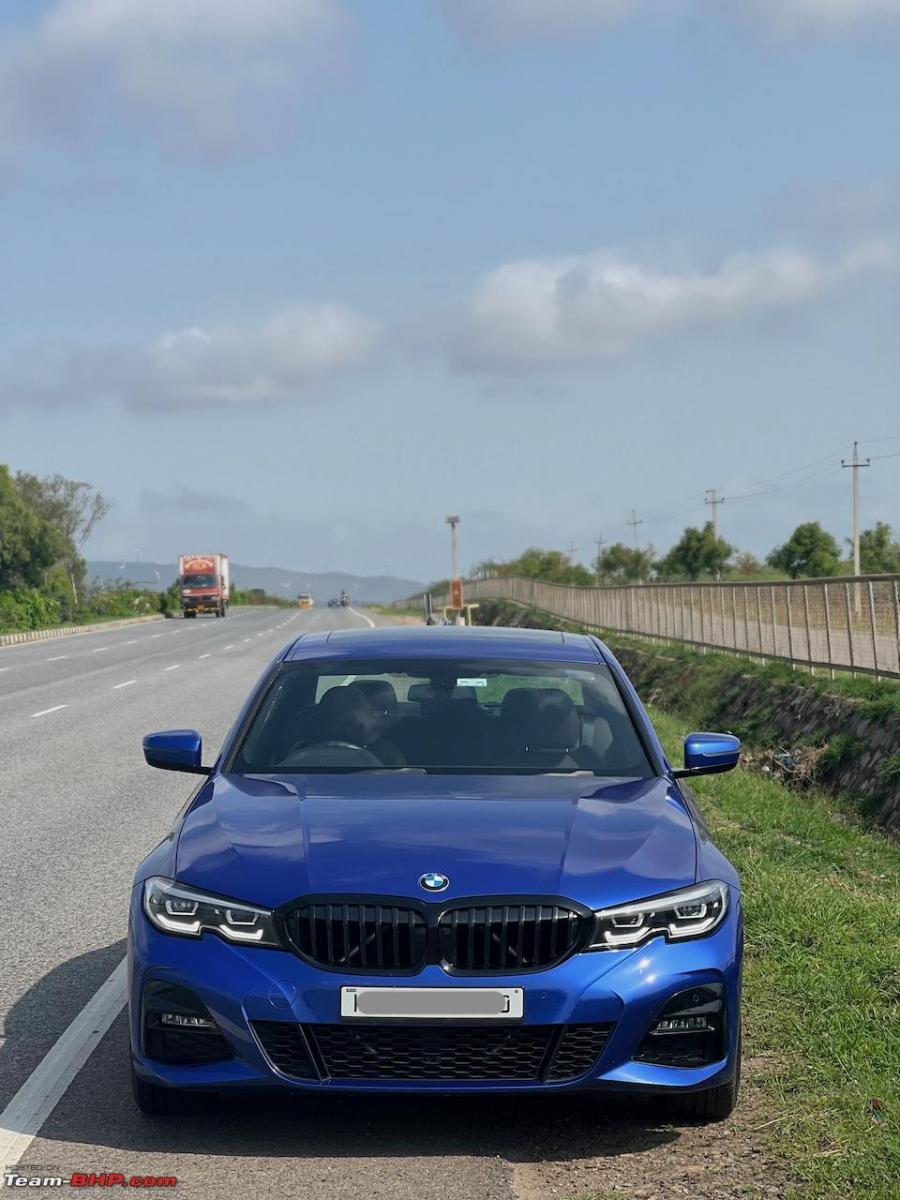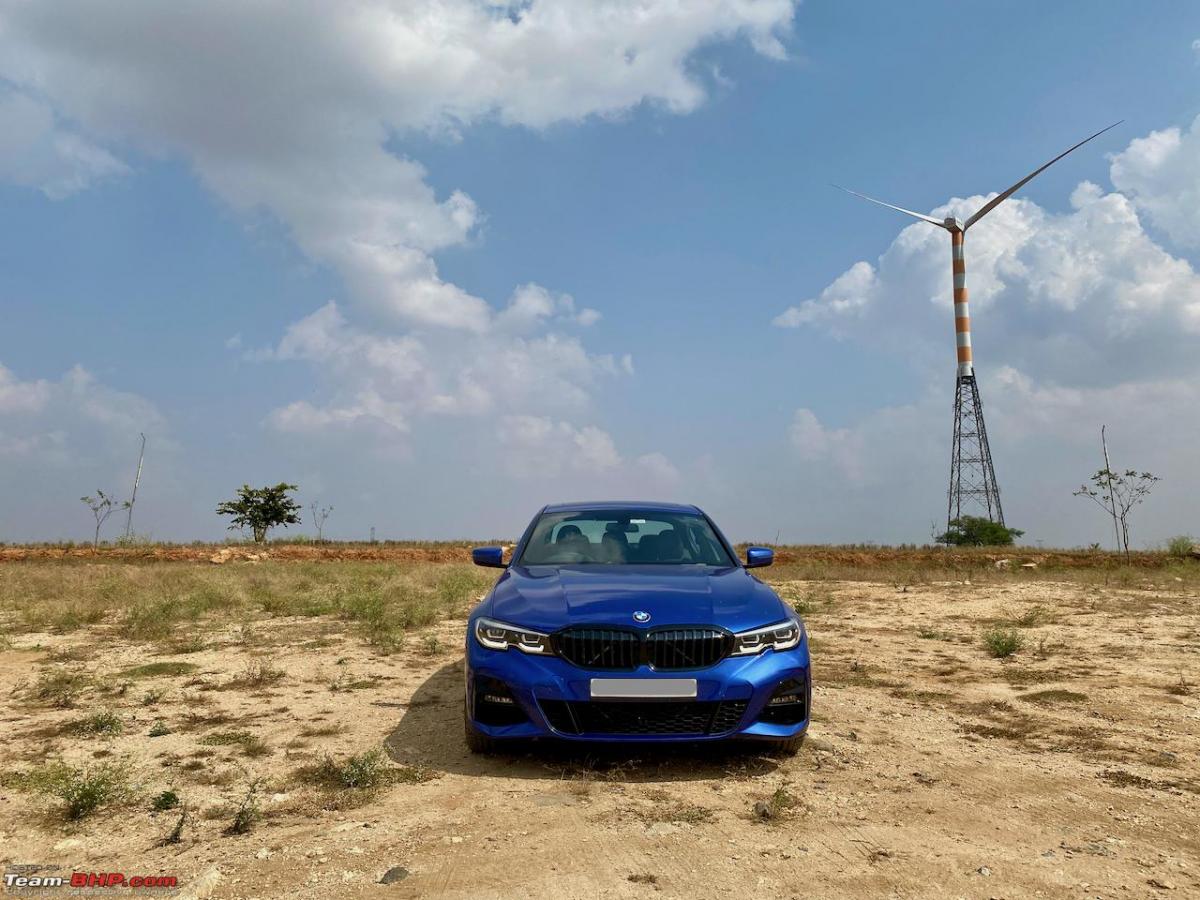 The M black front grill goes a long way in making the front look aggressive.
When the G20 was first launched, it felt like the F30 was a better-looking car but the G20 design I think has eventually turned out to be better. Looks fresher with chiselled elements.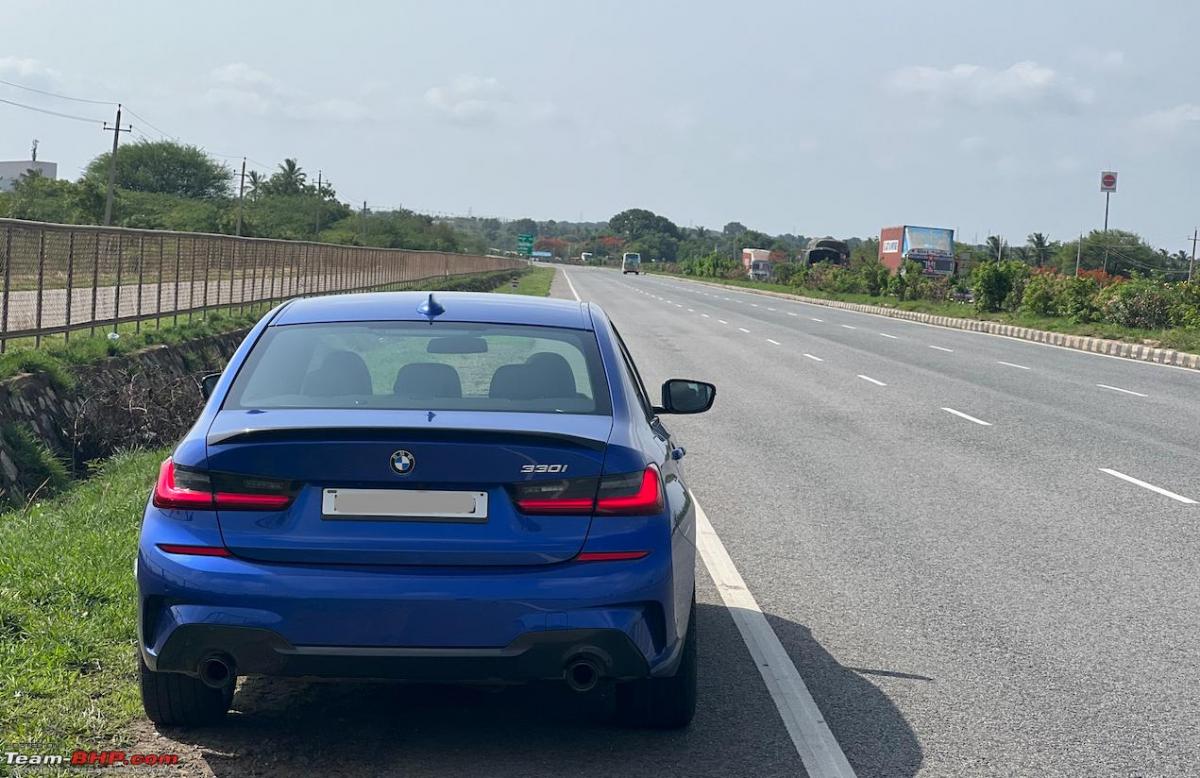 Nice rear DRLs and a sporty bumper with twin exhaust tips. Notice the chrome vs CF exhaust tips.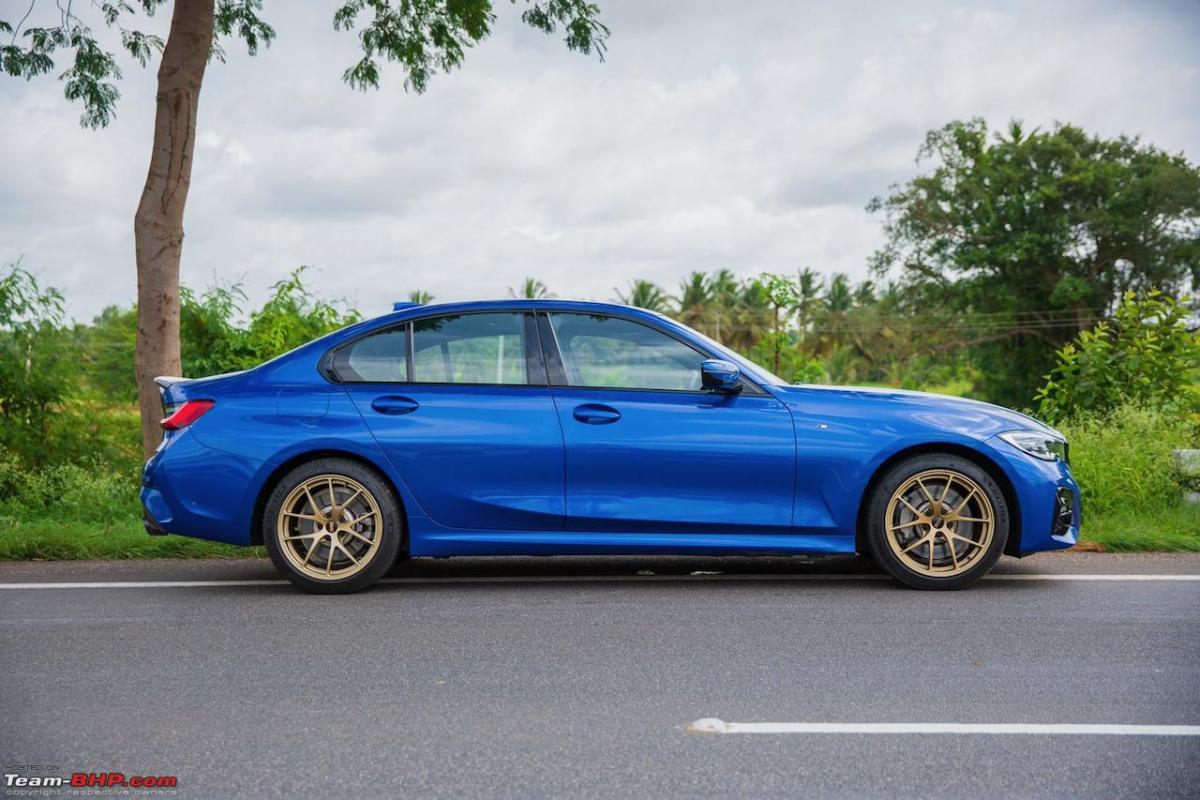 Notice the line that runs from the front fender all the way into the rear door. This is nicely complemented by the design of the bumpers. I, however, think one has to be careful in city traffic as getting a dent in these design elements may require a complicated fix. It appears the line is further emphasised by the line on the rear bumper.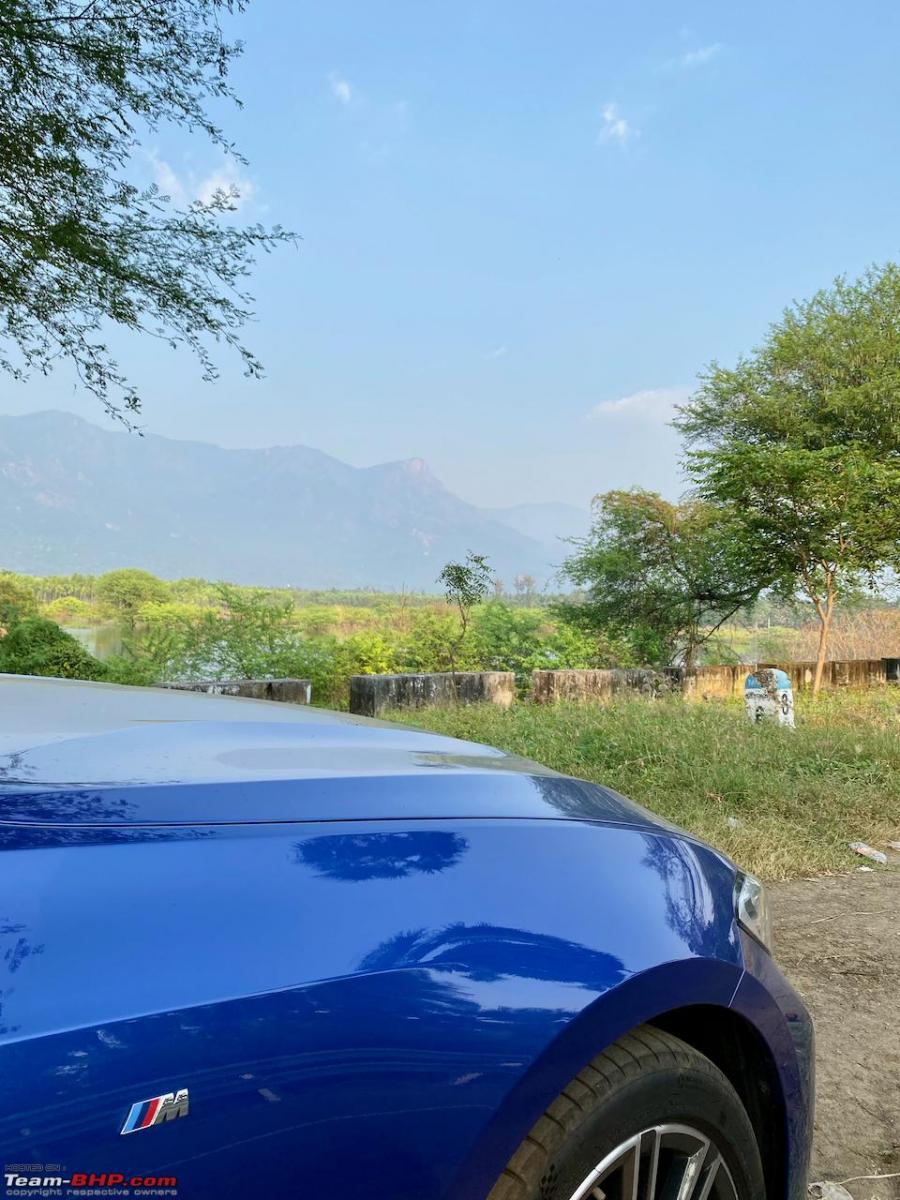 M Designation on the sides.
Some observations about the exterior/design of the car:
The proportions are good and the individual bits such as ORVMs are integrated well. But, the left ORVM does not have auto-dimming. I mean, for a car that costs twice as much in India than in other countries, this is a bad cost-cutting move.
The ground clearance is not great. I hardly drive with any passenger in the rear and it still manages to scrape the bottom on tall speed breakers. I have had to cover speed breakers sideways to avoid scraping even while driving alone.
The front bumper scrapes underneath if driven on bad/uneven surfaces.
The front windshield is acoustically treated. While it is great in keeping the overall NVH levels low (quite noticeable actually), the replacement of the windshield will be an expensive proposition. With my highway runs, I already have quite a few dots and may have to replace them in a year or so. Also, not sure if it damps the engine sound as well, which wouldn't be welcome if not in this, for sure in the 340i with its inline-6.
Continue reading HighRevving's ownership experience for BHPian comments, insights and more information.
Source: Read Full Article