This Week's Forza Horizon 4 Season Change: Wolfsburg's Autumn Spotlight
08/09/2019
The changing of the colors on the leaves means a new season has arrived in Forza Horizon 4. Autumn has brought forth a new swathe of content and events for players to chase after.
There's also a new Playlist update, with new prizes for 50% and 80% completion. This week a pair of old Volkswagens take the spotlight.
Our events breakdown is below.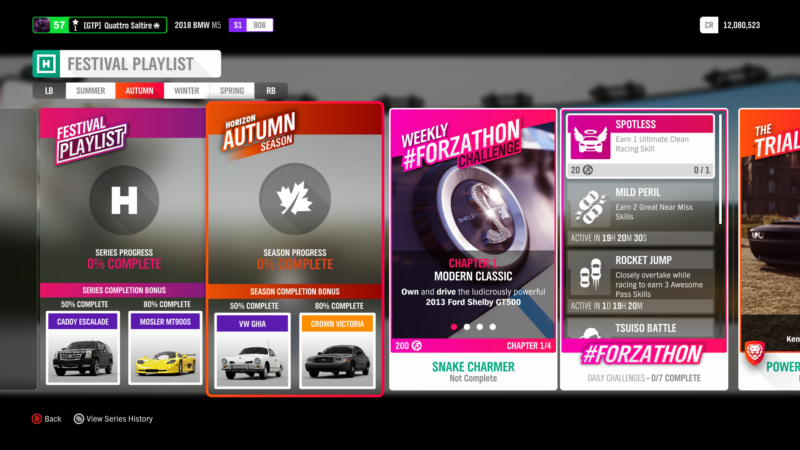 Volkswagen heads up the spotlight prize cars for this week. Up first is the 1967 Karamann Ghia.
This coupe shares underpinnings with the humble Beetle, but instead comes with a stylish coachbuilt body on top. Despite the beautiful exterior, performance is quite leisurely.
The 1.5-liter flat-four produces just 53 horsepower, meaning that cruising the country roads of the UK is the best way of driving this car.
Returning to the prize list is the Ford Crown Victoria. America's most iconic police car is a fan favorite for many players. Its 4.6-liter V8 makes a healthy 250 horsepower, providing players with the opportunity to live out their police officer fantasies.
Another classic Volkswagen headlines the seasonal championship prizes this week, though this one is a lot more conventional. The Type 3 1600 L is a small 2-door family car with Beetle underpinnings.
This particular Type 3 is known as the Notchback. Those after performance will not find it here, as the 1.6 liter flat-four makes just 65 horsepower. The Type 3 can be acquired by winning the "Racing through the Years – 60's" championship.
There's also a Maserati Tipo 61 up for grabs as well. This vintage featherweight racer was a staple in 1960s sportscar racing. The Tipo's 2.8-liter four-cylinder engine may have just 250 horsepower, but a 1,300lb weight means that the Maserati is no slouch. It can be acquired by winning the "Out of Retirement" championship.
The rest of this week's events and prizes are below.
Out of Retirement
Series: Road Racing Series
Cars: Vintage Racers
Restrictions: B Class, 700 PI
Prizes: 15,000 CR, 25,000 CR, Maserati Tipo 61
Family Car Frenzy
Series: Road Racing Series
Cars: Super Saloons
Restrictions: A Class, 800 PI
Prizes: 15,000 CR, 25,000 CR, BMW M6 Forza Edition
Racing Through The Years – 60s
Series: Cross Country Series
Cars: 1960s Collection
Restrictions: C Class, 600 PI
Prizes: 15,000 CR, 25,000 CR, VW Type 3 1600 L
The Trial: Power on the Prairie (Co-Op Championship)
Series: Cross Country Series
Cars: Modern Muscle
Restrictions: A Class, 800 PI
Prizes: Ken Block Race Suit
Autumn Games – Series 12
Series: Playground Games
Cars: Vans and Utility
Restrictions: A Class, 800 PI
Prizes: Ken Block Helmet
Hythe House Speed Trap
Season Objective: 200 mph
Ambleside Ridge Danger Sign
Season Objective: 984.3 ft
Brookside Speed Zone
Season Objective: 147 mph
Forzathon Events
Forzathon continues a theme of big power this week, but the spotlight turns to America and the Ford Mustang Shelby GT500. Kicking things off is easy; all you need to do is own and drive this 662 horsepower pony car.
Next up, head to the GT500's natural home and win 3 Drag Strip events. The third objective requires you to put all that power to creative use. You'll need to earn a total of 1 million Skill Score to progress.
Finally, you'll need to win a Road Racing Series event to finish things off. The race itself is Lakehurst Forest Sprint.
Forzathon Shop
Classic cars headline the shop lineup this week. First up is the Volkwagen Type 2 De Luxe Forza Edition.
This version of the iconic VW bus features a host of upgrades as well as a Speed Skills boost. Costing a hefty 650 Forzathon Points, if you haven't gotten one during its previous appearances, we suggest you look elsewhere.
Joining it is the 1939 Auto Union Type D. This old grand prix racer was one of the dominant forces during the 1930s. A twin-supercharged V12 produces 485 horsepower, which will make the car a handful on 1930's tires.
At 625 FP, it may prove useful for competing in this week's Vintage Racers championship.
This week's clothing items are the RTR Fun Haver Blue T-Shirt and the Blue Top Hat.
Source: Read Full Article