What I like & dislike about my 2021 Maruti Ciaz after 11,000 km
05/14/2022
The lowest & highest fuel efficiency figure that I have come across is 12.2 km/l and 19.9 km/l respectively.
BHPian HEMIOrange recently shared this with other enthusiasts.
9 months & 11k kilometers (almost) on my 2021 Ciaz Alpha AT
Things I like
Looks modest, design will age gracefully.
It's comfy, ride quality is one strong avenue of Ciaz. Adding to it are those nice seats, I have driven for 12 hours straight and had no physical stress. Everything in the car encourages you to just relax and enjoy the ride.
Very quiet NVH is commendable, no wind noise till 120 (the fastest I have been), tire noise is there but is not intrusive.
Rock-solid high-speed stability, steering inspires confidence.
Pocket-friendly service cost (even the paid ones).
Decent FE figures.
Boot is huge, it seats 5 but can easily carry luggage of 7.
Hill start assist on the AT is a boon.
Impressive auto start-stop, very seamless and quick.
Throw and spread of the headlights are spot on.
Except for a few parts that are shared, the interior exudes quality.
Things I am not fond of
Performance is average, the engine is happy doing 100 all day but it's not quick, overtaking needs some thinking.
The gearbox is all fine, but needs another gear between the third and the fourth, the void can be felt when the gearbox downshifts.
Missing features, Baleno gets UV glasses, follow me home headlamps but this doesn't. Even the infotainment system on the Baleno shows additional MID info, just can't find the option to see them.
Soft suspension sags very easily, with just the luggage of 4 people there is considerable sagging seen on the rear wheels, though with careful driving I didn't bottom out or scrape the belly with 4 onboard and their luggage.
Typical Maruti rattling sound when you go over potholes.
Not a big fan of the infotainment unit, has frozen several times and that too when I was relying on it for navigation via Android Auto. On the contrary, Apple CarPlay runs smoother and has a better interface.
It's been 9 months and the ownership experience has been completely fuss-free. It is the sole reason which makes Maruti such a bestseller. Ciaz serves as my highway ride with an exception of a few city runs, and till now it has met all my expectations. The longest distance I have driven her is for 650 km (10-hour journey, longest time being 12 hours) with just two small ten minute breaks and that's it, no feeling of tiredness of any sort. It's a master of one trade and simply excels in it.
In terms of "Kitna Deti Hai", it has been serving me well, the lowest has been 12.6 kpl with 80% city use with 4 people on board most of the time and AC always turned on. And the highest being 19.9kpl (both calculations are tank to tank based).
Service cost has been reasonable as well, I change the oil every 5k kms and was charged 4432 which included labour for paid service, oil change (3.2 liters of 0w16) with oil filter, air filter, ac filter and coolant.
Here's my Izzy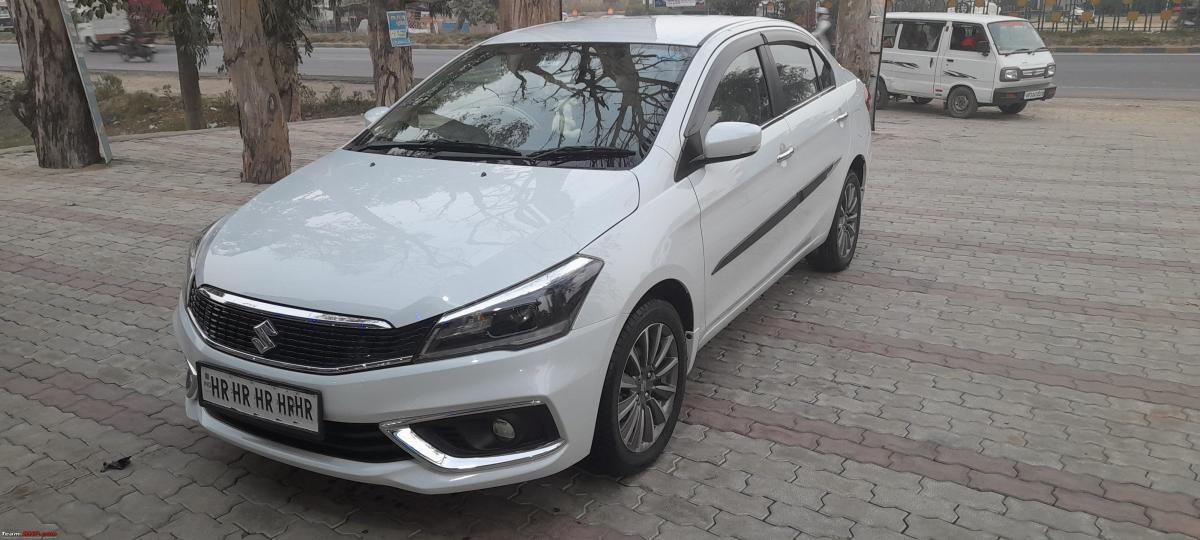 Check out BHPian comments for more insights and information.
Source: Read Full Article