Did Ferrari take the right path with Mick Schumacher at the start of his F1 career?
06/08/2022
Much was expected of Mick Schumacher as he embarked upon the second season of his Formula 1 career in 2022.
This, after all, was the supposed sophomore sensation, a sponge of a driver who became renowned for fully exploiting the experience and knowledge gained across his debut seasons to win the F3 and F2 titles at his second attempts in 2018 and 2020 respectively.
After a quietly composed rookie campaign last year, in which he totally outclassed his team-mate Nikita Mazepin both on and off track, Schumacher was surely set to take off in a much-improved Haas car as he entered year two.
But it has not happened, leading many to question whether the moment of lift-off will ever arrive.
His new team-mate Kevin Magnussen, still carrying the wondrous glow of someone who cannot quite believe his luck at being given another chance in F1, has effectively done to Mick what Mick did to Mazepin.
While Magnussen has scored points in three of the first seven races, including a fine fifth place in the season-opening Bahrain Grand Prix, Schumacher increasingly has the air of a little boy lost.
He has become disturbingly reckless in his desperate pursuit of a first ever points finish while the car remains reasonably competitive, the crashes that occasionally stained his rookie record a recurring theme of his difficult second season.
His qualifying accident in Saudi Arabia, that ruled him out of the race and was estimated to cost his team up to $1million in repairs, was a serious warning sign unheeded on the evidence of his latest major crash at Monaco's swimming pool section, which ripped the rear of his car off the main chassis.
It appeared to mark a change in tone in the treatment of Schumacher by Haas, whose team principal Guenther Steiner's assessment of the incident seemed almost ominous.
"With Mick we obviously saw what happened," Steiner, F1's answer to Mike Bassett, said after the race. "It's not very satisfactory having a big crash again. We need to see how we move forward from here."
Schumacher's second year has evidently not gone to plan, yet the notion he would make a great leap forward in 2022 was based on the assumption the experiences of his debut season would be of much use going forward.
What exactly could he learn last season? There was only so much developing Schumacher could do during Haas's dire 2021, driving a car detached from the rest of the field and untouched for two years as the team preferred to prioritise 2022's new regulations.
Placing the son of the great Michael Schumacher alongside Mazepin was akin to seating the head boy next to the class clown and there was something undignified about Mick being dragged into accusations of team favouritism off track, while dodging Mazepin's sudden moves on the straights of Baku and Zandvoort on it.
Exposing him to that environment – the smallest team in F1 with an under-developed car, a rascal of a team-mate and a team principal famed for chasing his drivers around the paddock for 'foksmashing' his office door – hardly screamed of fertile ground for personal growth.
Which should perhaps raise questions over Ferrari's decision to send him there in the first place.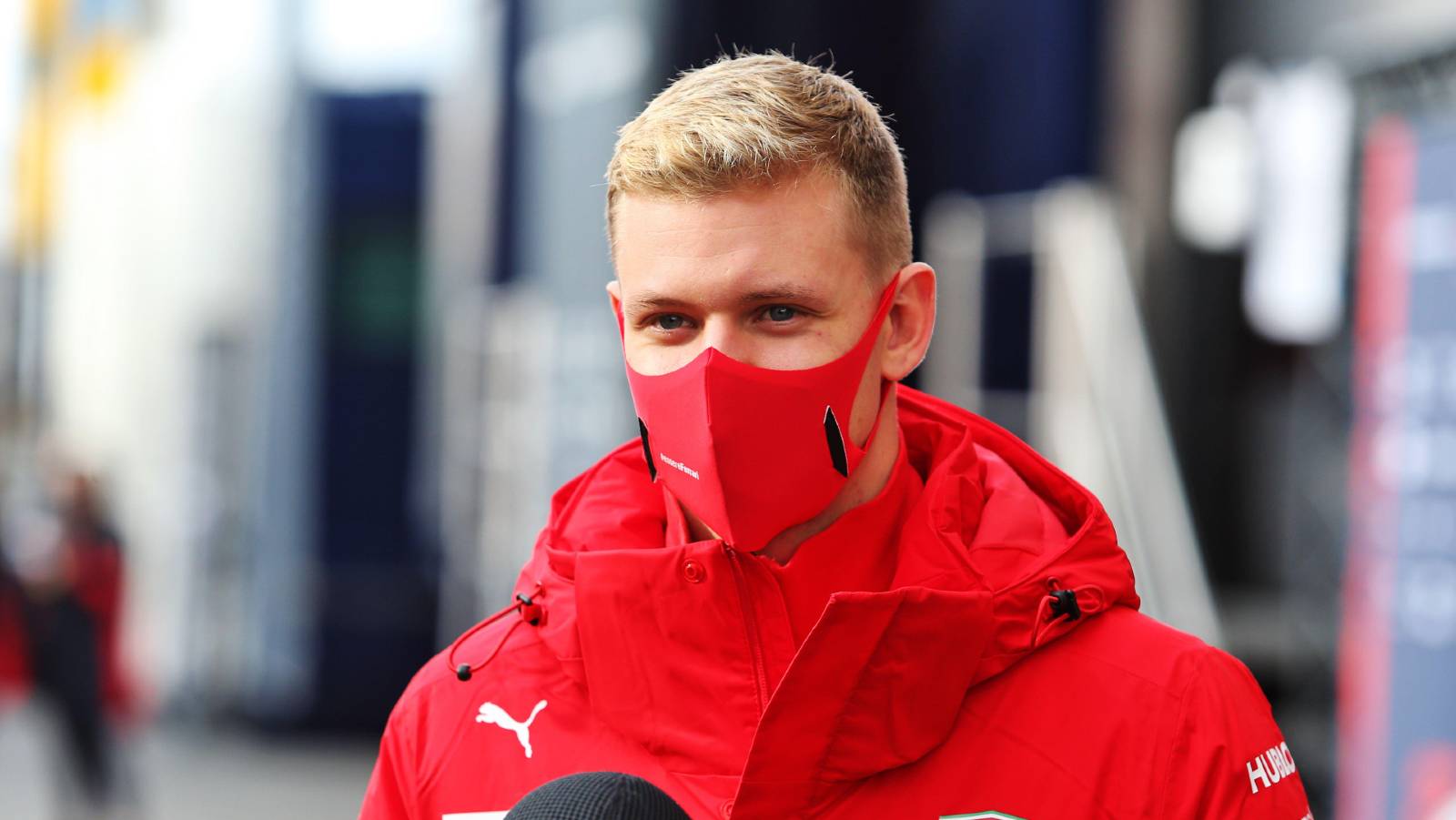 It is hardly a secret Schumacher was originally lined up to make his F1 debut with Alfa Romeo, the team with whom fellow Ferrari graduate Charles Leclerc enjoyed a glorious rookie season in 2018.
Schumacher represented Alfa (as well as Ferrari) during his first official F1 test in April 2019 and was set to make his maiden practice appearance with the Ferrari customer team on the Friday of the 2020 Eifel Grand Prix.
That FP1 session was cancelled due to the weather conditions at the Nurburgring, but at that stage his signing seemed so inevitable that one (previously) respected publication felt confident enough to run the story that weekend that Schumacher would be Kimi Raikkonen's team-mate in 2021.
Within weeks, however, the situation had changed and Schumacher was sent to Gene 'n' Guenther's House of Fun in what may yet come to be viewed as a pivotal moment – a missed opportunity – in his prospects for a long and fruitful F1 career.
If Haas was no place for a young driver in 2021, Alfa would have been the ideal arena for Mick to make his mistakes and learn along the way.
Following in the footsteps of Leclerc, he would have completed the circle by partnering Raikkonen, the man who succeeded his father at Ferrari in 2007, giving him the valuable experience of being shown the way by a World Champion before being joined by Valtteri Bottas, a serial race winner for Mercedes, in 2022.
He would have benefited from the wisdom and expertise of team principal Fred Vasseur, whose reputation for nurturing young talent – from Leclerc to Lewis Hamilton, from Nico Hulkenberg to Bottas and beyond – borders on legendary in junior circles.
And he would have had instant access to a more competitive car run by a bigger, more organised team with better infrastructure, all while representing one of the most historic brands in motor racing.
The points would have come more easily and surely Schumacher would be a more mature, consistent and complete driver by now had he started his career with a quadrifoglio on his car.
Sometimes certain moves just feel right. Schumacher to Alfa Romeo ticked every box and in some respects, almost made too much sense. Only an organisation as haphazard as Ferrari could fail to arrange such a marriage made in heaven.
Such is Schumacher's personal situation, as his family continue to come to terms with the trauma of his father's skiing accident in December 2013, that no driver in recent history has required greater protection, care and consideration – yet almost from the start, Ferrari's handling of him has left a lot to be desired.
Within six months of him formally joining the Ferrari Driver Academy in January 2019, the Scuderia could not resist the temptation to wheel out Schumacher in one of his father's classic cars, complete with a half-and-half helmet design, at Hockenheim.
The sight of a Schumacher in a Ferrari in front of a German crowd again – as with his other F2004 demo run at Mugello for Ferrari's 1,000th race celebrations in 2020 – made for some intensely emotive images and no doubt did wonders for the sport's social media penetration.
But what about Mick? His focus, his career? What happened to managing expectations, the pressure of living up to his surname and avoiding unnecessary and unhelpful comparisons with his father?
The brave thing to do would have been to his ignore his background entirely and treat him not as the son of F1's god or a tribute act – who looked, sounded and talked like Michael but most certainly wasn't – but as any ordinary racing driver.
Put another way, if Mick was instead a member of Mercedes' junior programme would Toto Wolff – one of the strongest, most consistently impressive and emotionally intelligent leaders in world sport – have rushed to put him in Michael's 2012 car at the earliest opportunity?
It may be, of course, that Mick was always destined to disappoint, that he simply is not as good or as talented as everyone wills him to be. Certainly, the idea of him ever following in his father's footsteps at Ferrari is increasingly absurd.
Yet if he was to ever flourish in F1 he was always likely to require a strong support system rather than being used as part-political pawn, part-show pony by the team his father achieved so much with and who were meant to have his best interests at heart.
He has been his own worst enemy at times, no doubt, but he has also been misused, mishandled and misplaced by Ferrari, who never created the right conditions for Schumacher to shine.
The result is what we see now – a driver lacking confidence and direction, stuck in a rut and without the requisite guidance to help him get out of it.
Michael and his boy deserved better.
Source: Read Full Article