Lewis Hamilton's rear wing passed Mercedes' tests with triple FIA force
11/17/2021
Mercedes say they had previously carried out the same tests on their rear wing that the FIA did in Brazil but with triple the force – and it passed.

Lewis Hamilton looked to have given himself the perfect start to his race weekend by dominating qualifying on Friday at Interlagos, but from there the drama truly began.
After Q3 had finished, the FIA declared themselves dissatisfied with Hamilton's rear wing, determining the DRS flap had exceeded the maximum permitted gap when open.
The following day, Hamilton was excluded from the qualifying standings, although the stewards did rule that the issue had been the result of something going wrong rather than an act of malpractice from the seven-time double champions.
And speaking in Mercedes' Sao Paulo Grand Prix debrief, their technical director Mike Elliott revealed the rear wing had passed the team's own tests before the FIA one, with triple the force applied to the elements in question.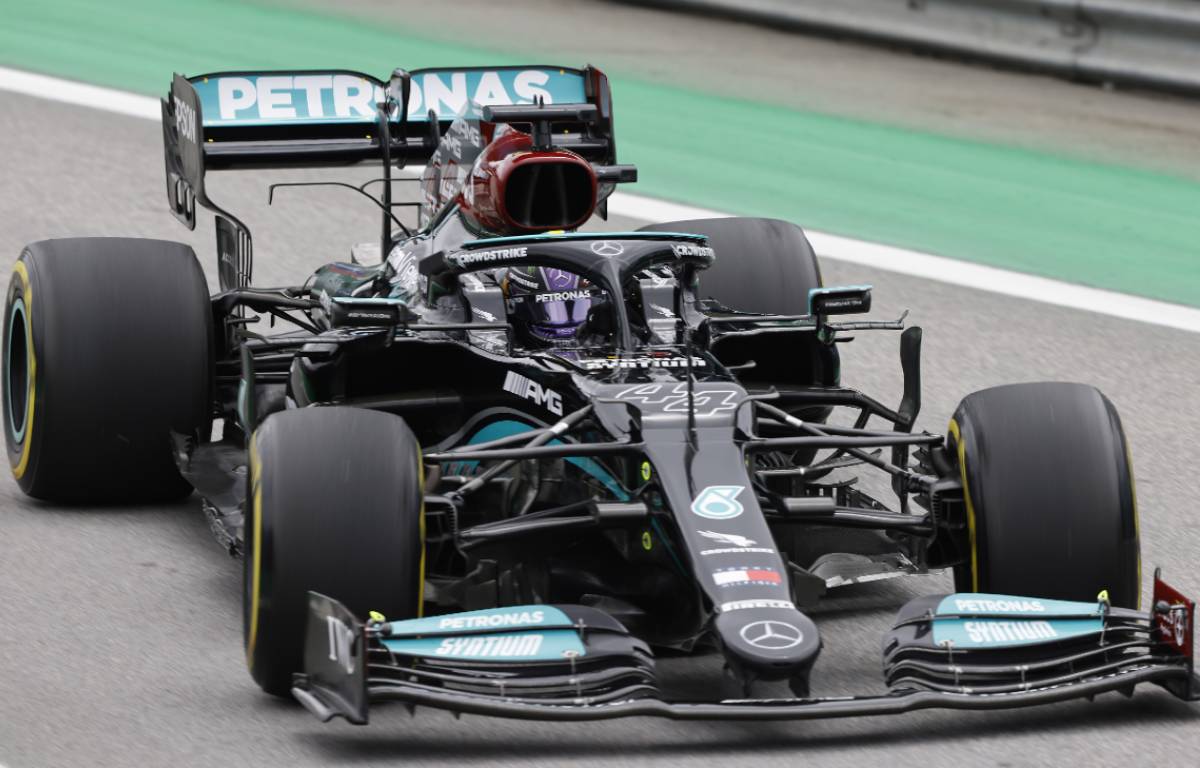 Asked to explain exactly what happened with Hamilton's rear wing, Elliott said: "The simple answer is we failed a test that we needed to pass. It's actually a bit more nuanced than that.
"Within the regulations there is two things, there is the technical regulations which is the rules that we need to pass and then there are things that are Technical Directives and they are issued by the FIA and in general explanations as to how they are going to police those regulations.
"In this case you've got the main plane of the rear wing and you've got a flap. And there is a rule that states there is a minimum gap between those wings and a maximum gap when the DRS opens, and that maximum gap is 85mm. And that is written in those regulations and that is something we actually passed.
"The wing wasn't more than 85mm, or the flap wasn't more than 85mm away from the trailing edge. The reality was that we didn't pass the technical directive.
"So, what's the difference? Well, within the technical directives they specify how that measurement is going to be taken and what they say is that we need to pass a test where they push a cylinder of 85mm diameter into that gap and they need to be able to push that through with a minimum force of 10 newtons. And the reality is, while we passed that over the majority of the span there was a small place where we didn't pass that test.
"Now just to put that into perspective, we obviously try to make sure that our cars are legal at all time, we don't want to take these sorts of penalties so what we do is we test those wings in T&D, in test and development, and in those tests we do exactly the same tests but we do it with a much higher force, 30 newtons, and we pass.
"We also test those wings when we get to the track, so on a Wednesday morning or a Thursday morning we go through all those suites of tests and again that wing passed. And we also know that that wing has passed on previous occasions at previous races."
The teams are now preparing for the upcoming Qatar Grand Prix, but Elliott revealed that the rear wing which failed is still with the FIA, and so they are yet to find out the cause for the failure.
"For some reason we are yet to understand, we had some sort of reliability issue whether that was damage on track, whether that was something coming lose. We have yet to find that out because that wing is being bagged up and sort of FIA sealed," he confirmed.
Source: Read Full Article