NASCAR's Most Memorable Moments at Pocono
06/24/2021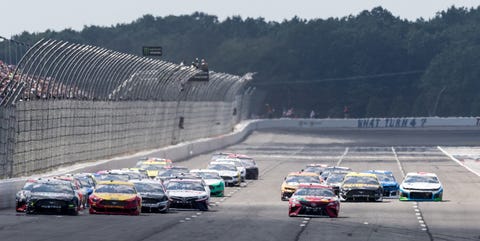 Pocono Raceway has an odd history when it comes to fans attempting to cross the track during a race but the most notable of these occurred during the 1993 Champion Spark Plug 500.
While Kyle Petty and Davey Allison battled for the lead, Chad Blaine Kohl crossed the track from the infield on the Long Pond Straightaway before climbing over the outside retaining wall to exit the track, with Petty and Allison both narrowly missing him.
Kohl proceeded to get lost in the woods and intentionally started a fire to attract the attention of local law enforcement. Kohl eventually found his way out but faced two felony and five misdemeanor charges for his stunt. Petty went on to win the race.
Entering the twilight of his career, Mark Martin had not won a Cup Series race since the 2009 season but found himself with an ideal opportunity to break his three-year drought after taking the lead away from Joey Logano on a late-race restart in the 2012 Pocono 400.
Logano, who had only won one race with Joe Gibbs Racing up to that point in his career, was not ready to let a victory slip away after a strong afternoon. He proceeded to bump Martin out of the way with four laps remaining, denying Martin one of his last great opportunities to add another victory to his prestigious resume.
Jeff Gordon's dominant 2001 season continued into the second race at Pocono Raceway but a costly decision to take four tires on the final pit stop of the afternoon effectively knocked him out of contention, as Dale Earnhardt Jr. inherited the lead after only taking fuel.
Bobby Labonte also took fuel only on the last stop and ran down Earnhardt Jr. as the laps clicked off. Labonte pulled alongside Earnhardt Jr's. outside with three laps left after the latter got loose off Turn 2 and withstood an impressive defensive drive from Earnhardt Jr. for his first win in 2001.
The threat of inclement weather dominated the 2016 Pennsylvania 500 after rain forced the race to be moved to a Monday afternoon, resulting in several unique strategies as teams anticipated the race to end at any moment after the halfway point.
Persistent fog would ultimately bring the race to a premature end and benefit Chris Buescher, who was off strategy after cutting a tire down earlier in the race. Buescher was moments away from being passed by Brad Keselowski when the fog rolled in, giving him his first and only Cup Series victory to date.
Tim Richmond's dominant afternoon at Pocono Raceway in the 1986 Summer 500 took a disastrous turn when he lost control of his car while battling Neil Bonnett and Geoffrey Bodine for the lead and got hit by Richard Petty.
Even with heavy damage to the right side of his car, Richmond quickly and methodically worked his way back to the front with several cautions plaguing the final 25 laps. Richmond caught the race leader in Bodine and engaged in a frantic battle with him and Ricky Rudd during the final two laps, with Richmond edging Rudd by .05 seconds.
While Denny Hamlin ran away with his fourth career victory at Pocono, Kevin Harvick worked desperately to try and pass Joey Logano for the fifth position before getting into him in Turn 3, causing Logano to lose control of his car.
The feud between the two drivers had started after Harvick wrecked Logano on the last lap of an Xfinity Series race at Bristol Motor Speedway earlier in the year. Logano was not happy after being spun by Harvick again and confronted him after the race, prompting Logano to make a remark about how Harvick's wife DeLana was the one that wore the firesuit in the family.
In his first Cup Series start at Pocono, Denny Hamlin led 49 of the opening 50 laps from the pole position until he cut a left rear tire. Hamlin kept the car out of the wall but he would have to spend the rest of the afternoon fighting his way back to the front with a heavily-damaged left-rear fender.
Hamlin's patience and determination paid off, as he passed Greg Biffle with 36 laps remaining and held on for his first career Cup Series victory. Hamlin ended up winning the second Pocono race with the exact same car from the first event and has won at the facility four more times since then.
Tim Richmond had momentum on his side following a stellar seven-win season in 1986 but he was forced to step away from NASCAR after falling ill immediately after the end-of-year banquet. Initially reported as double pneumonia, it was later revealed that Richmond had actually contracted AIDS.
Despite being very sick, Richmond was strong enough to return to Hendrick Motorsports in the 1987 Miller High Life 500 at Pocono Raceway. Although his car suffered from gearbox problems, Richmond reminded everyone of the driver from 1986 by leading a race-high 82 laps to bring home an emotional victory.
Richmond would win one more race before tragically succumbing to AIDS on Aug. 13, 1989.
Darrell Waltrip was forced to shut his own operation down early in the 1998 season after a sponsorship agreement with Speedblock fell through but he found an opportunity to revive his career with Dale Earnhardt Inc. as a replacement for Steve Park, who had been sidelined after being injured in a practice crash at Atlanta Motor Speedway.
Waltrip gave the No. 1 Pennzoil Chevrolet several great runs but the closest he came to picking up his 85th victory was at the 1998 Pocono 500, in which he led 10 laps late in the race before being passed by Jeremy Mayfield for the win. Waltrip ended up finishing in sixth and expressed his gratitude towards DEI for having an opportunity to win the race in an emotional post-race interview.
Rusty Wallace had the dominant car of the 2000 Pocono 500 after leading a race-high 107 laps but he found himself mid-pack on the final restart after electing to take four tires while drivers such as Dale Earnhardt and Jeremy Mayfield took two.
Mayfield patiently rode behind Earnhardt up until the final lap when he bumped the Intimidator out of the groove in Turn 3. Earnhardt was displeased with Mayfield's move to win the race but Mayfield echoed Earnhardt's infamous quote from the 1999 Goody's 500 by saying that he just wanted to rattle Earnhardt's cage.
Source: Read Full Article